Cricket Expert & Columnist
England Women v SA: first T20 win was 'as professional as you can get'
Let's appreciate that we have a fantastic England side...
Last Updated: 02/09/14 10:29am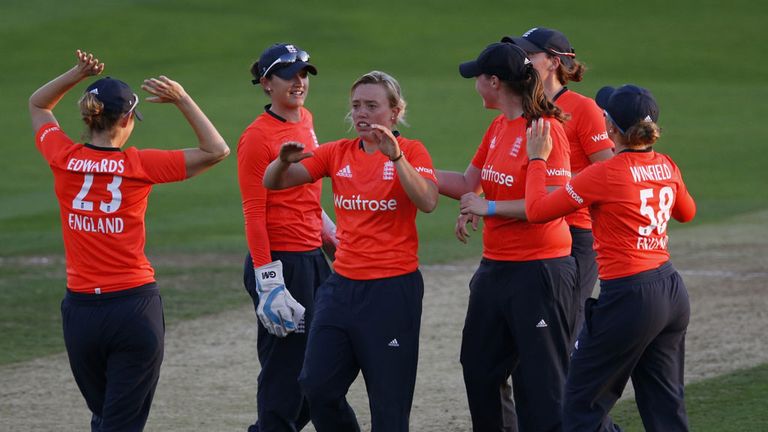 England Women won't take their foot off the gas despite dismantling South Africa to win the first Twenty20 international by nine wickets, says Nasser Hussain.
Skipper Charlotte Edwards struck 62no off 54 balls – a knock that included 10 fours – to guide her side past South Africa's sub-par 89-4 off 20 overs at Chelmsford.
Earlier this year England Women became full-time professional cricketers and Hussain told Sky Sports that seismic shift in the game is fully justified.
Appreciate
"This is the start of a professional era for England Women's cricket and this was as about as professional as you can get," he reflected.
"The problem for England Women's cricket is always going to be how do they learn from playing against sides like this?
"New Zealand and West Indies have improved, and South Africa are improving, but then they will play Australia who are four or five levels higher.
"You've got to keep looking at your performances as a team and ask 'where can we get better'. To be honest, I don't think they could have done much better in this game.
"South Africa's batting was very timid. In the first six overs they played some very good shots along the ground but with the ring up in the powerplay they couldn't pierce the ring so maybe they need to think about promoting someone up the order to take the aerial route.
"You know you are not going to get many freebies from Katherine Brunt and Anya Shrubsole, who are experienced performers, so they need to find someone to put the pressure back on England so those bowlers have to do something different.
"But we mustn't knock South Africa too much. In the men's game we say England are rubbish when they are losing and when they are winning we say the opposition is rubbish.
"So let's appreciate that we have a fantastic England side that is really good and players who know what they are doing."
Eye-opener
England Women's professional era got off to an unexpected start earlier this summer when they lost their only Test to India by six wickets before recovering to win the three-match ODI series 2-0 - the third match, at Lord's, being rained off.
Edwards' side now has the opportunity to take an unassailable 2-0 lead over South Africa at Northampton on Wednesday before the final match of the series, at Edgbaston on Sunday.
"Losing that Test match to India will have been a real eye-opener," said Hussain. "That was a game they were expected to win after the introduction of central contracts and the start of a new professional era.
"Since then they have decided not to take any more chances; they are going to win without giving anyone a sniff of victory, so in one sense that Test match was actually good for them.
"They'll want to win this series at Northampton and then put on a decent show on Sunday at Edgbaston because it's a game that's in conjunction with the men's game, so I can't see them taking their foot off the gas.
"There is a little bit more pressure on them now the contracts have come in but I don't think you'll see the players change much.
"Before it was a case of playing cricket because they love playing, now they are paid to do it the moment you lose there are jealous people out there who say 'you're being paid, why aren't you improving?'
"The players we've seen have always tried to improve anyway and they've had good coaches.
"The key for me is what is coming through beneath Edwards, Taylor, Brunt, Shrubsole? You've got to have a succession plan and look two or three years down the line, because that's what everyone else is doing."
Watch the second IT20 between England and South Africa from 6pm this Wednesday on Sky Sports 2.