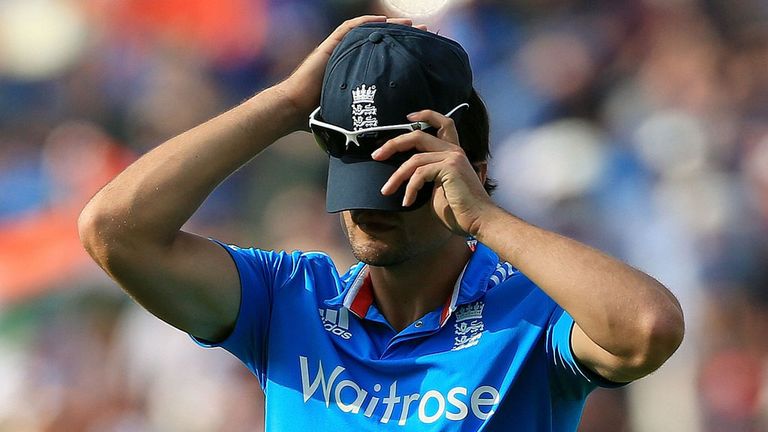 England captain Alastair Cook says the team have played so poorly in their ongoing one-day international series against India that tinkering with the starting line-up would have made little difference.
The hosts are 3-0 down in the five-match Royal London Series, the first match having been rained off, and produced their worst performance yet at Edgbaston on Tuesday, when India romped to a nine-wicket win with almost 20 overs to spare.
With the World Cup scheduled for Australia and New Zealand early next year, calls are growing for Cook to stand down as captain.
Many pundits also want a clutch of young, aggressive cricketers introduced at the expense of some of the more experienced players, but Cook is not sure that is the answer.
"We've got a lot of thinking to do on selection," he said. "But the selection is, at the moment I think, a little bit irrelevant.
"It is about players performing and that's why it's becoming so hard, because players aren't doing that."
Regarding the gameplan he and coach Peter Moores are utilising, Cook added: "I don't think it needs to change, I just think we need to do it better.
Good starts
"The first two games we got really good starts in the first 10 overs and the problem is none of us has gone on.
"We didn't get off to a good start (at Edgbaston) and tactics and strategies kind of go out the window when you're 20 for three or when you're 90 for five after a collapse. The top order have to score heavy runs at a good rate, it's fairly simple."
The final match of the series is at Headingley on Friday and Cook admits that it will be hard to avoid a 4-0 loss to a powerful India side.
"You know you've got to go out there and play with freedom, but when you keep losing wickets it's very hard to do that," he said.
"I think probably the most frustrating and hardest thing I've found throughout my captaincy is trying to turn around a series when you get behind, especially in the one-dayers when it happens so quickly."