Cricket Expert & Columnist
Nasser Hussain, Greg Blewett and Nick Knight paid tribute to Aaron Finch's superb 156
Nasser Hussain, Greg Blewett and Nick Knight paid tribute to Aaron Finch's superb 156.
Last Updated: 30/08/13 12:24pm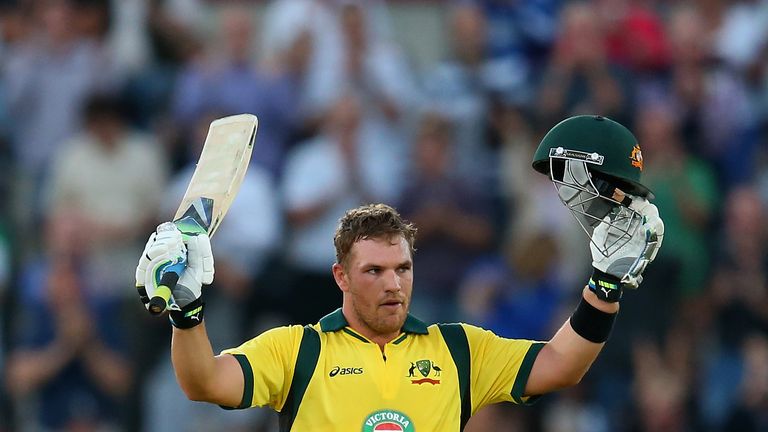 Despite Joe Root's spirited 90 not out in their 206, England were always going to fall short as Australia won by 39 runs.
Click here for the match report
"Finch is a really good player and I thought it was a good selection to have him at the top of the order," said Nasser Hussain.
"It the World Twenty20 they went for Warner and Watson who were pretty prolific but they have split them up and gone with Finch and he has not let them down.
"What I like about him is that he is not a pinch hitter, he is not just a slogger. You bowl short to him and you will get bowled out of the ground; you pitch it up and you get whacked back overhead; you bowl spin he plays that really well.
"Spare a thought for Joe Root. It was a very brave innings as well as a skilful one. He took a nasty blow that went through the grill and hit him in the mouth. To remain 90 not out in the end was excellent stuff. But it was not good enough, he made 90 from 49 balls but Aaron Finch was the difference between the two sides today."
Greg Blewett was just as complimentary and said that Finch did nothing fancy as he raced to his total off just 63 balls - the second highest T20 total behind Chris Gayles 175.
"He has done this at domestic level, but has not quite taken his chances at international level," said Blewett. "Often you see a breakthrough innings but I did not expect something quite like this though - it was quite ferocious hitting. I like that it was pretty simple, it was not over complicated - he got on a roll and just kept going."
For Nick Knight it was one of the best innings he has seen in the Twenty20 competition: "Finch hit 14 sixes which is just incredible - Joe Root played really nicely but he only hit one!
"Finch is a big lad so you would expect him to hit it out of the park but he pumped England out of the ground wherever they bowled to him. We could be slightly critical about England's bowling saying that they could have bowled slightly fuller and go for the yorker but wherever they bowled they just got whacked.
"It was just a fantastic innings, we see a lot of wonderful innings but I cannot remember seeing anything more special than that."