Bumble's Blog: Graham Onions, County kings and Lancashire Leagues
Bumble suspects Graham Onions is still very much part of England's Ashes squad this winter.
Last Updated: 26/09/13 1:01pm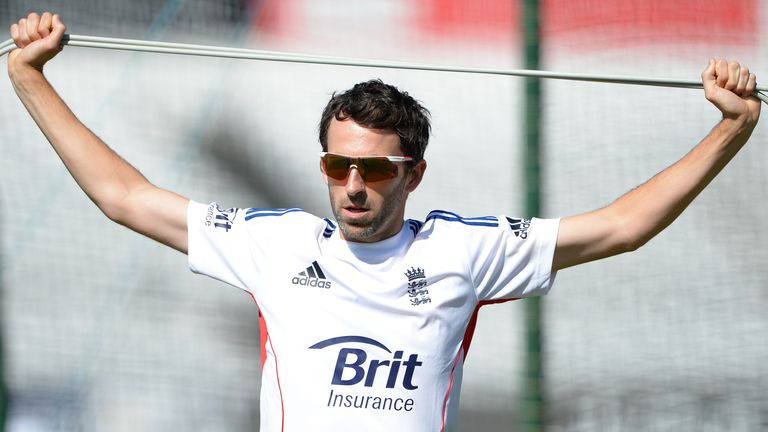 In my view, he is still the understudy to James Anderson and if they need him - ie if Anderson breaks down - then they can get him.
It think it's sensible for him to be playing cricket this winter, rather than carrying drinks and getting bored mindless in Australia. That's far better in my view. I've felt sorry for him in the past, tour after tour, running on with drinks and towels all the time.
A lot of people have been saying on Twitter that it's a disgrace that he didn't make the squad, but I think he's better off playing cricket and being able to arrive, match fit, at a moment's notice. Maybe I'm being naïve here, but I think this might have been sorted out between the player and the selectors.
I might be wrong, but I think he's the understudy to Anderson and while it's at a distance, I think he's very much part of that squad.
County ups and downs
Speaking of Durham, congratulations to the County Champions and to second-placed Yorkshire as well. They are two great northern counties and two pitches that you get results on.
However, there's a lot of deep thinking to be done down at Surrey. Alec Stewart has a massive job and it won't be an instant fix - as the gaffer will know!
They are a massive club and they now need to dismantle and start again. It should be an exciting time and I wouldn't like to think that they feel they need to get straight back up next year. It's got to be a gradual build.
The key players have got a big challenge and by "players" I mean the personnel. The management have got to find the right direction and I'll be really interested to watch Surrey from afar to see how they go about their business.
Coming up are Lancashire and Northampton - and what a terrific season they've had. I have a friend with a son in the Northants junior ranks, who says they are absolutely brilliant. The set-up, organisation and coaching are top class, so the future looks good for them.
Lancashire Leagues debate
Following on from Durham's success, the set-up of league cricket in the North East is something I'd like to see replicated closer to home.
I've tried to get a debate going on Twitter about the Lancashire Leagues. In my view it's totally unsustainable in the current format.
The main thrust of my argument is that the golden era of the great professional has gone and we're still looking to replicate that in some way. The current format is good fun and people can enjoy a game of cricket, but it's not great for developing cricketers.
In my opinion, we really need a Premier League plus feeder leagues with promotion and relegation. I haven't put a blueprint together, but I'd like to see more cut and thrust and more opportunities to develop facilities.
I don't know how this could happen, but I'd like the winner of the Premier League to get a substantial amount of money. I'll poke a stick at £20,000 for the champions and then a sliding scale down the division, as in Premier League football.
As ever, you get a lot of negative comments. One guy came on and said at such-and-such club the boundary is too small!! Just get on with it then! It's the same for both teams at that particular ground. What sort of excuse is that? To those people, if that's your opinion then carry on as you are.
The point that a lot of people have missed is that there is, of course, room for recreational cricket. That's fine and you should continue to enjoy your cricket.
The gates have gone and the membership is dwindling, but still lots of people enjoy the recreational game and I have no problem with that.
But there needs to be an elite league where the very best players can advance their careers.
Local heroes
On a similar tack, Accrington professional Ashar Zaidi, who broke our batting record last season, is playing for Sussex again this week. He hit his first ball for six and got a quick-fire 45 at number eight.
I think he's tailor-made for County Cricket and I hope Sussex take him on - and if they don't then somebody should. Northamptonshire's Muhammad Azharullah came through the league system and this could be another great story.
Not such good news from Accrington's football team so far. We've not had the best start and we're still waiting for our first result, but I'm keeping the faith.
As we always say: On Stanley, On.