Bumble's Blog: Ashes players must be punished for delays and bad behaviour
Bumble wants to see zero tolerance for slow over-rates and poor behaviour in the next Ashes series.
Last Updated: 16/10/13 4:21pm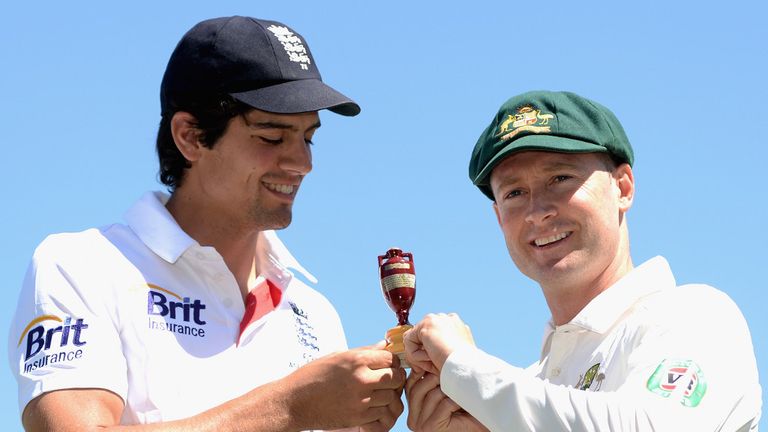 Hot Spot won't be used this time for financial reasons and the Decision Review System will be limited to Eagle Eye, which is Australia's version of Hawkeye, and the usual audio and visual replays.
People were talking about Hot Spot being fallible during the summer Ashes series, but it's important to remember that within the criteria that were laid down, the umpires did things perfectly.
However, the umpires may feel that within those criteria they may be better off without Hot Spot. It's always been the case that the umpire can go off sound and Hot Spot should be an aid.
The technology should not be the be-all-and-end-all and anybody reading this will know that Hot Spot is a complication for the umpires.
People always ask me about Snicko and why that is never used. That's simply because it takes too long to build.
There may be solutions for that in the pipeline, but it would need to be fully automatic. It must not be put together by an individual because that would be open to abuse.
Best behaviour
Also, it would be in the interest of the game if the players accepted decisions more graciously.
I would expect the next Ashes Tour to be much tighter in terms of discipline, player behaviour, delays and over rates. I fully expect the rules to be much more rigorously applied by the match referee.
The players will have their responsibilities spelled out to them from the top and I'd like to see zero tolerance.
For any blatant over-rate delays they should just suspend the captain for the next match. When it comes to poor behaviour, I'm still an advocate of football-style yellow and red cards. I'm sure none of this will happen, but that's my view.
However, I fully expect the match referee to be far more rigorous concerning player behaviour. If the players want some advice from me, they should wise up.
None fishing
Not much else to report. Went fishing. Didn't catch anything.
Myself, Beefy, Atherton and chums went on a no-fishing trip. The river was perfect and we had a great week, but there were no fish to be had.
I was thrilled to see the England football team qualify for the World Cup. I thought Wayne Rooney was outstanding, a real special player, but we've got to be realistic about our chances in Brazil. Let's see if we can go there and surprise everybody.
We need to be realistic at Accrington Stanley as well. We've been playing decent stuff, but we haven't been able to get it in the onion bag. The build-up work is good, but we've been getting hit on the break. I'd like us to stay in the league and we still believe.
However, if you were to ask me whether I'd prefer to see success for club or country I'd choose my country every time.