Cricket Expert & Columnist
Ashes 1982/83: Bob Willis recalls a memorable Melbourne victory
Bob Willis recalls how a dramatic Melbourne victory almost inspired weakened England to glory...
Last Updated: 25/10/13 9:39am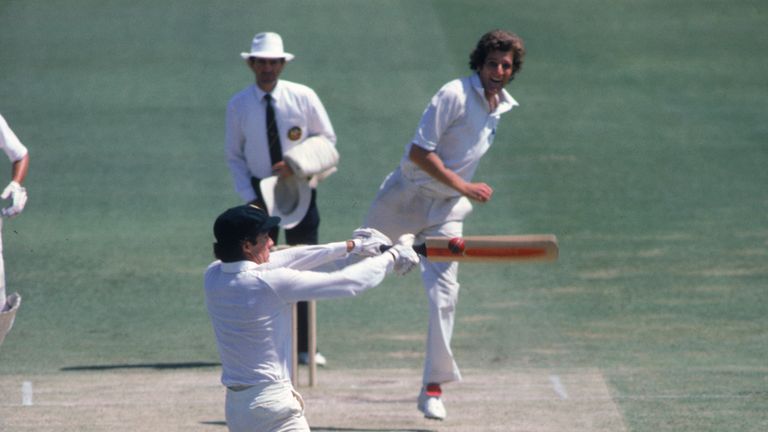 The urn wasn't handed over without a fight, though, and a dramatic fourth Test victory set the scene for a tense Sydney showdown.
Build-up
BOB: "The plot for a rebel tour to South Africa was hatched towards the end of our tour to India and Sri Lanka in 81/82 and I think 15 players in all went in the end. Peter May relieved Keith Fletcher of the captaincy and asked me to be captain at the start of the 1982 season. Of the first-choice players, probably only Gower, Randall, Lamb (who became available for England that year), Botham and, possibly, Tavare were first-choice selections. We managed to beat India 1-0 and Pakistan 2-1 that summer but we went to Australia more in hope than expectation because they were very much at full-strength and clearly a stronger side."
First Test, Perth
England (411 & 358) drew with Australia (424-9d & 73-2)
BOB: "All things considered, we were happy to get out of Perth - a reputedly quick-ish pitch - with a draw. Chris Tavare made a painstaking 89 off 337 balls in the first innings; it wasn't pretty to watch but it was a valuable innings and helped us to get our feet under the table in the series. His innings and Randall's century in the second innings, which came when we were in a spot of bother at 80-4, were the standout batting efforts of the Test. Geoff Lawson took 5-108 in the second innings and he bowled pretty well throughout the series, finishing with 34 wickets at 20.20. Unfortunately the match is also remembered for some unseemly scenes. There were a lot of ex-pat Brits - what I would call football supporters - at the ground and one of several drunken idiots who ran onto the outfield grabbed Terry Alderman's cap. We all know how precious Australian caps are to their wearers and Alderman set off after the intruder and rugby tackled him, but unfortunately he badly dislocated his shoulder in the process. Terry is a particularly nice guy and it was very sad that his career was blighted by that injury. It was a very, very unfortunate incident and happily we don't see that sort of thing at cricket grounds any longer. We went through a spell in the seventies when it felt as though half the bloody crowd would run on the pitch for a fifty or hundred; it was dreadful."
Second Test, Brisbane
England (219 & 309) lost to Australia 341 & 190-3 by seven wickets
BOB: "Unfortunately, by the time we got to Brisbane the gulf between the sides started to show. We only made 219 in the first innings, which wasn't anywhere near enough, as Lawson returned 6-47 bowling great outswing at a good pace. Thomson and Lillee (who got injured in the first Test) had been grabbing all the headlines but Lawson and Carl Rackemann were very, very fine bowlers in their own right. Lawson's brilliant control of away swing was the problem, particularly to our right-handers. I remember that we didn't bowl particularly well at Kepler Wessels, who scored 162 on debut; we kept bowling outside his off-stump and he kept cutting us away either side of point. It took us a long time to twig what was going on. Thommo and Lawson got five each and Australia were well in front of the game. It was a very convincing victory indeed."
Third Test, Adelaide
Australia (438 & 83-2) beat England (216 & 304 f-o) by eight wickets
BOB: "We'd been blown away in Brisbane so Gower, Lamb and Botham - our middle-order - were very keen that we didn't bat first at Adelaide. I took the brickbats for putting Australia in after Greg Chappell scored a masterful century. I always say that Gower, Lamb and Botham must have been wearing green-tinted spectacles when they looked at the pitch because it was definitely on to bat first on, but ultimately it was my decision. Once again our batting wasn't up to the challenge as Thomson and Lawson inflicted more damage. Lillee was still out they called on Rodney Hogg and were still rolling us over. It was becoming a bit of a one-sided contest. Gower's second innings 114 wasn't nearly enough to save us - we should have had far more three-figure scores on that pitch. We were thoroughly out-played and the captain took the stick for making the wrong call at the toss."
Fourth Test, Melbourne
England (284 & 294) beat Australia (287 & 288) by three runs
BOB: "It was an incredible victory but one that almost got away! Australia still needed 74 runs to win when last man Thommo joined Allan Border but the time honoured tactic of giving the recognised batsman a single and bowling at the No 11 didn't quite work! They took the Test into a fifth day and around 18,000 people turned up even though the entertainment might have only lasted one ball. I wish it had lasted only one ball but it became heart-stopping stuff. We were down to the last throw of the dice when I handed the ball to Botham. Thankfully, Thommo edged the ball to Tavare who parried it (fortunately up in the air) and Geoff Miller took the catch. Although there was only a two-day gap before the last Test there was certainly time for a celebration on the bus on the way to the airport on our way to fly to Sydney. It was very, very exciting stuff and a gripping end to what had been a very close Test throughout. I remember that Norman Cowans had a very good time of it against Greg Chappell, who for about a 12-month period starting with that tour struggled with the short ball. The instructions to our bowlers were to stick it up him and he was out for nought and two, which in the end was probably the difference between the two teams."
Fifth Test, Sydney
Australia (314 & 382) drew with England (237 & 314-7)
BOB: "We arrived in Sydney with a chance of squaring the series and retaining the Ashes. Australia won the toss and the result might have been different had John Dyson been given out early in proceedings when he was run out by myself. He wasn't even in the picture on the replay when the wicket was broken but dear old Mel Johnson, the umpire, gave him not out and Dyson went on to make 79 in 301 minutes and blunted our efforts on that first day. We were chasing the game a little bit after that; we had to score quickly to get in a winning position but conceded a first-innings lead and then they batted us out of the game in the second innings with big hundreds from Kim Hughes and runs from Allan Border (83) as well. We were left to chase 460 and didn't get close even though dear old Eddie Hemmings (95) almost scored a century after going in as nightwatchman. After he was out the Test petered out into a tame draw and Australia took the series 2-1."
Reflections
BOB: "Nobody remembers that we were a weakened team but I probably wouldn't have been captain had we been at full strength! The bottom line is that if you lined up the two XIs, few England players would have made it into a combined XI. Australia's line-up in Sydney was: Wessels, Dyson, Greg Chappell, Hughes, Hookes, Border, Marsh, Yardley, Lawson, Thomson and Hogg - and Alderman, Lillee and Rackemann bowled in the series as well. In contrast, Tavare struggled for form after the first Test, while Fowler and Cook weren't really the quality of player we needed in Australia and our all-rounders Miller and Pringle didn't really perform. In the end we were overwhelmed. After Melbourne it would have been nice to have retained the Ashes, but it simply wasn't to be."
Stay up or catch up - watch England's defence of the Ashes in Australia this winter ONLY on Sky Sports, starting with the warm-up game against Australia A on November 6.