Cricket Expert & Columnist
Ashes 1990/91: Michael Atherton on the highs and lows of the Tiger Moth tour
Michael Atherton on the highs and lows of a tour that included the infamous Tiger Moth incident.
Last Updated: 04/11/13 9:18am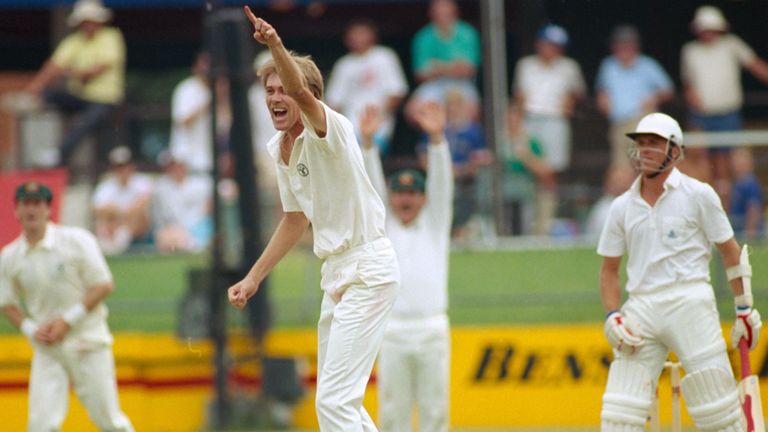 Although that series was lost 2-1 following the historic first Test victory at Sabina Park, the run-heavy skipper subsequently amassed 1,058 runs in 11 innings to guide England to 1-0 victories over New Zealand and India.
Mike Atherton's place on the plane Down Under - and as Gooch's opening partner - was assured after a prolific summer for county and country, which featured 735 Test runs including a century against each touring party.
But eight Tests into his England career the future England captain, who made his debut in the 4-0 defeat to Australia in 1989, was about to embark on the first of three fruitless Ashes tours...
First Test, Brisbane
England (194 & 114) lost to Australia (152 and 157-0) by 10 wickets
Allan Lamb stepped in as skipper after Gooch underwent surgery on an infected finger and although the tourists led on first innings, Terry Alderman's 6-47 transformed the match into a crushing Australian victory...
ATHERS: "Gooch had been in fantastic form the previous summer and he'd continued that form before his hand injury, so it was a massive blow to lose him - as captain and opening batsman - for the first Test. These were pre-Shane Warne days so Australia weren't making pitches to suit him - instead the pitch at Brisbane was very juicy and green and the ball darted about. Consequently it wasn't a high-scoring game and as few of their batsmen were able to cope with the way that Fraser, Small and Lewis exploited the conditions, we had a lead on first innings. It was a good toss for Australia to win because you wanted to bowl first but the pitch subsequently eased out and we should have posted a far bigger score second time around. Although Mark Taylor and Geoff Marsh knocked off the 157 runs needed for no loss, had we posted 250-300 in our second innings we would have been right in the game."
Second Test, Melbourne
England (352 & 150) lost to Australia (306 & 197-2) by eight wickets
David Gower's century and Angus Fraser's 6-82 put England back in the box seat before the tourists lost six second-innings wickets for just three runs in 50 calamitous minutes, Bruce Reid returning 7-51 including the scalps of Gooch (58) and Wayne Larkins (54). From 10-2 chasing 197, Marsh (79) and David Boon (94no) saw the hosts home...
ATHERS: "Reid was a good bowler - he was very tall and got steep bounce, especially in Australia, but he wasn't unplayable. I'd say, for example, that on the whole he wasn't as good an all-round bowler as someone like Wasim Akram. Unlike the pitch in Brisbane, the pitch in Melbourne wasn't too bad at all for batting and there was no real reason other than general incompetence that could explain the way that we collapsed. It was pretty disappointing to say the least. At the same time there was a running issue between Gooch and Gower that created a fair amount of friction within the squad. It was a difference in approach that was very much on the cusp between old England and new England, if you like, with Gooch's no-nonsense, hard-work ethic at odds with Gower's more relaxed approach to training and touring in general. That, unfortunately, was a bit of a running sore throughout the trip."
Third Test, Sydney
Australia (518 & 205) drew with England (469-8d & 113-4)
Hundreds from Gower and Atherton - his first century against Australia and the slowest in Ashes history, in 424 minutes off 326 balls - kept England in touch and although Phil Tufnell (5-61) and Eddie Hemmings (3-94) got amongst Australia, a victory target of 255 off 28 overs was always going to be too much...
ATHERS: "I'd been short of runs up to that point on the Tour so I was a bit low on confidence and it was a scrappy innings as a result. David Gower played a beautiful innings and on a slow-ish pitch the spin of Greg Matthews, with a bit of Allan Border thrown in, posed few problems. We felt we had the better of the game and we changed the batting order around in the second innings, opening with Gooch and Gower, because we wanted to have a bit of a dart at the target but in truth chasing down 255 wasn't realistic. We lost the match late in Australia's second innings when Carl Rackemann (nine off 102 balls) hung around for quite a long time with first Matthews (56 balls) and then Reid (32 balls). Gooch tried to bowl the spinners more and more on a wearing pitch but maybe in hindsight, he could have turned to Devon Malcolm a bit earlier. We had a bit of a dart at the run-chase but it was never really on."
The 'Tiger Moth' Incident
ATHERS: "David initially asked me to go on his fly-by on the 1990/91 Ashes tour but even at that early stage in my Test career I thought it probably wasn't a good thing to do, so I politely declined and scurried away to the nets! We were playing against Queensland out on the Gold Coast at a place called the Carrara Oval and as the game went on we knew David was up there somewhere. The next thing I knew he and John Morris, who had accepted the goggles in my absence, were flying as good as through the ground's floodlights. We all thought it was tremendously funny and as they came over the ground we all pointed the plane out to our manager Peter Lush, who thought it was a tremendous hoot as well - until he realised that two of his players were up there. Then he rather lost his sense of humour and proceeded to slap a fine on the pair once they had landed safely and made their way back. In a sense the episode gave an insight into the tension that surrounded that tour. David felt the tour was lacking a bit of fun and therefore set out trying to inject some life into it, but that didn't go down well with Graham Gooch. When I look back now it was a fairly harmless episode but the fact that the management overreacted demonstrated the tension that was within the squad at that time."
Fourth Test, Adelaide
Australia (386 & 314-6d) drew with England (229 & 335-5)
Mark Waugh - preferred to his brother Steve - announced himself on the Test stage with a first innings century to give Australia the upper hand despite Gooch's 87. The England skipper followed up with a century, putting on 203 with Atherton for the first wicket, but again the target - this time 472 runs - was out of reach...
ATHERS: "We'd played against Mark earlier on the tour when he turned out for Australia A in Hobart in what was then the traditional game before the first Test. Steve Waugh had played really well in the 1989 series but had looked a bit shaky against the quicker bowlers and his young brother came in for him for this game. Mark was a very different player. Whereas Steve was nuggety and not particularly attractive to watch, but would get the job done, Mark was very elegant and graceful. I remember that we weren't particularly happy at the time that the Australian selectors had brought Mark in for Steve, particularly as Gooch rated him highly. He played beautifully on what was a very flat pitch and that was the start of a long, successful Test career for him."
Fifth Test, Perth
England (244 & 182) lost to Australia (307 & 120-1) by nine wickets
Australia wrapped up the series in emphatic style, Craig McDermott stealing the headlines with first-innings figures of 8-97 that included the wicket of Lamb (91). The home seamers shared out the second-innings wickets before, fittingly, Boon (530 series runs at 75) saw Australia home in partnership with Marsh (63no)...
ATHERS: "McDermott was a bit wild and woolly when he first came into the Australian team in the mid-80s but after he lost, then regained his place in the side he became a better, more clever and consistent bowler. He might not have been quite as quick as he was in 1985 but he still had a yard of pace, good stamina and bowled a full length for a fast bowler, moving it away from the right-handers. All in all he was a very good new ball Test match bowler who fitted in well with what was a pretty decent Australian team, but one that would be surpassed once Warne and McGrath were on the scene."
Reflections
ATHERS: "With Border at the helm, Australia had come out of their 1980 doldrums and had a decent pace attack (McDermott, Reid, Alderman) to complement a solid top order (Taylor, Marsh, Boon). They were a better team than us and 3-0 was probably a fair reflection of the discrepancy between the teams. Goochie was really disappointed with the result given that the team had performed far better than many people expected in the Caribbean the previous winter only to perform below-par this time around."
Stay up or catch up - watch England's defence of the Ashes in Australia this winter ONLY on Sky Sports.