Cricket Expert & Columnist
Ashes 1994/95: Shane Warne the outstanding difference between sides
Mike Atherton remembers a series in which Shane Warne tipped the balance firmly in Australia's favour.
Last Updated: 11/11/13 3:26pm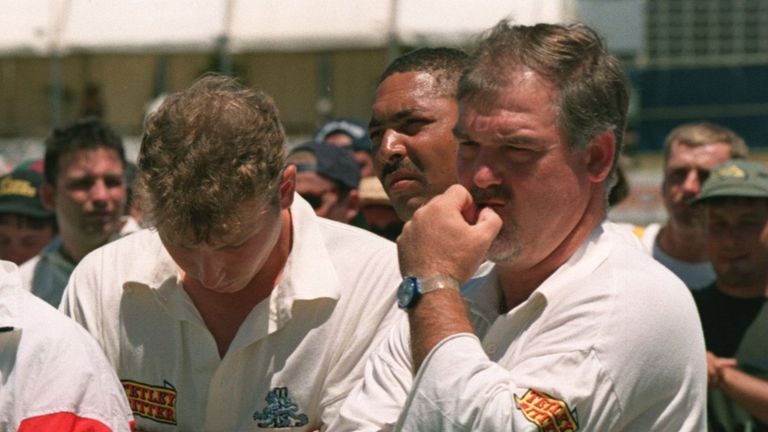 Michael Atherton's side suffered throughout, though, from a debilitating run of injuries that forced the tourists to call up six extra players, and a strained relationship between the skipper and chairman of selectors Ray Illingworth - a rift widened by the 'dirt in the pocket' saga of Lord's 2004.
As in 1990-91, when Graham Gooch was ruled out of the first Test, England suffered another pre-series blow when Malcolm fell ill with chickenpox so Martin McCague (included, like Mike Gatting, in the squad by Illingworth above Atherton's head) was drafted in for his third and as it turned out - final - Test...
First Test, Brisbane
Australia (426 & 248-8d) beat England (167 and 323) by 184 runs
Australia seized the initiative, scoring 329-4 on day one as Michael Slater blasted 176 off 244 balls. Mark Waugh added a century before Craig McDermott (6-53) dismantled England. Mark Taylor chose not to enforce the follow-on, instead setting the tourists 508 to win - a target well beyond England's reach with Shane Warne (8-71) getting through 50 overs...
ATHERS: "You always go to Australia aiming to win but looking back there's no doubt that they were a stronger team, with Shane Warne being the outstanding difference between the sides. The pitch at Brisbane generally has a tinge of green and a bit of bounce but because of Warne this one was very worn, bare and grassless; all in all it was a very good batting surface. We didn't bowl very well and it was hard work from the start; Martin McCague's performance was particularly nervy. Australia's general game-plan was to bat first, use their very solid top six to post a big total and then allow Warne to bowl last on a wearing pitch and that's pretty much how it turned out in Brisbane. To lose the first Test by such a large margin was disastrous but while the bowlers have to shoulder a large amount of the blame for that day one performance, the batsmen had no excuse for doing so poorly in the first innings."
Second Test, Melbourne
Australia (279 & 320-7d) beat England (212 & 92) by 295 runs
England were well-set on Christmas Day - a rest day - with Australia 220-7 but wound up with a first-innings deficit as Warne (6-64) got to work again. David Boon's second innings 131 seemed to knock the stuffing out of England who capitulated as McDermott bagged a five-for and Warne mopped up the tail, taking the first Ashes hat-trick for 90 years...
ATHERS: "I have no idea why we started the Test on Christmas Eve and then had the rest day but I do know it made the toss very difficult because it was quite a damp pitch and as much as I wanted to put Australia in, I was wary about batting last because of the way Warne was bowling. In the end, though, I did put Australia in because it was a damp deck and at 220-7 that decision didn't look too bad, although I suppose we were hoping to bowl them out for 200 or thereabouts. By the time of this series, Warne had a year or so of international cricket under his belt. I reckon he was at his best between about 1995 and 1998 while he could still bowl his flipper, before his shoulder gave way; I remember that he bowled a beauty to get rid of Alec Stewart at Brisbane. He may not have been quite as wily as he was later on in his career but he definitely gave the ball a big rip."
Third Test, Sydney
England (309 & 255-2d) drew with Australia (116 & 344-7)
Atherton (88) and John Crawley rescued England from 20-3 before the 'Darren Gough show' began, the Yorkshireman striking 51 off 56 and skittling Australia with 6-49. Keen to press home England's advantage, Atherton declared with Graeme Hick on 98no, setting Australia 449 to win. Taylor and Slater put on 208 before Fraser gave the tourists a window of hope...
ATHERS: "Gough was always an ebullient character with lots of self-belief and he was enjoying the tour - and why not? It was his first foray into international cricket so he played with a lot of freedom and little self-doubt. Australia was his kind of place and the Australian public took to him. He bowled well in the first two Tests - one of the few saving graces - and was finding a bit of decent form, with ball and bat. No-one had really seen him bat so when Australia pitched it up he whacked it back over their heads with a lot of exuberance. Later, when they started to bomb him by bowling a little shorter, he didn't handle things quite so well, but he put us in a decent position - one I wanted to reinforce by declaring before tea on the fourth day. It was still a pretty good pitch at that point - I'd say it was the equivalent of a second day pitch - and we needed maximum time to bowl them out. I wasn't greatly surprised to see them get to lots for none but then it started to drizzle on the final day and the pitch started to be receptive to the seamers. It was unseasonal weather for Sydney but it was perfect for Gus, who had been brought into the side because of the injuries, and he bowled really well."
Fourth Test, Adelaide
England (353 & 328) beat Australia (419 & 156) by 106 runs
Mike Gatting's first Test century for eight years bolstered an England team ravaged by injury but at 181-6 in their second innings - a lead of just 115 - the tourists were still on the ropes. Enter Phil DeFreitas, who seized the initiative with 88 off 95 balls, before Devon Malcolm (4-39) rattled Australia's top-order and Chris Lewis (4-24) mopped up...
ATHERS: "It was a bizarre game because we only had 11 fit players left so we had to go into the Test with a fairly scratch side. It meant we played an extra bowler, though, which certainly helped once we'd scored enough runs. The game was very much in the balance when DeFreitas went in and I remember saying 'just go out and try to grab the game by the scruff of the neck'. Devon played a few shots too and whacked Warne for a six and that just gave us enough breathing space to set them a decent total. Devon bowled quickly on the final day and Chris Lewis got the ball to reverse because the pitch was very dry, bare and abrasive. All in all it was a victory very much against the odds; I don't think anyone really gave us a prayer going into that game, although it's true that we had almost won in Sydney. So despite the injuries and the rather shambolic nature of the tour we were actually playing a little bit above ourselves."
Fifth Test, Perth
Australia (402 & 345-8d) beat England (295 & 123) by 329 runs
England began the fifth and final day on 27-5, after their pre-Test hopes of levelling the series undone by more belligerent Australian batting. Graham Thorpe (123) and Mark Ramprakash (finally called up after Gatting was selected ahead of him) resisted with a first-innings stand of 158 but after Greg Blewett's second ton in as many Tests, McDermott (6-38) and McGrath (3-40) polished things off...
ATHERS: "Ramprakash was flown in from an A tour to give us the extra batsman that we didn't have due to the on-going injury problems and he played very well on a bouncy pitch. But what I chiefly remember about the Test was our atrocious fielding. I thought we actually bowled quite well - and Perth is always helpful to the faster bowlers - but we dropped nine or 10 matches which let Australia get away from us. I remember Thorpey dropping one at slip and then booting the ball in disgust past cover and they ran two or three afterwards, which rather summed up the fielding performance.
"Looking back on the series it's clear that Australia - with Warne to the fore - were the stronger side even allowing for our horrendous run of injuries. I remember MJK Smith, who was the manager, saying at the end of the tour 'I hope you get the opportunity to captain in Australia again' because there's not much you can do if you've got six or seven players flying home with injury and the team constantly changing'. Given the extent of the disruption it was quite an achievement to win in Adelaide and almost win in Sydney but in between there were some fairly shambolic performances as well which reflected the difference between the teams."
Stay up or catch up - watch England's defence of the Ashes in Australia this winter ONLY on Sky Sports.