Cricket Expert & Columnist
Ashes 1998/99: Nasser Hussain on Bumble, Dean Headley and an elusive draw
Australia were evolving into a great side but Nasser Hussain says England were ready to fight fire with fire...
Last Updated: 19/11/13 3:16pm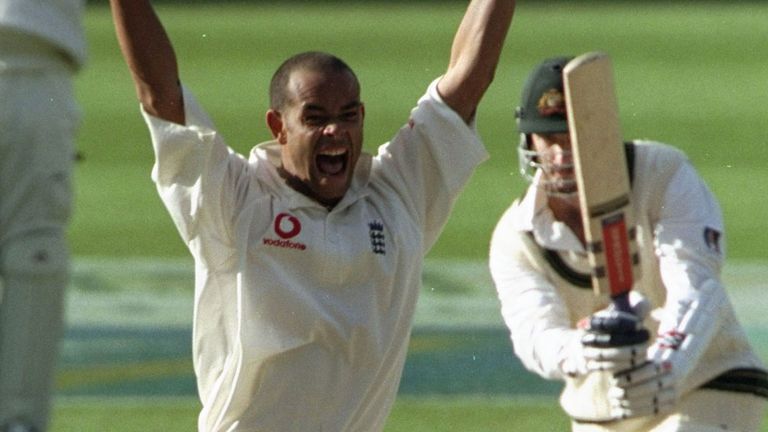 A year before, Nasser Hussain had performed well against Australia - the highlight his innings of 207 at Edgbaston - and now he was heading Down Under to experience his first Ashes tour as Alec Stewart's vice-captain determined to fight fire with fire...
First Test, Brisbane
Australia (485 & 237-3d) drew with England (375 and 179-6)
At 178-5 Australia were wilting before Steve Waugh (112) and Ian Healey (134) rallied and Glenn McGrath (6-85) restricted England's reply, despite Mark Butcher's 116. The home side set England a victory target of 348 on the back of Michael Slater's ton and the tourists were in some trouble when a terrific thunderstorm wiped out the final three hours of play...
NASS: "This was probably the best England side of my era that went to Australia. We'd beaten South Africa at home and as a group felt ready for the Ashes. We had a good coach in Bumble [David Lloyd] and a good captain in Alec Stewart, who I feel didn't always get the credit he deserved as a captain. At the same time Australia were evolving into one of the great world sides, but with Shane Warne out for the first four Tests and Adam Gilchrist yet to break into the team it was a pretty good time to play them.
"It was no surprise that Steve Waugh rescued Australia on that opening day because he's always at his best when he has to come back at you. Ian Healy was a fantastic cricketer but Gilchrist and Warne would take any side to a different level, and that's what happened in subsequent tours. Stuart MacGill (27 wickets in four Tests) was a fine bowler who would have got into any Test side; he just happened to play in the same era as Warne. He bowled me with a googly in the second innings and I remember going back into the dressing room and listening to Bill Lawry virtually laughing at me on commentary because I didn't pick it. MacGill had a better googly than Warne, but wasn't as accurate and didn't create as much pressure."
Second Test, Perth
England (112 & 191) lost to Australia (240 & 64-3) seven wickets
The tourists' hopes of capitalising on their Brisbane escape were on the rocks after 10.4 overs as Butcher, Atherton and Hussain were all back in the hutch with just 19 on the board. Alex Tudor (4-89) and Darren Gough (3-43) limited the first-innings deficit to 128 but with only Graeme Hick passing 50 in the second-innings, defeat was inevitable. It came in nine sessions...
NASS: "There's always a good breeze for swing bowling at Perth - we saw that in 2010/11 when Mitchell Johnson swung the ball to such devastating effect. In those conditions someone like Damien Fleming becomes a threat. In any other era Fleming would have been a star performer because he used to swing it at pace and bowl a full length. On his day he was a real handful, to be honest. We got walloped, basically, and it was a definite wake-up call because going to Australia should be a great place for any batsman to go and score runs. To be bowled out for under 200 twice - the first time in just 39 overs - was massively disappointing and Bumble wasn't impressed, to say the least..."
Third Test, Adelaide
Australia (391 & 278-5d) beat England (227 & 237) by 205 runs
From 140-1, England made regular in-roads into Australia's batting but simply couldn't shift Justin Langer who blunted the attack to score an unbeaten 179. Hussain (89no) top-scored in England's reply, which featured only three double-figure scores, and Slater's subsequent ton allowed Australia to set a victory target of 443. McGrath, Fleming and Miller removed England's wheels...
NASS: "I remember the first day well because it must have been at least 40 degrees but Bumble had us out at the ground nice and early. The Aussies strolled in around an hour later in their shorts and looked at us as if to say 'crikey, you'd better win the toss today otherwise you're going to have about 12 hours out in this Adelaide sun'. Stewart lost a hugely important toss again - he didn't win one all series - and even though the pitch it did a little bit, Langer played brilliantly. Once he got in he was a very difficult person to dismiss and he batted for a very, very long time. It was definitely his sort of pitch. Adelaide pitches generally stay flat for about three days and then they start to do some funny things.
"It was during this game and leading up to the Melbourne Test that the tour really started to go pear-shaped. Stewie and I we were both playing okay so we were given the three-day game against an Australian XI off, while everybody else played on a really flat pitch in Hobart. The match was dwindling to a draw when Atherton said to Bumble 'in the interests of the game we should set the oppo something', forgetting that their batting line-up had batsmen of the quality of Gilchrist, Darren Lehmann, Stuart Law and Michael Bevan - guys who at that stage couldn't even get into the Aussie side. Greg Blewett (213no) and Corey Richards (138no) smashed 376-1 and some of the bowlers, Gus Fraser in particular, didn't see the funny side of it. Bumble lost it with us and it took a bit of time for the senior players to convince him that he was doing a fantastic job and that he shouldn't resign; we reminded him that his coaching had won us a series against South Africa only a few months ago. Bumble made it as far as the airport before we persuaded him, and bearing in mind what happened at Melbourne it was a good thing we did!
Fourth Test, Melbourne
England (270 & 244) beat Australia (340 & 162) by 12 runs
At 4-2 England were right back in the mire minutes into the Melbourne Test and despite a century from Stewart, Australia again held the upper hand thanks to Steve Waugh's 122. Fifties from Stewart, Hussain and Hick seemed insufficient to save England from a third defeat, but Dean Headley (6-60) and Gough had other ideas...
NASS: "The tour was coming off the rails and even this Test didn't go to plan - Australia ended up chasing only 175 - but Gough and Headley, in particular, bowled brilliantly. Gough was an absolute star against Australia in general - I won't have a bad word said against him because he was a fantastic, whole-hearted cricketer who loved playing against Australia. He was the equivalent of a Stuart Broad or Kevin Pietersen of the modern era - someone who just loves the big stage. Headley is a good friend of mine and, when he was fit, was a fantastic bowler, particularly against left-handers. They both had massive hearts; they would bowl all day and they had to on the final day of the Test because play was extended to make up for lost time; the final session lasted about four hours!
"Australia were 103-2 and in sight of victory when Mark Ramprakash took a brilliant, diving, one-handed catch square of the wicket to get rid of Langer - he celebrated by running around like a headless chicken! We fielded well in that Test and caught everything. We kept the pressure on and with good reason because at that stage Australia did have a little bit of an issue when it came to chasing small totals. I remember that Steve Waugh copped a little bit of criticism because he put his trust in Matt Nicholson, MacGill and McGrath and ended up 30no. But that didn't bother us because we'd won the Test and Bumble was happy and jumping around again!
Fifth Test, Sydney
Australia (322 & 184) beat England (220 & 188) by 98 runs
The Waugh brothers dug Australia out of an early hole with a fourth-wicket stand of 190 and MacGill's 5-57 gave the home side a clear first-innings edge, despite Darren Gough's tail-end hat-trick. Headley (4-40) and Such (5-81) ran amok second time around before Slater made the most of a controversial life to play a match-winning innings of 123 - scoring 99 more runs than any other Australian player...
NASS: "Australia were 60-2 in their second innings when Slats was beaten by Headley's direct hit. Everyone, including Slats, knew he was out but Steve Dunne referred it and third umpire Simon Taufel said he was unable to give the decision because Peter Such was unintentionally blocking his view. It was a crucial moment and Bumble still has nightmares about that decision because Slats went on to make 123 out of a total of 184, and we ended up chasing rather more than we should have. If Slats had been given out, I'm convinced we would have won the Test and levelled the series.
"Sydney is one of the great venues and there are always a lot of Brits in the ground. We've played some good cricket there over the years, so it was a great place for Gough to get the hat-trick. He bowled MacGill after having Healey caught behind and, although the hat-trick ball didn't quite come out as he wanted, he then bowled Miller, too. That, together with four wickets for Headley, put us right in that game but the run out made a huge decision to the game and ultimately meant that a series that could have ended 2-2 ended in a 3-1 defeat. It was really unfortunate because a lot of times we've played against Australia and 3-1 was probably a very fair result but on this occasion I thought it was very unfair on us."
Stay up or catch up - watch England's defence of the Ashes in Australia this winter ONLY on Sky Sports.