Cricket Expert & Columnist
Aus v Eng 3rd ODI: Eoin Morgan has the style to replace Alastair Cook as captain, says Nick Knight
Eoin Morgan has the right style to replace Alastair Cook as captain, says Nick Knight.
Last Updated: 19/01/14 1:30pm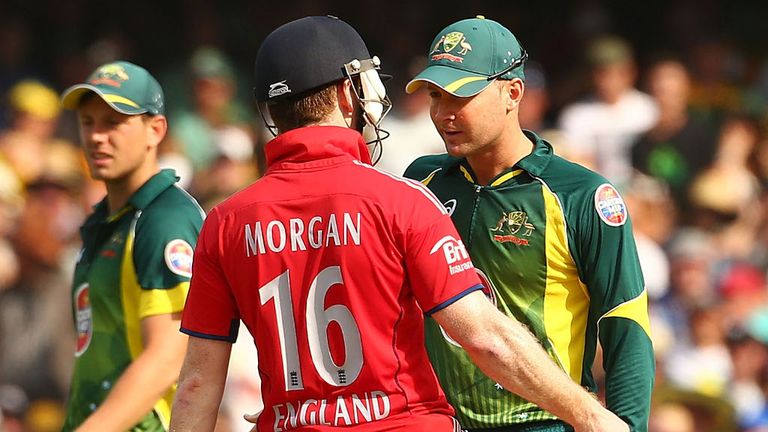 Morgan, who has been the standout batsman in England's disappointing performances in the ODI series in Australia, could replace Alastair Cook as one-day captain at the end of the series after Cook suggested he will step down.
Knight believes Morgan should be the man to take charge of the ODI squad and also replace Stuart Broad at the helm of the Twenty20 squad ahead of the World Cup which starts in March.
He said: "I personally would make Morgan captain of both one-day squads.
"I like his style of captaincy, we've done a couple of games over in Ireland when he's taken the captaincy when Alastair's decided to have a rest.
"Why do I like his style? He captains like he bats - he's inventive, he's enthusiastic, he's trying to find different ways. There's no question he has the respect of the team as well and that's crucial.
"They (the ECB) have to make a big decision. We're getting ahead of ourselves but if Cook does stand down, Morgan takes over for me in the 50 overs without a doubt.
"The question is how do they deal with the Twenty20's, we've got a World Cup coming up in a couple of months time. Stuart Broad is obviously the captain, do they make an unanimous decision that Eoin Morgan is their one-day captain and then ask Stuart to step down? Or do they keep three captains if Cook stays as Test captain."
Who do you think should replace Cook if he steps down? Leave you comments below.