SA v Aus, 1st Test: Graeme Smith and Michael Clarke won't take step back
Australia have a big, big task in front of them but will be buoyed by fine Ashes win...
By Dominic Cork
Last Updated: 10/02/14 11:35am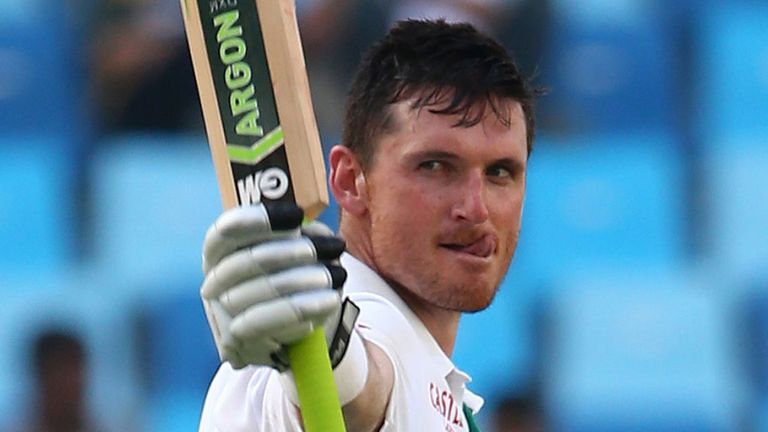 Ahead of the first Test at Centurion, former England all-rounder Dominic Cork assesses an enthralling series between the top and third-best Test teams in the world and looks at three key player match-ups...
"I honestly think that these sides are so evenly matched that it will come down to whichever of the senior batsmen in each side can take a grip of the series," said Cork.
"That's Graeme Smith and Hashim Amla for South Africa, and primarily Michael Clarke for Australia.
"It's hard to split the bowling attacks - both sides have the firepower to take 20 wickets - and it could well come down to who adapts quickest to the conditions. If South Africa put runs on the board, will Australia struggle?
"South Africa will have a problem filling the gap left by Kallis - people underestimate just how good he was - which is why they've included both Wayne Parnell and Ryan McLaren in the squad.
"They've also had a bit of a problem in the spinning department, trying Imran Tahir and then Robin Peterson. I think Australia have got the better spinner in Nathan Lyon, who came on leaps and bounds in the Ashes."
Here are some of the key battles...
Graeme Smith (9,220 runs at 49.56) v Michael Clarke (8,109 at 51.40)
Smith will have taken note of how much Australia have improved since the last time he took them on in South Africa. He's had problems with his knee for a while - he came over to Surrey at the start of last season and had to return home soon after because of the injury - but he's a cricketer who leads from the front regardless and he's a big reason why South Africa are the No 1 side in the world. He's an aggressive captain who goes for the jugular when he's got a side down, while he's also a very difficult batsman to bowl against because he can work you through the leg-side from outside off-stump. It will be interesting to see how he goes in this series because he's up against an attack that is full of confidence.
Clarke is a class player who can really put it to the South African bowlers. Captaining a winning side makes the discipline of batting a lot easier and he has really grown as a captain. After the Ashes series he said 'that's done' and it was all about building towards the next series. With Darren Lehmann behind him as coach, he's more than capable of pushing the Australians further forward. They've still got a lot of work to do, particularly when it comes to the consistency of their batting, but when Clarke does well the rest of them tend to follow. They are a good team that is full of confidence and is raring to go for this series.
AB de Villiers (6,827 runs at 51.71) v Brad Haddin (3,007 at 36.67)
De Villiers one of these annoying people who can do everything. He's a very talented individual and an exciting player to watch, and once he's in his bubble he just wants to bat and his stroke-play can be expansive. He has used Twenty20 to express himself and then sometimes has brought that mentality into the Test arena. He's a good wicketkeeper; he catches the ball nicely and adds a lot to the South African side. In an ideal world you'd have Haddin keeping and De Villiers batting for you - but it's hard to separate them. These days the lower-order has to go out there and try to take it to the opposition. That's why I'd class both Haddin and De Villiers as all-rounders. Their consistent performances allow the selectors to add another batsman, all-rounder or bowler to the side to give it a better balance.
Haddin is a fighter. Whatever situation he comes to the crease at, he wants to scrap, he wants someone to have a go at him - that's what gets him going. He reminds me of Jack Russell - a character who loves to be out there in the thick of it. He had to take a little break out of the Australian side for personal reasons, which is why Matthew Wade came in, but he's come back and continues to give Australia stability in the middle-order. That's what Lehmann wants - a player who will always fight when his back is to the wall. He's a good wicketkeeper, a solid individual, and a good person as vice-captain to go to. Haddin is a very similar cricketer to Matt Prior because they both offer so much. Yes, Prior is going through a tough time at the moment, but I expect him to be part of England's future plans. What Haddin gives you from behind the stumps is gold - he sees everything and gives you different angles and opinions.
Dale Steyn (350 wickets at 22.90) v Mitchell Johnson (242 wickets at 28.33)
Right at this moment I would choose Dale Steyn over Mitchell Johnson because he has performed consistently in Test cricket for a period of time. Steyn has got pace, swing and aggression - he can bowl all day and when the pitch perhaps isn't so quick he can sit back. He reminds me of some of the West Indies bowlers of the 1980s and the 90s who in certain sessions came off the pace when they weren't able to take wickets and concentrated on bowling maidens. Steyn has that ability; you can bowl him in bursts and encourage him to bowl quick or you can get him to ease off the pace a little bit and get him to swing the ball. That's why he's the best bowler in the world. He's a major factor in why South African cricket has been so successful.
Johnson is back bowling fast and while he's struggled to maintain a consistent line and length at times in his career, now he has far greater control. It has all clicked into place. Cricket is all about having the confidence to go away from the game and going back to what made you a good player in the first place. The way in which he has overcome his lack of confidence to bowl so impressively in the Ashes is a fairy story. He's shown the heart and desire you need to prove people wrong. We underestimated Johnson - and what he's done to re-model his action by putting in the hard work with Dennis Lillee - as a nation before the Ashes. He now has the ability to take wickets at the highest level but this is another big test for him because South Africans like to pull and cut and they are used to facing very quick bowlers.
Watch the first Test between South Africa and Australia live on Sky Sports from 8am on Wednesday on Sky Sports 1.