Bumble Blog: Eoin Morgan's England hopes, Kevin Pietersen's future and Winter Olympics
Bumble blogs on England's next coach, a big chance for Eoin Morgan and Kevin Pietersen's future.
Last Updated: 25/02/14 1:53pm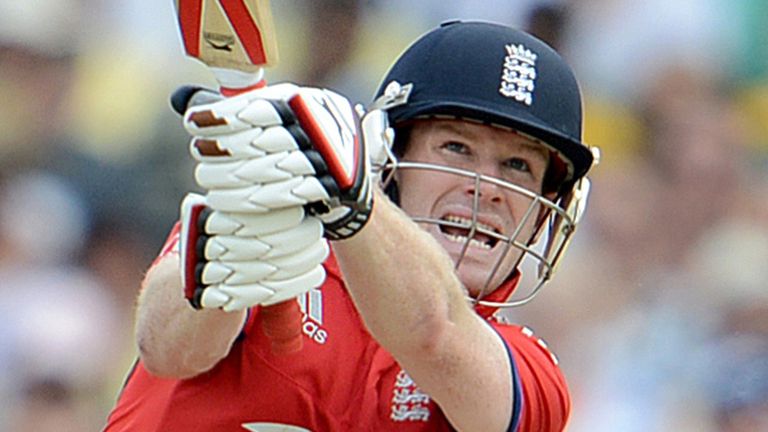 He needs to choose carefully and I think he will pick a good man.
But when it comes to the next overall coach, it seems odd that the ECB have manoeuvred to ensure he can't have Kevin Pietersen in the team and he must have Alastair Cook as his captain.
What if he doesn't want that? He may have to do some negotiating with his bosses to work out what he can do. Any candidates will be asking where they stand because if they're putting this on him now, what else can he not do?
There were always pressures from above when I was England coach, but it was a very different regime back then. There was no Team England and there were no central contracts; we just had a bunch of blokes who were employed by County Cricket clubs and came to play for England every now and again.
Any coach must look at it now and see it as a very challenging job. Getting absolutely drubbed by Australia is a real wake-up call and we have to start again.
I think the field is pretty open though and I see Paul Downton as an excellent chap who will choose very carefully.
Lions on the hunt
I am watching the Lions tour very carefully because there are a number of places up for grabs for those players.
It's very rare to see an international team looking to fill so many places. At the start of a season it's usually a maximum of two, but in my view we are looking for five.
As I wrote in this blog last week, I think there are six certainties in the team right now - Cook, Bell, Root, Stokes, Broad and Anderson. There will be a few players who see themselves as candidates for the other slots and I'm looking for hundreds from the batters in their matches in Sri Lanka.
The one that should come through with a wet sail is Moeen Ali, who is a very good cricketer. However, I'm looking for him to deliver hundreds - and not little 60's and 70's.
I also like the fact that Eoin Morgan has said he's not going to the IPL and is going to play for Middlesex. He has gone to the IPL previously and earned an enormous amount of money for a young chap.
I assume he would have spoken to the selectors previously to see if he was in the England frame and was told to go and play in the IPL. This time he's looked at it, seen there's five slots available and decided to do all he can to get one of them.
My own view with him is that he's now older, wiser, more experienced and better technically equipped than he was in the past. Make no mistake, this is a tough character - and I've told people that before.
Don't mess with the Morg!
All quiet over Pietersen
In the scheme of things between the ECB and Pietersen there isn't really a winner.
The public will be irate about what's happened, but legally it seems neither side can give us a proper explanation. It would appear that an agreement has been made between the ECB and the player and I don't think people understand there's a confidentiality clause.
That means there's very little that can be said and lawyers would be all over you if you did say anything.
If you're looking for an explanation then read Andrew Strauss' article in The Times. It says the England team had lost trust in an individual player and things broke down - although I assume Pietersen would vehemently deny that and say he just wanted to go out to bat.
Strauss says any team environment is "stillborn" when there is a lack of trust - and what he wrote applies to sport, business, commerce and any team you might be involved in.
Strauss was also supportive of the ECB in that he'd looked at the output of Pietersen over the last 12 months or so - when his form has been very scratchy - and realised they can almost do without him.
Pietersen will come out of this minus the opportunity of playing Test match cricket, but he will be a far wealthier man through exploring other areas.
Chancing on ice
My thoughts go out to everybody dealing with the floods across the country. It looks absolutely horrific.
My mate The Brigadier, who has starred in this blog plenty of times over the years, is living down in Somerset and they are having a rough time. I really hope things work themselves out.
I live in Yorkshire these days and so the flooding hasn't affected me, but I have got really into brass bands. Living here, I've been really captivated by the history, graft and nostalgia in the music. A little tip: The Grimethorpe Colliery Band CD is absolutely fantastic in a morning.
I've also been enjoying watching the Winter Olympics in the Russian city of Sodit.
I'm thinking of entering Vipers in the next one because she'd be brilliant at curling; she's a dab hand with a brush (in fact, I've bought her a new one for Valentine's Day!)
I could get her a tracksuit - although she has a boiler suit which she could use for a start - and she could take a bottle of Jif and get that ice spotless. She'll love it.
And if that doesn't work out I'll send he down that luge. She loves sledging. As long as she can take the dog on the back she'll be happy.
You heard it here first.