Jos Buttler could be 'wasted' batting higher up for England in Twenty20 cricket
Bopara is the perfect number three for Bangladeshi conditions
Last Updated: 13/03/14 2:49pm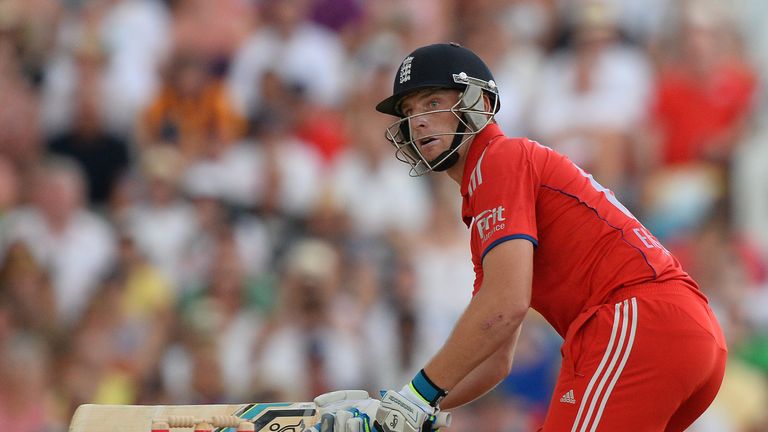 That's the view of Mark Butcher, who told Sky Sports he would resist the urge to promote the 23-year-old as Ashley Giles' side tries to find the winning formula ahead of the ICC World T20, which begins on March 16.
Buttler, batting at five, plundered 67 off 60 balls in Bridgetown on Tuesday but was unable to prevent England from slipping to defeat against West Indies - and registering their fifth T20 loss in a row.
England plummeted to 36-3 in the opening T20 in the Caribbean and to 26-3 in the second, but Butcher feels Buttler's pyrotechnics could be neutered if he is shuffled into the top three.
Instead, the former Surrey batsman thinks Ravi Bopara should be shunted up from his lower middle-order position, a spot in which he cracked 42 off 35 balls on Tuesday during his country's five-wicket reverse.
Better
But Butcher says unless England become less frantic after facing a clutch of scoreless deliveries, their T20 toils will continue.
"Buttler showed [on Tuesday] he has more game than he is perhaps given credit for and can close out a game better than anyone in England colours, including Eoin Morgan," said Butcher, during South Africa and Australia's rain-affected second T20.
"So I wouldn't waste that, or be conned by it and put him up to three when there is a guy like Bopara, who bats in the top order for his county, is a very fine player on the type of pitches that England will encounter in Bangladesh, and is wasted batting at six or seven."
Butcher continued: "There is too much panic over two or three dot balls and then someone has a wild swing and gets out, whereas someone like Chris Gayle, who, admittedly, is a wonderful ball striker, gives himself time to get in.
"The phrase 'you have longer than you think' is a cliché but a truism, because if your side ends up three down in the first eight overs, you then spend the next eight trying to dig yourselves out of trouble.
"And by that time the run rate is nowhere near high enough."
Kidding
England begin their World T20 campaign on Saturday, March 22 with a tussle against New Zealand, before clashes with fellow group-stage rivals Sri Lanka (Thu, Mar 27) and South Africa (Sat, Mar 29).
Butcher reckons Giles' squad's chances of winning the tournament are slim, in the wake of an Ashes humbling and the exit of Kevin Pietersen - but says a semi-final berth is not completely out of the question.
"Anyone who thought England's preparations for the World T20 would be plain sailing were kidding themselves," added Butcher, who figured in 71 Tests for his nation, with a top score of 173 not out.
"There was a disaster in Australia, a hangover that carried through the limited-overs games, and then the fallout from the Pietersen affair - plus, they are still unsure who their top five batsmen are, let alone the top seven.
"It will be tough [in Bangladesh] with the issues I've mentioned and a lack of high-impact players, but if a couple of players come off then you can go far in this event.
"When England won it in 2010 it was mainly because Ryan Sidebottom bowled exceptionally and Pietersen batted excellently, so it can happen.
"I think a semi-final spot would represent success for England but I wouldn't be having too many shekels on them."
The great sport keeps coming during Magnificent March. Here are some of the highlights you can enjoy with Sky Sports.