Cricket Expert & Columnist
Nasser Hussain says Peter Moores has unfinished business with England
Nasser Hussain backs Peter Moores to fulfil his 'unfinished business' with England.
Last Updated: 22/04/14 11:31am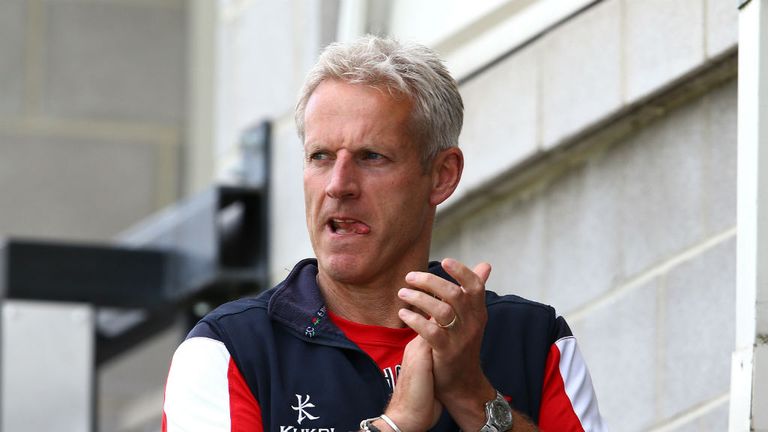 Moores was unveiled on Saturday morning as the successor to Andy Flower, who quit as head coach in January following England's disastrous Ashes tour over the winter.
And Hussain insisted Moores, who was removed as England head coach in 2009 after less than two years in the role, deserved his return to the top job.
"I was pleased they selected Peter Moores," Hussain told Sky Sports News. "I think he is a good choice. He has a good record as a coach, albeit at county cricket.
"It did not go quite as he would have liked as an international coach, but I do think that he deserves a second chance.
"I think he has a bit of unfinished business. A coach is only really as good as his players and I think the focus should be more on players and the captain, and what direction the captain is going to take and players taking more responsibility. But you look at what Peter has done.
"I think he was very dignified with the way he moved on after he was sacked. He did not criticise anyone, he just got his head down with his Lancashire job and did brilliantly at Lancashire in regrouping that team and that county. That is what England need right now."
Future
Moores lost the head coach role in 2009 after falling out with then captain Kevin Pietersen. With Pietersen now exiled from the England camp, Hussain insisted the focus should now be on moving forward and creating a winning England side.
"They need to stop looking back, need to stop chatting about Kevin Pietersen and everything that happened in the winter," he said. "We have discussed that now for four or five months.
"We need the captain and the coach to get them together and look forward in a positive way and move things on. And play an exciting brand of cricket, but more importantly play a winning style of cricket. That is what the players and the public want to see."
Hussain insisted the talent is out there in English cricket to take the national side back to the top of the game.
That future will not include Pietersen, but Hussain was adamant that would have been the case no matter who was appointed as England head coach.
"I sat down with Duncan Fletcher in the World T20 this winter a few weeks ago and he sees a lot of positive signs with England and with the players coming through," Hussain said.
"We still have some very fine cricketers and we just need to move on in a positive direction now. And start focusing in on Scotland in Aberdeen in May and the Sri Lanka and India after that."
Irrelevant
Hussain added: "I think the Peter Moores thing is irrelevant to Kevin Pietersen to be honest. I think the ECB and Paul Downton had decided a month or so ago that there was no way back for Kevin Pietersen.
"I think it is rightly brought up by the media guys because there is still a lot of people out there in the paying public - and we must never forget them - a lot of them want to see Kevin play because of his style of cricket and he is a seriously good players with over 8000 Test match runs. He put bums on seats and it will be a bit boring without Kevin I am afraid.
"But the decision was made months ago by the powers that be at the ECB that we are moving on in an era without Kevin Pietersen. I think whichever coach they brought in today that was going to be the case.
"I don't like looking back. He was a fantastic player but I think it is time to move on and look forward now."