Bumble's Blog: time to switch on and catch eye of England selectors
Thorpe-like Ballance right in contention for the first Test against Sri Lanka...
Last Updated: 02/05/14 8:54am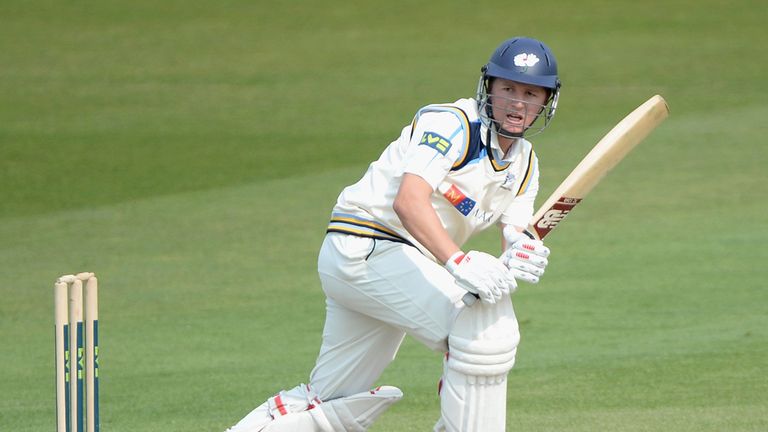 Some really good players will be on show on both sides and with the start of the international summer not too far away the likes of Gary Ballance, Joe Root, Tim Bresnan, Graham Onions and Scott Borthwick will be out to impress Peter Moores and the selectors.
It'll be very interesting to get Ashley's thoughts on the new regime and how Moores is shaping his backroom staff; much like a football manager he's said 'this is who I want', the latest change seeing Graham Gooch lose his job as batting coach.
Gooch has served England well as a player, coach and administrator - and I've no doubt that he'll still be involved in cricket somewhere - but everybody has a life-span and I expected this change.
Graham Thorpe, who is in the running to replace him, is very business-like; he was a brave player, a gritty, nuggety batsman - but someone who could expand his play.
Ballance can bat in a similar way and after being thrown into a white-hot Ashes series he is right in contention for the first Test against Sri Lanka. He was very circumspect at the beginning of his 174 against Northamptonshire - he really knuckled down - but then he showed his full-range of stroke-play.
Nibbles
At this time of year when the Duke ball nibbles around on juicy pitches you need batters with good technique, so it's no surprise to see Ian Bell and Alastair Cook getting runs but I imagine Moeen Ali will be a little frustrated after getting out for 99 while a few of his rivals for an England place have been putting hundreds on the board!
You also need bowlers with discipline to get the most out of the conditions - something Jimmy Anderson and Onions are experts at. David Masters and Jack Brooks have also impressed me, while Steven Finn is taking wickets again. If England can get him right sooner rather than later, that will be a massive bonus.
My lot, Lancashire, have moved on from Moores by putting Glen Chapple in charge of first-team affairs. As I said on Twitter, I reckon that means he'll be in charge of planning, coaching, practice, mentoring, discipline, strategy, media, organisation until the end of the season - assisted by Gary Yates.
I expected Chapple to receive quite a long contract because I don't think Lancashire are expected to win the Championship and if they don't have a very good season, the club could say 'thanks a lot, goodbye'.
Suddenly he's 40 years old and has nowhere to go. I'm not sure this sort of deal does him any favours at all - especially as his crack-a-jack bowler Jimmy Anderson, will be away for England duty for much of the season.
Drunk
After we finish at Chester-le-Street on Wednesday we fly from Newcastle to Aberdeen for the one-day international between Scotland and England. At this stage I can't tell you who is favourite. If we win, we'll probably cut the pitch up and bring it home!
My recent flights have been mixed, to say the least!
Last week I went on a stag do to Majorca with Smeats, a golf pal of mine, and all I can really say here is that it was an eventful trip - starting with the flight out!
At first we couldn't taxi onto the runway because a group of youths with baseball caps on back to front (and trousers halfway down their backsides) all wanted to go to the toilet.
How drunk people are allowed on a flight at all, let alone at 6.40am in the morning, is beyond me!
After that I flew to Dubai for a rather more civilised ICC Umpires' meeting. Dubai is getting a new metro system so traffic is horrendous but it will be really good when it's all done. I like Dubai because it's clean, tidy and industrious but I know a lot of people don't - it's a bit marmite.
We had a four-hour meeting under the auspices of Geoff Allardice but I can't reveal what we discussed other than to say we were looking at the elite umpires, the international umpires and the emerging umpires. Adrian Griffith, from the West Indies, joined us as an observer.
As soon as we got the business done I came back home on an Emirates A380, which was lovely; it's a real good experience, is that. I watched the Alan Partridge film, Alpha Papa, I thought it was brilliant and was chuckling away.
Thanks for all your comments about my knee - I've had another session with @GetFit_MobilePT and I'm getting to where I want to be; I've got another four months of it to go. I should think I'll be in a decent shape by then, especially as I've started cycling around north Yorkshire.
I tried to get one of those Sky bikes, which are apparently available at a discounted price - but when I looked at the cost I thought 'I can get a house for that'!
I might go to Robin Hood's Bay for a walk on Saturday and then I'll be off to Chester-le-Street for the live game, which starts at 10.30am on Sky Sports 2.