Cricket Expert & Columnist
Scotland v England: ODI line-up plans may be affected by conditions, says Nick Knight
Third spinner may be cut, says Sky Sports pundit
Last Updated: 07/05/14 2:53pm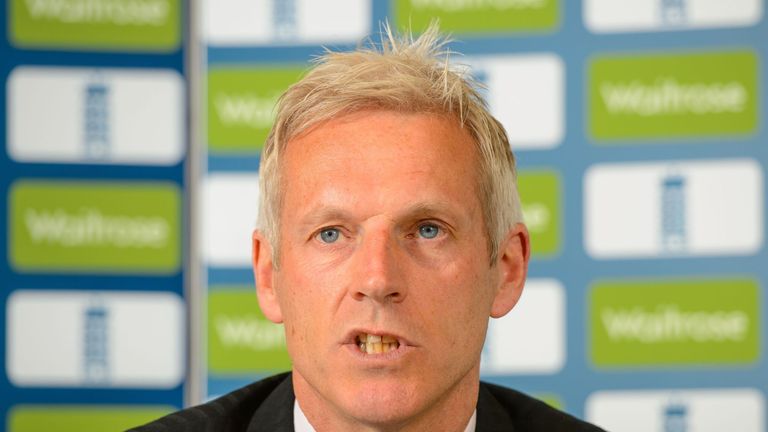 England kick off their summer schedule - and their new era under returning national team coach - on Friday, with an ODI at Mannofield Park, live on Sky Sports.
While Moores' first 13-man squad contained few surprises, with the exception of uncapped Harry Gurney, reports from the Aberdeen venue suggest there is plenty of moisture in the surface and Sky Sports pundit Knight reckons that could alter the visitors' plans.
"England might have an idea of the XI they want to play but they may well have to look at the conditions and make a decision from there," said the former batsman.
"They'd expect the pitch to be a bit slower and a bit stodgy and a little bit damp in early May in Aberdeen.
"[Of the 13-man squad] they may well have thought that two of the lads to miss out, if conditions had been normal, good, one day conditions, would be Chris Woakes and Gary Ballance.
"But if conditions are slightly different they may well feel there's no need to have three spin options. It may be they stick with Moeen Ali, play Joe Root - who can bowl some spin - and decide there's no room for James Tredwell, which may bring in Ballance or Woakes."
Formula
However, Knight insists England need to settle on a formula they are happy with, in terms of a batsman-bowler balance.
While the personnel may alter given the conditions, Knight says England should stand by five bowlers and six batsmen to steer them back to winning ways, after a woeful winter in all formats of the game.
Asked whether England should employ another batsman for the predicted low-scoring affair in Scotland, Knight said: "Not necessarily.
"You've got Ravi Bopara at six and Jos Buttler at seven. If you put in another batsman in you might have Buttler or Bopara at eight - and I think that's too low, far too low.
"You've got to be careful that you still pick a balance. My big mantra for one day cricket, as it stands with two new white balls and two bouncers an over, is have five genuine bowling options.
"I'm slightly tempted, from what I saw from Bopara in the winter, to include him as a fifth bowler, with the option of Root and Ali to back him up. That's what I believe you need to consistently have in that form of the game. They need to keep that in the back of their minds."