Cricket Expert & Columnist
Eng v SL, first Test: Hosts must start brightly, says Michael Atherton
Cook and Moores must show they can take the team forward
Last Updated: 11/06/14 5:54pm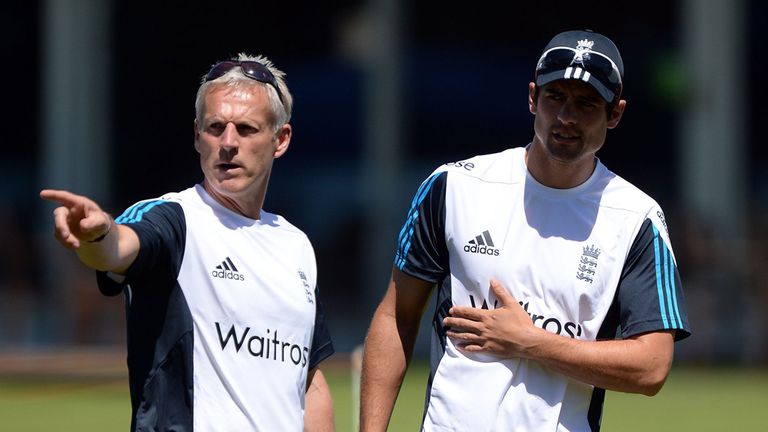 England's new-look Test team needs to seize the opportunity against Sri Lanka or face a tough summer, says Michael Atherton.
A summer of Test cricket kicks off on Thursday as England take on the tourists at Lord's in the first of a two-Test series.
Moeen Ali and Sam Robson look set for their debuts in the longest form of the game, as does Chris Jordan who thoroughly impressed during England's 3-2 defeat in the recent ODI series.
Robson has been tipped to open alongside captain Alastair Cook, and Sky Sports pundit Atherton is hopeful the 24-year-old can shine at Lord's, where he plays county cricket for Middlesex.
"I haven't seen a lot of him, I've seen a little bit, but it'll be interesting to see how he copes," he said.
"He's got a great opportunity on his home ground. He's been earmarked for some time, five hundreds for the Lions in the winter, a bright start to the season where he's averaging 50 or thereabouts and they've been looking for some time for a replacement for Andrew Strauss.
"Cook has gone through Nick Compton and Joe Root, and now they've decided to keep Root in the middle order and go for Robson."
Ali, meanwhile, has been on sparkling form with the bat at first-class level and is likely to come in at six, but all the talk has been of his off-spin ability, particularly after the Worcestershire man hinted at unleashing his doosra delivery on the tourists.
But Atherton expects the major part of England's bowling attack to come from the seamers, judging by the current state of the Lord's wicket.
"It's under the sheets now, even though it's bright sunshine and 20 degrees, so it's pretty clear what England's tactics are," he added.
"They want a pitch with a bit of grass, a bit of seam movement and a bit of pace to negate Sri Lanka's spinners. Of course, England haven't got a specialist spinner of their own; they're going to go in with four seam bowlers and Ali, so they've asked the groundsmen to leave a bit of grass on.
Doosra
"Ali's a batsman first and foremost. England haven't picked a specialist spinner, there's obviously no Graeme Swann after his retirement, Monty Panesar's not in contention at the moment, so it's a pragmatic selection.
"He will bowl a little bit of off-spin, but I wouldn't get our hopes too high. He's a decent off-spinner but he's not a match-winning specialist off-spinner.
"But he has got a doosra. He's been working with Saeed Ajmal a little bit at Worcestershire, who is one of the great doosra off-spin bowlers in the modern game, so we'll see what Ali produces."
England's former opening batsman Atherton said he was disappointed with the one-day series defeat, and suggested the team selection was a little conservative for Peter Moores' first series in charge since taking over for the second time.
After the two-Test series with Sri Lanka, England take on India later this summer over five Tests, and Atherton believes the patience with Moores will quickly run out if they don't start performing.
"England missed an opportunity in the one-day series," he said. "It was a new start, a new coach in Peter Moores.
"I thought they had an opportunity to pick a few people like Alex Hales and James Vince – hard-hitting, aggressive, powerful batsmen – and make a statement to say this is the potential, this is what could be. Instead they kind of limped along.
"Now they've got three new players for the Test match and they've really got to hit the ground running in this series.
"They've got seven Test matches over the best part of eight or nine weeks now, and new coaches always get a honeymoon period, but the honeymoon period for Peter Moores might be a little bit shorter than is traditionally the case, because he's had a go previously.
"It's a very important summer for Alastair Cook on the back of the winter, where there have been a lot of casualties but not him. England have invested a lot of faith in Cook to move this team forward and he's got to show that he can."
Watch England v Sri Lanka in the First Test from Thursday, 10am, Sky Sports 2.