Cricket Expert & Columnist
England v India: Hosts near perfection on day four of third Test, says Michael Atherton
Tourists in deep trouble at Ageas Bowl
Last Updated: 30/07/14 7:40pm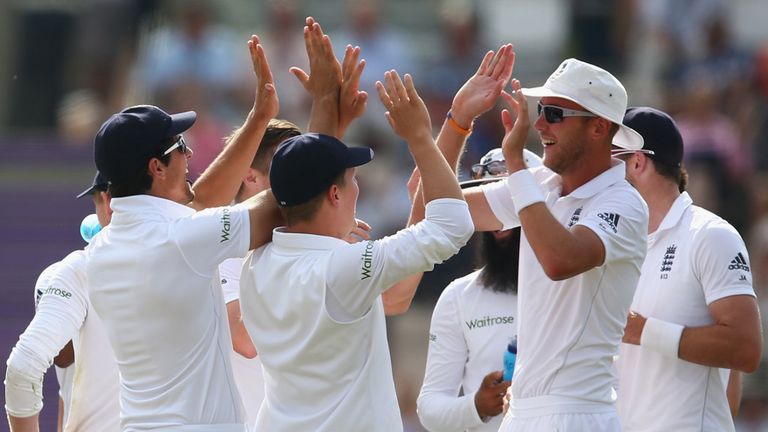 England enjoyed another near-perfect day at the Ageas Bowl on Wednesday, says Michael Atherton.
With India on the ropes at 112-4 in their second innings of the third Test, needing 333 runs to win, the hosts are on the brink of squaring the five-match series at 1-1.
And, after seeing England clean up the India tail in quick-time in the morning, rack up a fast 205-4 to set a mammoth 444 target and then remove four tourists in the evening, Sky Cricket expert Atherton says Peter Moores' men will be delighted with their work.
"It's been a perfect match for England so far. It's hard to think how it could have gone any better," he said.
It's been a perfect match for England so far. It's hard to think how it could have gone any better.
Michael Atherton
"Maybe there have been a few individual performances that haven't been up to the mark – Chris Jordan was a bit below par with the ball in the first innings and Sam Robson's had a difficult game – but that's picking holes in a near-perfect England performance.
"Everything went right today. They got MS Dhoni early on, which was a critical wicket, given the way he can play with the tail-end, the tempo of England's game in the second innings was excellent, scoring at over five-an-over, with people playing selflessly and not for personal milestones, and then the elongated evening session to break the back of India's batting.
"In this match the people who needed runs got runs, the senior bowlers that have been a little bit short of their best led the way, Moeen Ali is increasing with confidence with every game and Jos Buttler has had an excellent debut with powerful runs in the first innings and he's kept very tidily. It's hard to see how England could improve."
Confidence
Atherton says the confidence running through the team is now plain to see, from the high standard of fielding which featured Jordan's smart slip catch to oust Cheteshwar Pujara and Broad's run-out of Murali Vijay after tea, to the inventive bowling changes from captain Alastair Cook.
"Confidence builds throughout," he said.
"Cook has got half centuries in both innings and that certainly helps your decision making as a captain. He threw the ball to Ali very early on and he struck. Then Cook whipped him out of the attack and brought Joe Root in, who picked up a wicket in his second over. Cook then took him out of the attack and Moeen Ali struck again in the second over of his second spell.
"It was all excellent from England. It's a lovely position to be in, when you've set a side 445 to win and you've got plenty of options in your bowling line up and the pitch is increasingly wearing; it's very dry now, it's gripping for the seamers and there's some sharp spin for Moeen Ali, who it was great to see bowl so well."
With India seemingly set to be pegged back in the series, Sourav Ganguly expressed his disappointment at the tourists' performance.
While the India great credited England with a fine turn around in form from their poor display at Lord's, Ganguly says the young, talented visitors have failed to deal with the threat of spinner Ali sufficiently and should have adopted a more attacking approach.
"If you look at it session-by-session, they haven't had the better of England in any session," he said.
"You have to give England credit for the way they came back after Lord's. They've done wonderfully well and they're in a position where India will find it really hard to defend. Anything's possible but they'll need two really big hundreds. Ajinkya Rahane and Rohit Sharma are probably the only two players capable of getting big hundreds at the moment but it's going to be a tough battle.
"They are quality players [in the India team] and I know they'll come back but I just felt they should have been a bit more positive against Moeen Ali.
"They are wonderful players of spin, they've been brought up on pitches that turn, but the spinners have taken three of the four wickets and the seamers haven't got any in the second innings.
"They're a young team and they will get better but you've got to give England credit for the way they played in this Test match."