Cricket Expert & Columnist
England v India, fifth Test: Nasser Hussain hails Joe Root
Last Updated: 16/08/14 8:03pm
Nasser Hussain insists England must resist any temptation to move Joe Root from the No.5 slot in their batting order after the 23-year-old continued his impressive summer in the fifth Test against India.
Root hit 92 not out as England pressed home their advantage at the Oval, reaching 385 for seven by stumps on day two.
Alastair Cook and Gary Ballance had earlier made important contributions as England built up a 237-run lead following India's capitulation to 148 all out on the first day.
I think he has found his position in the line-up as well batting in that middle order. He has been outstanding
Nasser Hussain
Root took full advantage of India's tiring attack as the evening drew in, accelerating England's scoring and moving himself to within eight runs of his fifth Test century.
Hussain was impressed by Root's performance once again and insisted the batsman has now found his place in the line-up.
"A bit like Ballance this summer, he has shown that he can go through the gears," Hussain told Sky Sports.
"He can play in any situation really. When he needs to dig in because they have lost a couple of wickets he will. And at the end when they were tiring he had one thing on his mind, and that was trying to get to 100 tonight and make them pay.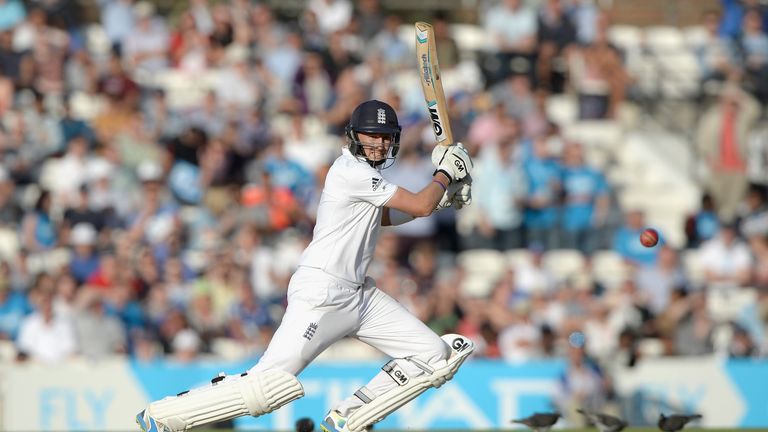 "He has played beautifully all summer. He has been really busy. He is always looking to score; he is looking to get further forward. I think he has found his position in the line-up as well batting in that middle order. He has been outstanding."
Root has flourished in the middle order after struggling to convince at the top of the order early in his career. While he averages 37.7 as an opener and 27.3 from No.3, Root has hit 860 runs for an average of 78.2 from his favoured fifth slot and has also impressed at four and six in the line-up.
And Hussain maintains Root must remain in his current position, despite Sam Robson's toils at the top of the order.
Hussain said: "Batting four, five and six he has been pretty good. It is only when he has gone up to the top of the order – and Athers will say it is tough at the top – that he has struggled.
"I would not move him. His combination looks good with Jos Buttler. They run well and he bats well with the tail. I just would not move Joe Root from that middle order. There would be a temptation but I would not move him."
Captain material
Fellow pundit Michael Atherton agreed with his former team-mate and suggested that retaining Root at five could have added benefit when, at some stage in the future, he was ready to captain his country.
"You could have made a fair argument at the start of the season that Root should have opened, that the best combination at the top of the order could have been Cook and Root," Atherton said.
"So you could have started with that. But once they did not and put him at five, they have got ot stick with that for now just for his own sake as much as anything. He has had a wonderful summer and has shown great adaptability and versatility in the role. So stick with him there and no reason to move him.
"Eventually he is going to captain England at some stage – probably a long way down the line or a couple of years down the line – and it may be an easier place to do it from at five rather than all that pressure of captaining and opening as well."
Watch day three of the fifth Test live on Sky Sports 2 HD from 10.30am