England v India, fourth ODI: England must give youth a chance after series defeat
'Taylor and Vince deserve a chance'
Last Updated: 03/09/14 9:17am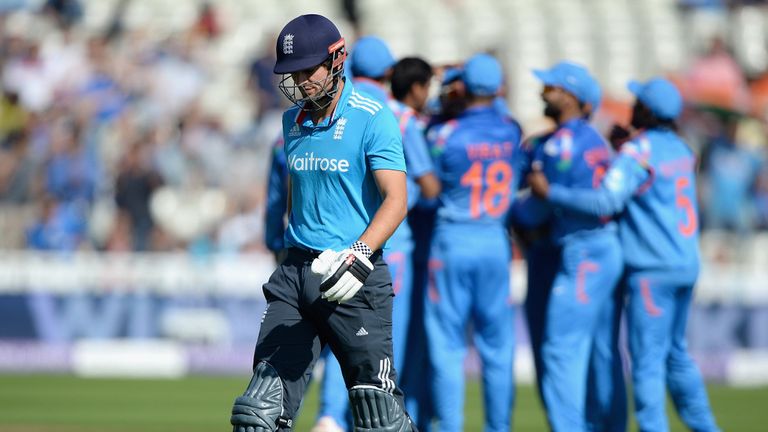 "Embarrassing" England are getting worse and it's time for a pre-World Cup change, says Sir Ian Botham.
Alastair Cook's men were hammered for a third time in a row by India on Tuesday, losing the fourth ODI by nine wickets, and now trail 3-0 in the five-match series.
With the World Cup just five months away, Sky Sports pundit Botham says England must give youth a chance and shake up their XI to find a winning formula.
There is no other word for it: it's embarrassing.
Sir Ian Botham
"We can start looking for excuses but the hard, cold facts are we don't learn and if anything we're getting worse," he told Sky Sports. "There is no other word for it: it's embarrassing.
"It's all very well saying 'we'll stick with this' – no! Enough is enough. You're running out of time. Let's make some changes. You've lost the series, what have you got to lose in the last game? Bring in some of the younger players and let's see what happens. Blood them, give them a taste.
"I've been amazed Gary Ballance hasn't been in the side, he averages more than most guys in the team in one day cricket, then you've got James Taylor at Notts who is averaging 70 in one day cricket, James Vince at Hampshire... There are a lot of players chomping at the bit to have a go.
"Jos Buttler has come in and done well, Alex Hales has come in and done well - let's see if some others can come in and do well. You've got nothing to lose."
Change
With the ODI series against India lost, Botham says it is crucial England act now, rather than stand by their current XI, to give the incoming players time to find their feet before the World Cup in Australia and New Zealand next year.
The fifth and final contest between the sides takes place at Headingley on Friday and Botham says it is the ideal time to introduce some fresh faces, rather than delaying a shake-up until closer to the antipodean showpiece.
"You need to experiment now," he said. "Don't do what we've done in the last couple of World Cups, where you stay with the side that's not working and then two or three weeks before you go make wholesale changes.
"You've got a chance now,  the series is dead and they've been hammered, you've got a game coming up at Headingley, the weather is set fair and the pitch will be good, so let's see what these other guys have got to offer."
Learn
Former India ace Sourav Ganguly was also critical of England's performance and said Cook's side could learn a lot from the batting performance of the tourists.
While India struggled in the Test series, their limited overs performances have demonstrated an aggressive streak unmatched by the hosts' batsmen, he told Sky Sports.
"India have kept on improving in this series and it was a superb performance," he said.
"England will have to look at the shots they played - there were too many reverse sweeps, too many across-the-line shots – and the way the India team batted.
"Yes, when you win everything looks good but India's execution in one day cricket is a lot different. They use their feet and they look to use the full blade of the bat.  
"As the innings progressed you could see the control, putting the ball in gaps at will, hitting the boundary when you're under pressure. It is one thing you didn't see when England batted."
Watch the fifth ODI between England and India live on Sky Sports 2 HD from 10am on Friday.