Cricket Expert & Columnist
Cook's tough Test
Michael Atherton says Alastair Cook will not find it easy to get England's Test team firing again.
Last Updated: 30/08/12 10:06am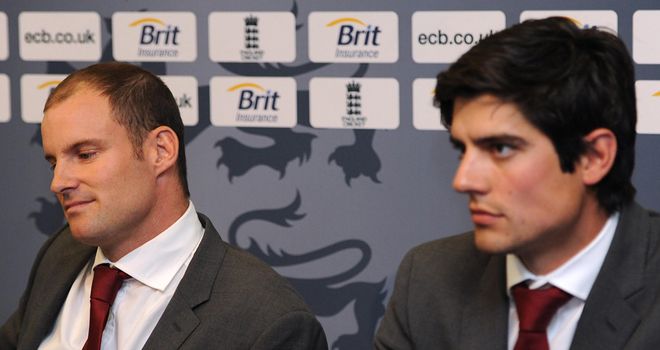 Michael Atherton told Sky Sports News that new England Test match captain Alastair Cook has a big job on his hands.
The opening batsman, who has been his country's ODI skipper since 2011, will lead England in the five-day arena following former incumbent Andrew Strauss's decision to retire from all professional cricket.
The 27-year-old will be charged with galvanising England in the wake of their recent Test series loss to South Africa and subsequent slip from the top of the world rankings, but former England captain Atherton reckons Cook will face a baptism of fire.
"Cook may not find it as easy as Strauss with one or two players stepping away - Strauss, chiefly, while we wait to see what happens with the Pietersen issue - while England's bowling attack has been on the wane; you saw that against South Africa and the West indies," said Atherton.
"Cook will not have an easy start in India. New Zealand will be easier in the winter, but even though Australia are not a top-notch side at the moment, back-to-back Ashes series will be tough."
On whether Cook's appointment could end Pietersen's international exile, Atherton added: "It changes things a little bit; Strauss is no longer involved and clearly some of the text messages sent by Pietersen referred to Strauss.
"But in some ways it may harden the other players' views and there will be a perception out theret, albeit maybe a false one, that Pietersen has had something to do with Strauss' decision to retire."
Pressure
Atherton reckons the now-retired Strauss has been considering quitting the captaincy for some time and has not been swayed by the Pietersen saga that has erupted over recent times.
"The Pietersen issue has made it a difficult couple of weeks for him [Strauss] and he may have been weakened or tired because of it, but I believe him when he says he has been having these thoughts for a while," added the Sky Sports pundit.
"He was under pressure at the backend of the winter and I think that started to sow the seeds of doubt. He had a nice time against West Indies but the series with South Africa, with both the team losing and him looking under pressure at the top of the order, has cemented his decision.
"Everybody who has done that job knows when it is the right time to retire; the feeling just creeps upon you that you have "run your race" as Strauss put it, and I think he is right [to retire].
"He is 35 and his form has been in gentle decline for a year or so, while the team have obviously had some difficult patches since going to number one in the world. It is the right time for England to give someone else a go and blood a new opening batsman.
"Strauss was a very good captain; he was held in high regard by his team, which is critical, and he led England through a successful period, with the win in Australia the highest point.
"And he has captained the side in a manner that has gone down well, both with the English public and people close to the game."