Cricket Expert & Columnist
Alastair Cook must use instinct as England captain in India, says Mike Atherton
Alastair Cook must show an instinct for Test cricket's ebbs and flows in India, says Mike Atherton.
Last Updated: 13/11/12 2:27pm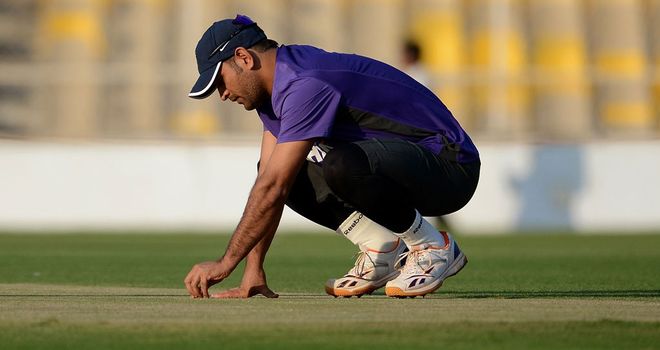 Diwali has begun and the roads - usually so helter-skelter - are quiet as people spend the holiday with their families.
At the Sardar Patel Stadium, Motera, the dry, bare pitch has been baking in the sun all day without any prospect of being covered. As you'd expect there's no grass on the pitch so it will spin at some stage although the ball won't scuff up too much on the green outfield.
With the first Test less than two days away, there's just a sense of the calm before the storm.
Practice
It's fair to say that England's preparations - certainly from a bowling perspective - have been a bit dislocated.
Steven Finn didn't practise all day today but Stuart Broad looks more advanced in his recovery, so if I was a gambling man I'd bet that Broad will play and Tim Bresnan will come in for Finn.
Happily Graeme Swann is back with the squad after flying home to be with his sick daughter; there's good news on that front as she seems much better and Swann is experienced enough to go into the Test without playing in the final warm-up game.
Those three matches have enabled England to give the players as much cricket as possible; had only two warm-up games been scheduled, England would have been forced to select their first Test team in both which means some squad players don't get any cricket at all.
It will be remarkable if England don't change their side at some point over this four Test series, so it's good that Graham Onions, Joe Root and Jonny Bairstow - all of whom you'd think wouldn't play this week - have all got some match practice under their belts.
Form
I hope this series will be the start of a long and successful tenure for Alastair Cook as England captain.
One question that is always asked of a new captain is whether the responsibility affects his form. Personally, I think that will be the least of Cook's worries because he doesn't seem to let too much faze him.
He's got a superb temperament and has scored runs in India before, most notably that unbeaten hundred in Nagpur on Test debut in March 2006.
Any captain who has got his own game in order will feel much better about telling anybody else what to do!
Cook is well respected and liked in the dressing room, but on the field I want him to display an instinct for how the game ebbs and flows, an ability to move quickly between attack and defence.
We haven't seen much of that side of his captaincy, simply because we haven't seen him lead the side too often.
One-day cricket is very formulaic - you're restricted in terms of how you use your fielders and the bowlers can only bowl a limited number of overs, so you're in a bit of a strait-jacket.
But in Test cricket you have far more time and scope to express yourself as a captain so it will be interesting to see what he comes up with.
Threat
For all England's issues - and there are question marks about the attack, Kevin Pietersen's return, how the opening partnership will work and Cook's leadership - India are vulnerable as well.
They are going through a peculiar phase of their own where a lot of the senior batsmen are coming towards the end of their time and seamer Zaheer Khan is on his last legs.
The spin threat is there from the likes of Ravichandran Ashwin but it's not, I wouldn't have said, as great a threat as Pakistan posed in the UAE last winter.
It's also worth noting that India, admittedly on their travels, have looked fairly uninterested in Test cricket of late and that will worry Mahendra Singh Dhoni and Duncan Fletcher.
I wouldn't put it past England to challenge India strongly over the four Tests but I genuinely feel that the series could go either way; England could get walloped or they could win easily.
In a way not knowing is quite nice because I've been on a lot of tours where the outcome is clear before the contest has begun, which robs sport of much beauty.
But over the next month or so anything could happen - and it's fantastic to have such a sense of anticipation ahead of a major series.
England's Test series in India begins on Thursday November 15 at 3.30am on Sky Sports 1 HD.