Cricket Expert & Columnist
England's batsmen must follow Alastair Cook and Matt Prior's lead after heavy loss to India, says Mike Atherton
England must dramatically improve their first-innings batting if they are to trouble India, says Mike Atherton.
Last Updated: 19/11/12 5:10pm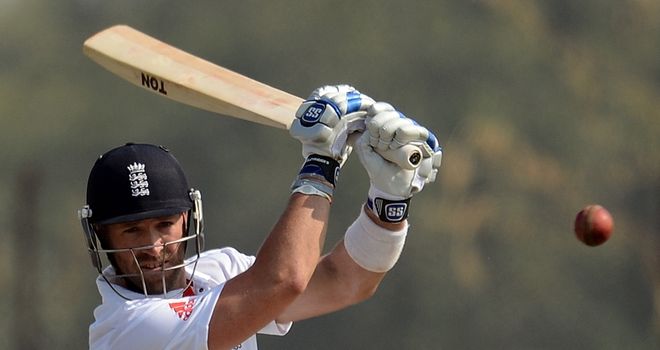 That's the view of Sky Sports pundit Mike Atherton following the tourists' nine-wicket loss in Ahmedabad, in which they totalled a paltry 191 in their opening knock, with wicketkeeper Matt Prior top scoring with 48.
Atherton says this malaise has been evident during recent tours against Pakistan and Sri Lanka, but he reckons England can improve their fortunes if they follow the principles of skipper Alastair Cook and Prior, who notched 196 and 91 respectively in the second innings.
"Playing in the subcontinent is all about the first innings," said Athers. "And if you look at England in Asia in 2012, they have played six Test matches and in four of them they have been bowled out for less than 200 in their first innings - and only once have they gone past 400.
"The pitch slowed down, lost its bite and became easier to bat on throughout that long batting partnership (of 157) between Cook and Prior, while there were no great alarms when India went on their victory charge - but it wasn't a 191 all out pitch, and scoring that really put England on the back foot.
"England will constantly say they are learning about this part of the world but evidence suggests they are learning pretty slowly; in the UAE they went from being overly defensive to overly aggressive and they looked pretty muddled in the first innings here.
"But in the second innings, Prior, while still playing with positive intent, reined himself in a little and adapted to conditions.
"Meanwhile, as (England batting coach) Graham Gooch explained at the end of day four, Cook manufactures an innings and just doesn't go out there and play, unlike someone like Kevin Pietersen, who doesn't seem to have a plan against the spinners."
Slippery
England have won just one of their previous four Test series - against West Indies this summer - since thrashing India 4-0 on home soil in 2011 and moving to the top of the Test rankings, and Atherton feels Andy Flower's charges may have lost their edge.
"There were only three performances of note from England in this match; those from Cook, Prior and Graeme Swann, while if you look down India's team there were not too many bad performances," he added.
"After England lost to Pakistan in the UAE, Flower said he didn't think his team were as sharp or committed in practice or as well prepared as they ought to have been.
"And, of course, in any sport when you start on that slippery slope it becomes very difficult to get things going.
"Gehan Mendis, an old team-mate of mine at Lancashire, once said: 'It takes an age to build a good team and only a moment for that team to disintegrate'.
"England took three years to become world number one, but perhaps that dip started in the UAE when there was all this talk of not being able to play spin, which can get into your mind."