Cricket Expert & Columnist
England can secure historic series win in India even if Steven Finn is ruled out, says Mike Atherton
Mike Atherton says England can wrap up an historic series win in India even if injury rules out Steven Finn.
Last Updated: 12/12/12 11:37am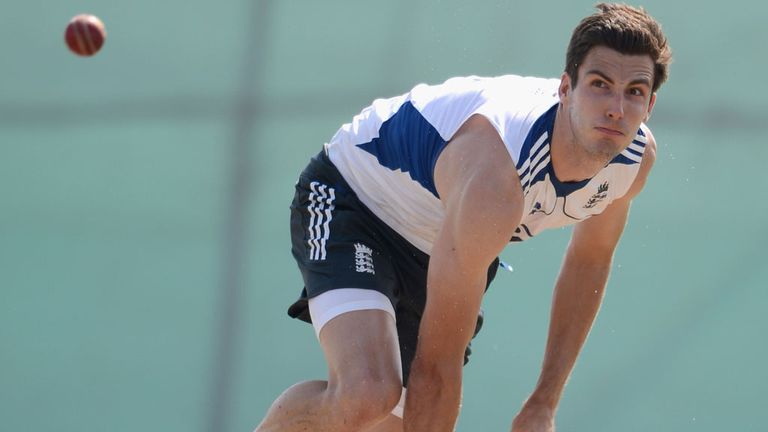 The ground may be different - the Vidarbha Cricket Association Stadium has hosted only three Tests since 2008 - but given the prolific form Cook is currently in, you wouldn't bet against England's captain to produce more of the same and steer the tourists to their first series win in India since 1985.
Back then David Gower's side went into the final Test in Kanpur 2-1 up having fought back from a heavy defeat in the opening Test. They arrived at the ground to find a belter of a pitch and, happily for Cook's men, Nagpur looks like it will be pretty flat too. Gower on 1984/85
Concern
After their crushing Kolkata victory, all augurs well for England although the news that Steven Finn will have to pass a fitness Test on his back if he is to play is an immediate concern and perhaps one for the future too.
The seamer looked like somewhere near his best form in Calcutta, where he bowled quickly and straight and got the ball to reverse nicely. Back in the side, he will have seen that game as a springboard to establish himself as one of England's frontline bowlers.
So it will be a blow if he misses out this week and another setback in what has already been a stop-start career. England would love to have his pace here on a pitch that is very, very hard and has cracks all over it - solid, abrasive cracks that will help the ball to reverse.
That said the outfield is as green and lush as I can remember an outfield being in India, so that will counteract any reverse swing.
Any time you hear of a young fast bowler with a back problem alarm bells start to ring in your mind and you ponder the question 'is something in his action putting strain on his back?'
The good news is that Finn's action looks pretty solid to me; rather than being all over the crease, he bowls in straight lines and he doesn't bowl with a 'mixed' action either. His is a well-grooved, repeatable action so let's just hope that this problem is a one-off strain rather than any long-term issue.
Pace
Surrey's Stuart Meaker - in India with the Performance Squad - was on stand-by for the third Test and I would be surprised if he's not called into the squad now because in terms of pace and reverse swing he's Finn's natural replacement, even if he is shorter and more skiddy.
The present set of circumstances begs the question whether Meaker should have stayed with the squad even once Finn was declared fit to play at Kolkata? By keeping him and sending either Tim Bresnan or Graham Onions away, England would then have had replacements for each type of bowler.
If Meaker is not called up then I suspect that England will probably go for Bresnan, who lost his place after the opening Test defeat in Ahmedabad - a match in which he looked pretty innocuous.
Bresnan will be itching to get back into the side but it has to be said that he's not looked as sharp recently as he did on England's 2010/11 Ashes tour when he came in for Finn. Ever since he had a slight elbow injury his pace looks a bit down; he's not been hitting the pitch or the bat as hard and I think that was the look of it in Ahmedabad, even allowing for the fact that it was a very flat pitch.
Bresnan has been around the team more than Onions, who I think is a very, very good bowler - he's lively and bowls from close to the stumps.
Apparently Onions bowled so-so in the warm-up games but otherwise hasn't got overs under his belt and the fact that he hasn't played in such a long time might just tilt the selectors towards Bresnan, whose batting also lengthens the lower middle-order.
We'll have to see if Stuart Broad, dropped for the third Test and now ruled out of the fourth with a bruised heel, recovers in time for next week's Twenty20 internationals.
It's been a difficult tour for him so far with injury and illness, plus one or two spats with the media along the way, hampering his progress. He has yet to take a wicket, too, so a skipper he'd love the chance to get back onto the pitch and turn things around.
Decline
The more pressing question, in terms of this week's Test, is can India turn things around?
The selectors have made changes to the squad but these are neither sweeping nor seismic and have the distinct whiff of 'muddling along'.
That cannot be right for a side that has lost 10 of its last 16 Tests and, it has to be said, looked distinctly ragged in Kolkata.
Not only was some of the running between the wickets pathetic, but the standard of fielding was bordering on the bizarre with players gesturing for each other to chase the ball.
Amid the action it's easy not to dwell on such small incidents but those in charge of Indian cricket must dwell on them and more importantly address them, otherwise the astonishing decline of a side that not so long ago topped the world Test rankings will surely continue.
Catch day one of the fourth Test between India and England from 3.30am on Thursday on Sky Sports 1 HD.