Cricket Expert & Columnist
James Anderson ready to join England's 300-club, says Michael Atherton
Michael Atherton says it will be a 'fantastic achievement' for James Anderson to reach 300 Test wickets.
Last Updated: 20/03/13 11:15am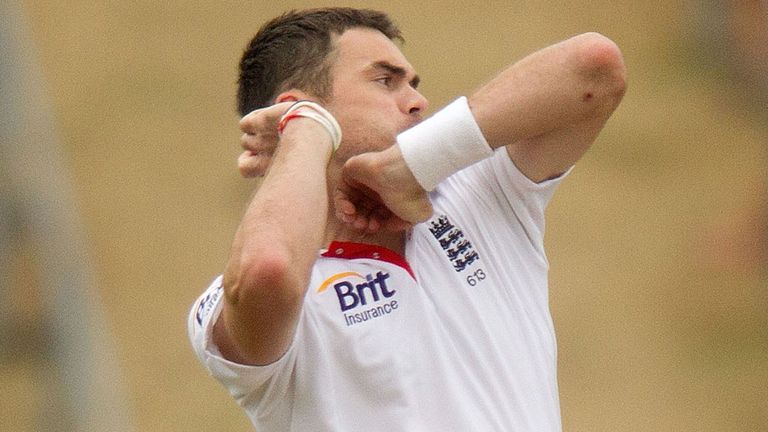 Only three fast bowlers have ever reached that mark for England - Ian Botham (383), Bob Willis (325) and Fred Trueman (307) - yet Anderson goes into the third and final Test against New Zealand needing only five wickets to join that select group.
In his early days Anderson's head dipped very quickly and his action was a little wonky but he was quite sharp and had a good away-swinger and those are the kind of attributes that make you think there's something there to work with.
Like most successful people, he's put in a lot of hard graft and endeavour to get to where he is and crucially he has also continued to work hard at his game, developing and honing his in-swinger and adding what he calls a 'wobble ball'.
He has done all he can to stay very fit during his 79-Test career and he's had a bit of luck too, in the sense that he came into the team at just about the time that central contracts were underway, a system that has allowed him to protect his body from the rigours of County Cricket in a way that his predecessors could not.
Like most players he's had his difficult times but he's remained dedicated and come through them, and it would be a fantastic achievement for him to reach that 300-mark.
Achievement
I expect the drop-in pitch at Auckland to have more pace and bounce than the surfaces in Dunedin and Wellington and that should play into Anderson's hands.
The teams are deadlocked at 0-0 so it's all to play for - hardly surprising given that we've lost the equivalent of three days' Test cricket out of the first 10 to bad weather.
If we get five full days of play this week I still think that England are solid favourites to win, even in the absence of Kevin Pietersen and Graeme Swann, so it would be a bigger achievement for New Zealand if they could get something out of the game.
New Zealand hung on pretty well in the second Test in Wellington after being asked to follow on. They were under the cosh a little bit before more bad weather ended the match prematurely but up to that point they showed a lot of guts in the way that they played, particularly after the first day when England made 267-2 after being put in.
New Zealand are not a great side but they are prepared to fight all the way and they are playing to their potential, and that's all you can ask from a limited side.
Outspoken
The pitch at Eden Park is unlikely to offer any great advantage to either side.
England played a couple of Tests on drop-in pitches in 1992 and both of them were quite damp at the start but technology has moved on since then and I doubt whoever wins the toss will benefit unduly on that score.
The fact that they've turned the Auckland pitch through 90 degrees might have a bigger influence on the Test given that the straight boundaries are very short now.
If you were a selector, you'd worry about playing a spinner a little bit because he'll be vulnerable if there's no turn in the pitch. Would it be worth playing an extra seamer?
England might give some thought to bringing in Chris Woakes, while New Zealand could pep up their seam attack by picking Doug Bracewell, but I suspect both sides will be reluctant to tinker with their attacks.
David Saker, England's bowling coach, was reasonably outspoken the other day about the two Test pitches so far, which he felt were weighted too much in the batsmen's favour but you'd expect nothing less because he wants to see pitches on which his bowlers can flourish.
You'd have to say that without the rain we would probably have had two result games.
Although the Dunedin pitch wasn't very good, I didn't think the Wellington pitch was as bad as some made out, actually. There was enough bounce and pace there and it started to turn for the spinners, so all-in-all it seemed a pretty fair Test pitch. Let's hope that's the case here.
Watch James Anderson discuss the prospect of reaching 300 Test wickets for England and then catch day one of the third and final Test from 9pm on Sky Sports 1 HD on Thursday.