Cricket Expert & Columnist
England favourites to beat New Zealand, says Mike Atherton
Mike Atherton says England should have the whip hand over New Zealand at an 'arctic' Lord's.
Last Updated: 05/07/13 9:12am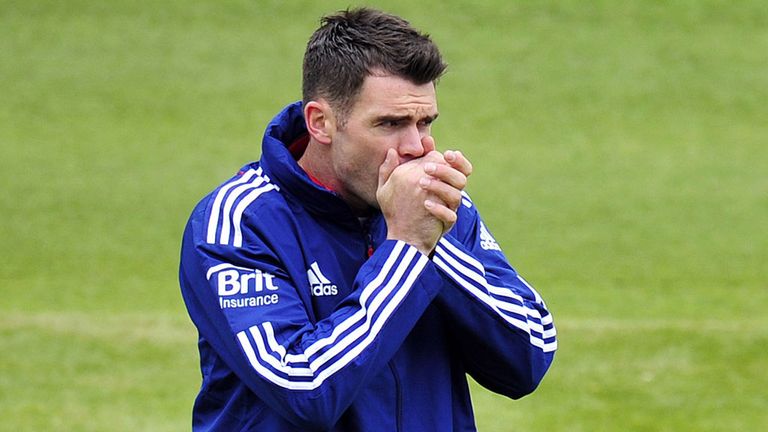 If people under-rated Brendon McCullum's side a bit during the winter, I think they've gone slightly overboard with their praise now.
The Lions showed that an England team playing at its best should still have the whip hand over them at the start of this summer.
But if they play complacently and take them lightly as it seems they did in Dunedin, England will come unstuck - as you will against anybody in international sport.
So New Zealand are to be respected but England should still fancy their chances of winning this series - particularly given how dominant they've been in the early-season Test matches over the last 10 years or so. I wouldn't expect that to change at Lord's this week.
Green
I say that despite one or two question marks against England's top six and their ability, or otherwise, to post a challenging first-innings total.
If you are looking for a pattern that highlights that fallibility, it tends to occur in Tests away from home at the start of the series when there are often arguments about whether batsmen have had enough cricket or not.
It has been a less frequent occurrence at home when England have generally had more of a build-up to a Test match with more cricket for their counties, although these days that does not always amount to much either.
As well as Nick Compton did in New Zealand, he is still finding his way while Joe Root and Jonny Bairstow are green in Test match terms.
It's a mouth-watering prospect if those two Yorkshire lads bat together but their inexperience puts a lot of responsibility on the shoulders of Alastair Cook, Jonathan Trott and Ian Bell.
That said, Root is probably in the best form of any player in England. He has got an outside chance of getting 1,000 first-class runs before the end of May and he will come here to Lord's full of confidence and expecting to do well.
Bairstow has got runs as well, but both of them will know that Kevin Pietersen will come back for the Ashes, so there is a bit of competition there.
Tinkering
The key selection issue this week is whether England go with Tim Bresnan or Steven Finn.
I've no idea which way the selectors are going to go, although at this stage I'd have to say that Finn is marginally the favourite to play as the man in possession. He took six wickets in that final Test in Auckland and while he wasn't quite at his best, you wouldn't say that he bowled badly enough to be axed.
Finn didn't bowl that well in the winter and hasn't bowled at his best at the start of this summer and he's constantly tinkering around with his run-up. He went to a shortened run in New Zealand and now he has gone back to his longer run which he had before that tour, which gives you that sense that he's not quite sure of himself. He is tinkering and trying to find his way.
Meanwhile Bresnan is quite bullish about the fact that he has got his 'snap' back after his operation, but will England want to see a bit more evidence of that than a couple of games for his county at the start of the year?
Graeme Swann's fitness will also be key as we move through the summer given the number of left-handers in Australia's batting line up; they've picked five in their batting line-up, at least four of which will bound to play.
Swann's record against left-handers is absolutely outstanding so England will be desperate for him to get through this series unscathed and look as though he's got some snap back in his action after missing the New Zealand series to have that operation on his elbow.
Vulnerable
New Zealand have got a youngish bowling attack - Tim Southee, Trent Boult, Neil Wagner, Doug Bracewell should all be around for a little while.
So you'd say the bowling is on the upgrade and it's an attack that has the potential to be together for some time.
Theyv'e got some exciting batsmen in McCullum and Ross Taylor but also players who you feel might be more vulnerable if there is more lateral movement in the air and off the pitch than there was in New Zealand.
Peter Fulton played superbly in Auckland but England feel he is a bit vulnerable when the ball moves; Rutherford is a fine young player but hasn't played much cricket here, nor has Dean Brownlie.
Kane Williamson is a very good player; his could be the key wicket, actually, because of his ability and his experience of playing in English conditions with Gloucestershire.
New Zealand have got a lot of good players but England should still start as favourites. It's very cold - almost artic - here at Lord's and if it's like this on Thursday it's a moot point whether the ball will swing.
One thing's for sure - England can't get any less movement than they did in Dunedin and Auckland where it didn't go off the straight in the air or off the pitch. You've got to expect a bit more movement than that at Lord's and Headingley in May.
Pugnacious
If anyone can find it, then James Anderson can and it will be a wonderful achievement when he claims the two Test wickets he needs to join Ian Botham, Bob Willis and Fred Trueman in the '300 club'.
He's in elite company despite going through some ups and downs as an England cricketer; he had one or two issues with his action in the early days when people said it was too unorthodox to succeed.
But he has become a highly-skilled bowler now and was rightfully one of the candidates for this week's England Player of the Year award, which went to Matt Prior.
Alastair Cook must have been close to winning that award as well after his outstanding form with the bat and his leadership in India, where England won for the first time in many, many years.
Kevin Pietersen played three great innings in the year - his hundreds at Headingley, Mumbai and Colombo were great innings - but some of the off-field issues knocked him out of contention, I guess.
Prior had an excellent year; he's been consistently outstanding with the gloves and has largely been a pugnacious, aggressive performer at number seven - and utterly selfless in the way that he plays.
He's a vital part of this England team now and the award is well deserved as is the vice-captaincy, which he has retained despite the return of Broad. That shows just how important he is to this team.
Watch the first Test between England and New Zealand from 10am on Thursday, on Sky Sports 1 HD.