Cricket Expert & Columnist
Ashes 2013: Joe Root's class and temperament praised by Mike Atherton
Michael Atherton heaped praise on Joe Root after the opener put Australia to the sword in the second Ashes Test.
Last Updated: 23/07/13 12:11pm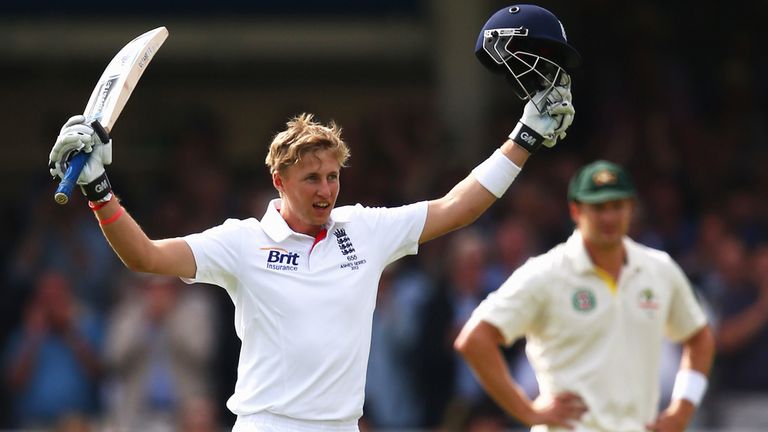 Despite England amassing a comfortable first innings lead of 233 their second innings got off to a sloppy start on Friday evening and the hosts began Saturday on 31-3.
However, any hopes Australia had of forcing their way back into the Lord's contest were quashed by an imperious performance by Root at the Home of Cricket.
The Yorkshire ace may have struggled to make his mark in the first Test at Trent Bridge but he validated the England selectors' decision to move him to the top of the order ahead of this series with a superb 178 not out which, coupled with another fine knock from Ian Bell (74), moved the hosts to 333-5 at stumps and a seemingly insurmountable lead of 566.
"That was a terrific innings," said Sky Sports expert Atherton, himself a former England opener, who credited Root for bouncing back after surviving a scare early in his stay.
"There was a little bit of pressure on Root because he'd moved up to the top of the order, he hadn't really made an impact on this series yet, and, had that edge been taken when he was on 8, he would have been under a bit of pressure going into the next game.
"Interestingly, before the series, Michael Clarke was asked about England's decision not to play Nick Compton, and he said 'we're very happy Nick Compton's not at the top of the order'. I'm not sure he's so happy now."
Considering Root's strengths, Atherton pointed out the talented, rising star, has both the physical and mental attributes to shine on the world stage for years to come.
"With some players, you see a moment like that [the missed chance] and think that could be career changing but you feel with Root he would have come through eventually because he's clearly got a lot of class.
"He also seems to have a terrific temperament and a lot of composure. Although it would have added more pressure had he been caught I think he would have come through in the end.
"As an opening batsman you're looking at technical excellence - the ability to play fast bowlers and the moving ball - and he's got that, he plays beautifully off the back foot, he plays the ball late and nice straight drives as well. But, also fundamental to any opening batsman, is an equable temperament because you're going to get the odd low score. He seems to have that temperament, too."
Concerns
Australia's task of containing England in unhelpful conditions was made harder by captain Michael Clarke's decision not to take the new ball.
With concerns surrounding the fitness of Ryan Harris and James Pattinson, Clarke opted instead to use the likes of Steve Smith and Ashton Agar.
Although Atherton conceded he saw Clarke's reasoning and long-term thinking, he suggested he would have acted differently in the same position.
"Michael Clarke would have known the best way to take wickets was to take the new ball," said Atherton. "But he will have felt the fast bowlers were being flogged; the game is virtually gone and will depend on how well Australia bat second time around.
"You can argue, as a captain, even if the game is gone, your responsibility is to try and make an impact on the game. And my feeling is he should have taken the new ball, even if his fast bowlers were only going to bowl short spells. But you can understand why he didn't: to save Harris and Pattinson's legs."
Flogging
Former West Indies quick Michael Holding, though, concurred with the Aussie captain and said Australia must focus on getting back into the series, not this match.
"What Michael Clarke did was correct as far as his team and players were concerned," said Holding.
"They're not going to win this Test match, they're not going to draw this Test match. It doesn't mean they have given up, but he's thinking forward, he's thinking there are three Test matches to go and he needs these guys to come out in the next three matches, take some wickets and possibly get them back into the series.
"If he keeps flogging these guys on this pitch, although it might be the right thing to do as far as the game of cricket is concerned, he won't have them at their best for the next three Test matches."
Watch the fourth day of the second Test between England and Australia from 10am on Sky Sports Ashes HD and live on the Ashes Event Centre, available via the Sky Sports App.