Cricket Expert & Columnist
Up for the challenge
Nasser Hussain says a passionate West Indies side gave England the test that they needed at Lord's.
Last Updated: 21/05/12 5:47pm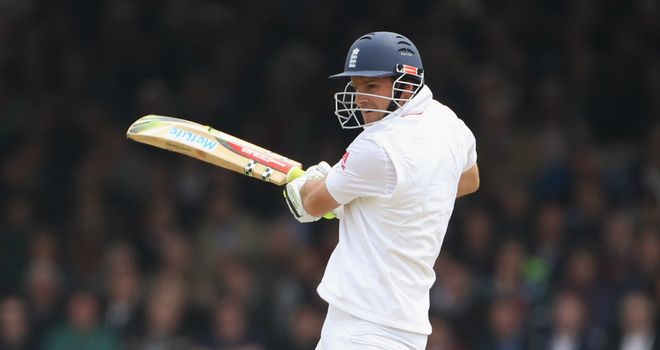 England will go to Trent Bridge buoyed by an impressive all-round performance at Lord's.
Many wrote off the West Indies before the first Test, but they gave England the Test match they needed by showing plenty of heart and taking the match into a fifth day.
The last thing England needed, particularly with a series against South Africa on the horizon, was a three-day walkover. They didn't get one. Instead, they were tested with bat and ball; their bowlers got some overs into their legs and the batsmen found some form.
Andrew Strauss' run-scoring - or lack of it - was one of the main topics going into the Test; he hadn't scored a hundred in 18 months and that had to be put to bed, not because I felt he should be dropped, but to silence the doubters.
Strauss responded with an almost faultless display that reminded everyone that not only is he an exceptional captain, but he's a superb player as well.
The captain of the No 1 Test side in the world played like one and that - apart from winning - was the most important thing to come out of the match from an England perspective.
Threat
His was not the only memorable performance.
James Anderson started the Test as England's main seam threat but Stuart Broad got steadily better throughout the game and thoroughly deserved his man-of-the-match award.
Crucially, he got his lengths right - he succeeded in getting the ball full and as a result he got it to seam and swing away. The wickets have kept coming and coming since he's bowled this fuller length and he'll be a major threat again on his home ground later on in the week.
Broad was backed up well by the catching behind the stumps too, which is something we haven't always seen at Lord's.
On the batting front, Shivnarine Chanderpaul was heroic for the Windies while Alastair Cook and Ian Bell showed cool heads to guide England to victory.
During the Test we asked the question 'which player in this England side would you want to bat for your life?' and most of the people who emailed or Tweeted in said Alastair Cook. I can't say I'm surprised because the bottom line is that Cook - as he has shown consistently now for several years - is a very fine player.
Talented
After a difficult winter, it was good to see Bell find the rhythm of batting.
He's a batsman who needs to play - whether that be for England, Warwickshire or the England Lions - and part of the problem this winter was that he didn't get the chance from September to January.
Bell is a touch player, a very talented young man with shots all around the wicket. But he is also a little bit of a worrier.
Unlike Kevin Pietersen, he has a tendency to get a little bit down on himself if he has a couple of difficult Tests. He can't easily blank them out or put them to the back of his mind in the way Pietersen seems able to, so his two fifties will stand him in good stead for the rest of the summer.
Captaincy
By now many of you will have seen our post-Test discussion with Michael Holding on the state of West Indies cricket. If you haven't, you can watch it by clicking here.
One of the points I want to emphasis is this: when you are captain of your country you are going to have difficult characters. One of the reasons you are made captain is because you are able to man-manage those characters.
When I first took over as England captain, the first thing I heard about a lot of England cricketers was what they couldn't do: Andy Caddick and Phil Tufnell were 'bad tourists', Alec Stewart's eyes had gone, Graham Thorpe didn't throw the balls in the nets to other people.
Instead, I was interested in what they could do and everything else was man-managed by myself and Duncan Fletcher; we tried to get the players to buy into what we were trying to achieve.
For years we've gone on about the West Indies and said how talented they are but also how ill-disciplined they can be. Under Darren Sammy and Ottis Gibson, I think this side has put that to bed: they do care, they are very disciplined and they play with a lot of pride and passion.
However, the Windies also reflect their captain in part in the sense that they are not quite good enough. Sammy has done ok in this Test but nothing more. He is a good cricketer, but is he a Test match cricketer? And is he good enough and tough enough to manage someone like Chris Gayle, should Gayle come back into the side?
The captaincy is an issue they've got to sort out. After all, on the evidence of this Test they cannot afford to carry a single player.