Cricket Expert & Columnist
Fearsome foursome
Nasser Hussain and Mike Atherton discuss the World T20 groups and who they think will reach the semis.
Last Updated: 17/09/12 10:40am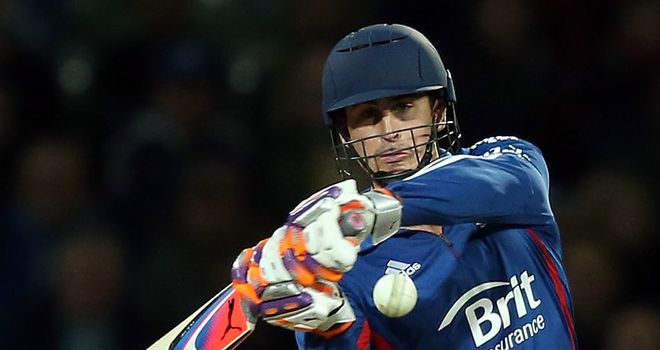 England can't afford to ease into this World Twenty20 tournament.
In this format it's possible for any team to beat any other on their day so you have to turn up with the right mind-set and get the most out of your gun players. T20 is about your stars performing.
England won in 2010 because they played no fear cricket. They focused on what they were doing rather than worrying about the opposition.
Kevin Pietersen played dynamic cricket and was Player of the Tournament. This time that responsibility falls on the likes of Craig Kieswetter, Michael Lumb and Eoin Morgan.
Here's what Ath and I think of the groups... plus who we think will progress from the Super Eights...
Group A - England, India, Afghanistan
ATHERS: First of all you have to say that this is a fantastic story for Afghanistan. I don't think they've got a hope in hell of beating England or India but given what that country has gone through it's an absolute triumph for them just to be there.
NASS: Agreed - but Afghanistan will see this as a great opportunity to make a statement, just as the Netherlands did in 2009 when they beat England at Lord's. That just shows that you have to treat everyone with the respect they deserve. England must hit the ground running and say 'we're here' and 'we're champs'. We did an interview with Jade Dernbach this week and he said 'it's our trophy, it's our tournament and we've got to play like holders of the tournament'. I like that attitude.
NASS: India showed in losing to New Zealand the other day that they are fallible - even if it was only be one run! Their batting - with guys like Mahendra Singh Dhoni, Virender Sehwag, Yuvraj Singh and Virat Kohli - looks very strong but their bowling still worries me a little bit. However they went to Sri Lanka in July/August and won the one-day series and the one T20 between the sides, so for me they start as favourites for the tournament.
Group B - Australia, West Indies, Ireland
ATHERS: You look at the West Indies' line-up and the great strikers of the ball that they've got and you think they should be one of the favourites. Any side with Chris Gayle and Kieron Pollard - not to mention Sunil Narine, who will be important - must be dangerous. The only concern with the West Indies is that they've got a history of not living up to expectations. I thought they would do quite well in the World Cup on the subcontinent but they didn't; they often let themselves down with the standard of performance.
NASS: There's a lot of IPL experience in that squad and that could be crucial. Narine didn't perform in English conditions earlier this summer. We built him up as a mystery spinner but the mystery was whether he was spinning it at all! But virtually all of their first-choice side have had some kind of IPL experience. Twenty20 cricket is about raw talent. Gayle can change a game off his own bat just like that. You need good plans for guys like these - and excellent planning has been part of England's armoury in recent years.
ATHERS: Australia have got no chance of winning this. They're very reliant on David Warner and Shane Watson at the top of the order. They are two mighty good Twent20 players with excellent strike-rates and if they come off they're very dangerous but if they don't, I think they lack a bit of firepower.
NASS: I sort of agree with Ath; you look at this present Australia side but they didn't look the side we all hoped that they would be this summer. I wouldn't look much outside of the sub-continent sides because you can never over-estimate conditions in Sri Lanka. It is the hardest place to play cricket. Fitness is key - which may rule out India, although you don't need to be too fit if you're just whacking it for six! India, Pakistan and Sri Lanka in those conditions are going to be difficult to beat.
ATHERS: Time and time again Ireland surprise people - and we see them enough now not to be surprised because we know that they're pretty well drilled, they've got an excellent coach and some good cricketers so they will present a challenge.
Group C - Sri Lanka, South Africa, Zimbabwe
ATHERS: You underestimate Zimbabwe at your peril because they have been competitive of late - and they will be again - although I have to say that I don't think they'll get through this time.
NASS: Sri Lanka will cope with the expectation of playing at home just as they did in the last World Cup when they faced a massive quarter-final against England and walloped them. Any Asian cricketer is brought up with pressure; they almost don't know the meaning of the world because the choice is stark - either like it or go and do something else. They will know the pressure, they'll like the pressure, and they'll enjoy it. They'll also love the conditions and if they're good enough they will be there or thereabouts.
They're in a tough group. South Africa, as we've seen in the series against England, are no longer a one-dimensional side that just hit you with pace. They can turn to the likes of Alviro Petersen, JP Duminy or Johan Botha.
ATHERS: AB de Villiers is obviously a great batsman but I've been impressed with his captaincy. From the little I've seen of him, he looks like a captain who thinks about the game and in Twenty20 it's crucial that you have a captain who can think on his feet.
NASS: South Africa's hurdle is what do they do once they get to the knockout stage? Jacques Kallis almost referred to it last week when he said 'we've got to overcome these issues if we are going to win a major tournament'. On paper they've got as good a side as anyone but when it comes to that day when they wake up knowing that if they lose that's it, can they perform?
ATHERS: South Africa have got a good coach in Gary Kirsten - he's a bit like Andy Flower in as much as he's quite a calm sort of bloke and I think that will help South Africa. He's got a history of winning and doing well - he took India to the World Cup so he knows about winning in that part of the world. South Africa have a good management team and are well led, plus they've got lots of options and variety with the ball which is key. De Villiers is not afraid to change things around and keep people guessing. They're also a brilliant fielding outfit, so they tick a lot of boxes. The only question mark is come the big semi-final, they haven't got a history of performing.
Group D - Pakistan, New Zealand, Bangladesh
NASS: When Twenty20 first came in a lot of people said it was all about batting but over the years we've seen that bowlers win you games, because if you keep taking wickets you are right in the game. That's where Pakistan have been great. They don't have one of these little 'dobbers' that come on; these are Test match bowlers running in at you trying to get you out at good pace or turning it both ways. They've got Saeed Ajmal but I think they are going to miss Abdur Rehman because I think he's a very, very good bowler in all forms of the game. But they still have enough options to choke you with spin. What worries me about them is batting because Afridi doesn't come off often enough and they're a little bit young and inexperienced.
ATHERS: New Zealand have got some dangerous batsmen - Ross Taylor, Martin Guptill and Brendon McCullum among them - but I don't think they're going to be quite good enough. It's a bit of a cliché these days but New Zealand have always been a side who have got the best out of what they've got and play slightly above themselves in these major tournaments.
Likewise Bangladesh have some dangerous players - Tamim Iqbal for one - but I can't see them being good enough. Nasser has talked about the World T20 being a tournament for superstars and the truth is that they don't have enough of it.
This is how the Super Eights could look if everything goes by the formbook...
GROUP 1
England
West Indies
Sri Lanka
New Zealand
Two to go through...
ATHERS: West Indies and Sri Lanka
NASS: England and Sri Lanka
GROUP 2
Australia
South Africa
India
Pakistan
Two to go through...
NASS: South Africa and India
ATHERS: South Africa and India
Catch up Athers in our Live ICC World Twenty20 Preview show - this Monday on Sky Sports 2 HD at 7pm.