England's attack may be inexperienced, says Nasser Hussain, but India are there for the taking
England's attack may be inexperienced, says Nasser Hussain, but India are there for the taking.
By Nasser Hussain
Last Updated: 13/01/13 11:37am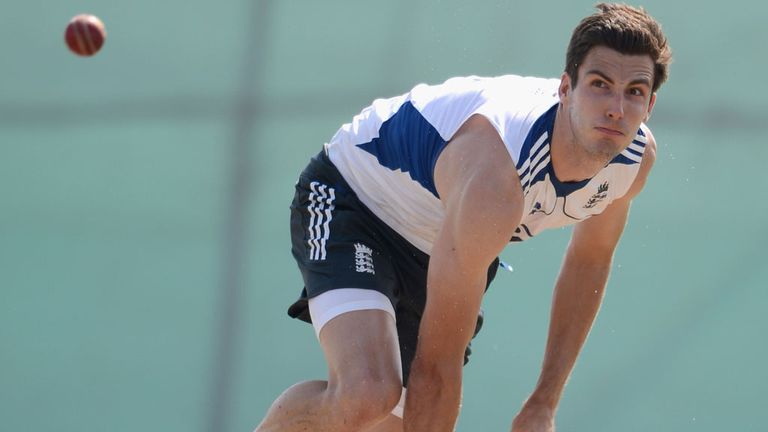 Out of their last 13 ODI matches against India on Indian soil, England have won precisely none - the only moment of respite in that spell coming during the group stages of the 2011 World Cup, when Andrew Strauss' 158 spurred them to a memorable tie in Bangalore.
Warm-up defeats to India A and Delhi in the last few days and lingering concerns about the tourists' inexperienced bowling attack suggest five hard matches lie in store over the next three weeks.
But as they proved in the Test series before Christmas, this is an England side that relishes the chance to turn history around and, after that display, I wouldn't put anything past Alastair Cook and his players.
Although I'm sure that England's preparations for the 2015 World Cup won't begin in earnest until this summer's Champions Trophy, there's never a bad time to tear a strip off the current World Champions.
India have just lost a three-match ODI home series to Pakistan, only weeks after coming second best to England in the five-day game; it would be another massive blow if England can win this ODI series.
If they do, heads could roll in Indian cricket.
Gains
England shouldn't fear this present India side - they don't have the most terrifying bowling attack in the world and they are struggling to find runs at the top of the order - so new one-day head coach Ashley Giles will be looking to make more than small gains from the series.
Giles isn't the sort of person to say 'well, we only lost 3-2'.
England may be without James Anderson, Stuart Broad, Graeme Swann and Jonathan Trott but there are still plenty of players in the squad who now know what it takes to beat India on their own patch - in Test cricket at least - and any batting line-up that features the experience of Cook, Kevin Pietersen, Ian Bell and Eoin Morgan is decent in my book.
Personally, I'd keep Morgan at five unless England manage to get off to a real good start and they find themselves ticking along at 100-1.
At that stage I don't see any point in keeping Morgan in the locker; that's the time to be flexible with your batting line-up and get him into the fray.
But if England find themselves 20-2 the whole nature of the game changes; suddenly 50 overs becomes a very long time and in that situation I'd happily keep Morgan up my sleeve at five.
Work
So England's task will be difficult but it's not insurmountable. The key factor will be how their inexperienced bowling attack shapes up.
Much will depend on Steven Finn, the pick of the bowlers when India whitewashed England 5-0 in 2011/12, while reports suggest that Tim Bresnan, who bowled well in December's second T20 international in Mumbai, is coming back to some sort of form and fitness.
Since the retirement of Andrew Flintoff, England have lacked what you might call a natural all-rounder so for now I think they are better of just picking their best six batsman and their best five bowlers.
Chris Woakes could be the lad to step into the breach eventually but I'm not quite sure that he's ready yet as a bowler - he's got some work to do in that area, as has Samit Patel.
Craig Kieswetter is a very decent middle-order batsman, Bresnan remains a very good cricketer even if he has had a quiet few months and I do rate Jade Dernbach, too, but he has to work on his new ball bowling; he's very effective towards the end of an innings but his new ball bowling let him down in last month's T20 internationals when England were guilty of over-doing the short ball a little bit.
Although you can now bowl two bouncers an over in ODI cricket, the key is not to bowl too short, too often. England should be able to capitalise on the two white balls at their disposal, even in India, and it would be a crime to waste them.
Altered
Another change to the regulations could play into England's hands.
These days a captain can only position four rather than five fielders outside of the circle in non-Powerplay overs and I'm sure that one effect of having that extra fielder in the circle means that opposition teams like India are less likely to bowl spin at England all of the time.
For some time now David Gower has pointed out that one-day captains have a tendency to sit back on the defensive and keep five men outside of the circle - even when a new batsman comes in - either because they are bowling their part-time spinner or because their spinner wants an extra man out.
That means that there are a lot of cheap singles on offer. Now, however, the captain and bowler will have to keep that extra man in; any new batsman coming to the crease with his side struggling on 50-3 will find it more difficult to pick up easy runs.
Conversely, however, the change in regulations should benefit teams that keep wickets in hand.
Imagine that England are 150-2 off 30 overs with Pietersen and Morgan at the crease when India's sixth bowler comes into the attack with only four men beyond the ring. I, for one, can imagine each batsman saying 'you can't bowl to me with this field' and going on the offensive.
Larger scores should result and in time we may find that a sixth bowler becomes a bit of an unaffordable luxury for captains.
Only time will tell if that's the case but for now I'm sure that the altered fielding restrictions mean that we're going to see more peaks and troughs in one-day games.
Watch the first one-day international between India and England, live from Rajkot, from 6am on Friday morning on Sky Sports 1 HD.