Cricket Expert & Columnist
The Ashes: Australia have picked well, says Nasser Hussain
Vice-skipper Brad Haddin is a scrapper and will bolster Australia's Ashes challenge, says Nasser Hussain.
Last Updated: 24/04/13 3:21pm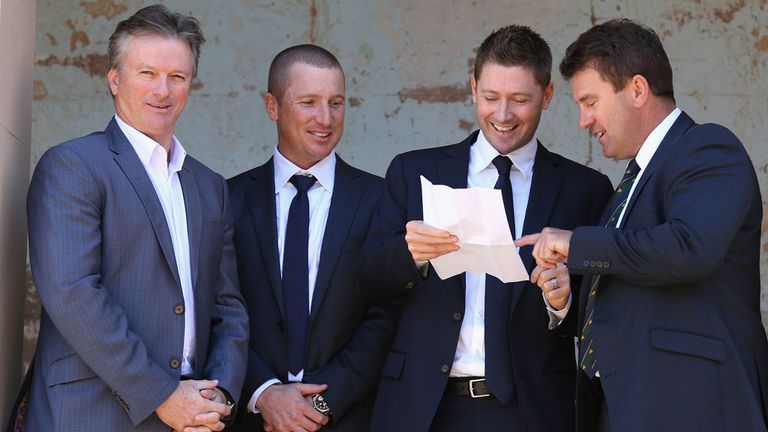 Sometimes John Inverarity, Australia's chairman of selectors, comes up with something a little left-field but this time they've not tried to be clever and have picked well.
Re-instating Brad Haddin as vice-captain is a shrewd move. He's always impressed me. Opposition teams tend not to enjoy playing against him, which I always think is a good sign.
I know Haddin rubs England up the wrong way; he's a fighter and a scrapper, plus he's got a good record against England, averaging over 45 in nine Tests. Haddin makes Australia stronger.
The general vibe going around is that Australia have got a really good seam attack but they haven't got many good batsmen. I think both parts of that notion are a little bit exaggerated.
Australia do have some good batsmen. With the exception of Michael Clarke, they are not in the same class as Ricky Ponting or Mark Waugh in their pomp but how many players have been?
Several of their batsmen - Ed Cowan, Chris Rogers, Shane Watson, Philip Hughes, Usman Khawaja - are very used to English conditions, which is important.
The inclusion of 35-year-old Rogers is good - anyone who averages over 50 in first-class cricket in Australia and England must be able to bat a bit.
Having spent nine seasons in county cricket - at Derbyshire, Leicestershire, Northamptonshire and now Middlesex - he'll know the English bowlers well.
Yes, it's a horses-for-courses selection and is a bit short-term but England and Australia will be judged on the next 10 Ashes Test matches. That will be uppermost in the players' minds.
Decent
Australia's attack is strong but not as strong as some are making out. It's a good seam attack but falls short of South Africa's and is not quite as potent as England's.
The return of Ryan Harris will undoubtedly strengthen their side and spinner Nathan Lyon is no fool. Every Australian spinner is inevitably compared to Shane Warne but we shouldn't lose sight of the fact that Lyon is a decent off-spin bowler.
Lyon doesn't bowl darts - he gives it a rip and likes to attack, much like Tim May or Nathan Hauritz. He struggled in India because they play spin so well there.
He was completely out-bowled by Ravichandran Ashwin, who in turn was out-bowled by Graeme Swann and Monty Panesar a few months' earlier.
That doesn't reflect well on him and I don't think Lyon is someone you'd stay up and worry about at night but he is decent, steady performer.
Tighter
The comparative performances of England and Australia against pretty much the same Indian side this winter has got to say something ahead of the Ashes.
If you asked India now who are the better side - the England team who beat them 2-1 or the Australian team they crushed 4-0 - they'll say England to a man.
But an Ashes battle in English conditions is very different and I think this summer's series will be a lot tighter than some people are making out.
I caught up with Cook earlier this week to film an all-encompassing interview you can see on Sky Sports later this summer.
Cook was very honest about his captaincy and spoke about how much he's enjoying it and what he learned from the New Zealand tour.
He was very self-critical of some of the decisions he made over there and is determined not to repeat them this summer.
Australia will begin the Ashes as underdogs so the pressure will be off them a little bit. Everyone is expecting England to win and, as we saw in New Zealand, things don't always turn out that way.
England will have to be at their best to beat Australia. The players in this squad are no fools; Australia are just not the side they used to be. The sooner they realise that, the better for them.