The Ashes: Nasser Hussain discusses the challenges facing England at Adelaide
Nasser Hussain looks ahead to the second Ashes Test, assessing England's best route to victory.
By Nasser Hussain
Last Updated: 04/12/13 11:42am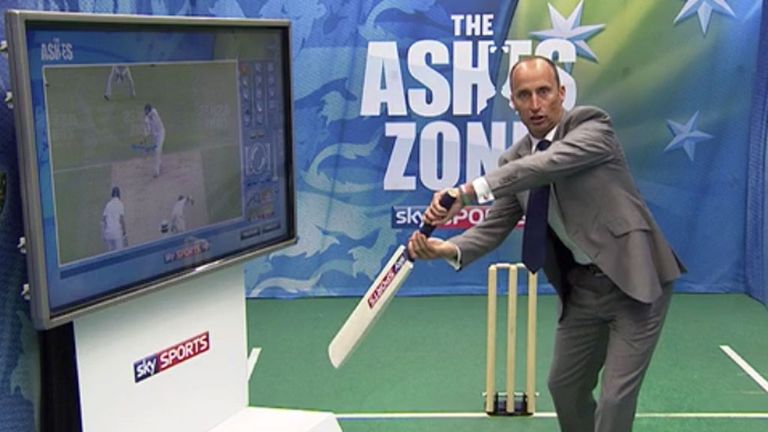 A second successive defeat would leave the tourists with a mountain to climb, however a number of England's players have fond memories of the Adelaide Oval having won here in such style three years ago.
One man who knows all about the challenges of playing and captaining England at this famous ground is Nasser Hussain, who twice tasted defeat back in 1998 and 2002.
Nasser on...
Playing at Adelaide...
"It's usually very, very hot and very, very flat and a great place to bat but come day four/day five the pitch can change very quickly. For the first three days it's one of the flattest pitches in world cricket. The batting aspect is so important for England in this Test. As a player, commentator, whatever I never went into a Test thinking we can't lose it, the importance really is the batting. England have players who have played well here in the past, the likes of Alastair Cook and Kevin Pietersen have a fantastic record at this ground. England must rack up a big first-innings score to keep Australia out in the field. They have not batted well as a unit for some time now so this is a great opportunity to get their heads down and bat well."
Captaining at Adelaide...
"It's easier when you win the toss and you bat! You have to think slightly outside the box on this ground, you can't just be line and length all the time you have to try and mix it up a little bit and come up with some cunning plans. It's a little bit of a war of attrition but you have to just be a little bit careful because it's like playing in the subcontinent sometimes, as England found out under Andrew Flintoff when Shane Warne bowled them out on the last day in 2006/07. The game seems to be going nowhere and then all of a sudden you're bowled out cheaply once and you're in major trouble. It can be a long hard slog."
England's selection dilemmas...
"I would say it's between Gary Ballance and Ben Stokes for that No.6 place at the moment. I think Tim Bresnan has confused things slightly in that they are really pleased he's fit but it would be a gamble to go in for Bresnan as your third seamer after two months out and then they target Graeme Swann again. Bresnan being fit might actually bring Stokes into it a little more and you could go Stokes at six, Matt Prior at seven and Bresnan at eight and then you've got four seamers and Swann. I personally think Ian Bell is a natural No.3 and I'd be knocking on Andy Flower's door and Alastair Cook's door if I was him saying 'I want to bat No.3' but I don't think they'll move him because he played so well at No.5 in the last Ashes series and they might be looking more long term and be concerned that Trott isn't coming back so Joe Root is the future."
The importance of the toss...
"To lose the toss and for England to have won in 2010/11 in Adelaide was a phenomenal effort and one of England's best performances. That first morning the last time England were here went a long way to winning the Ashes. Generally you win the toss and bat here. it's a very flat pitch and average first innings scores here have been 400+ so you don't want to be gambling by bowling first."
Australia's line-up...
"The only talk is that they too might give themselves an extra bowling option and play James Faulkner ahead of George Bailey. These are the sort of pitches Faulkner likes so they may well leave Bailey out. But Shane Watson has pretty much said today he's fit to bowl so they do have Watson up their sleeve as well. I think they played so well in Brisbane they'll probably be unchanged."
Drop-in pitches...
"They are harder to read because there is not a lot of history to them. Other places in the world you know you've played a lot of cricket there and the stats will tell you what to do. There's been two drop-in pitches at Adelaide so far and they've been very flat so that's the only history you can go on. They are difficult to read but you can only go on what has happened here in State cricket so far this season which has been it's been a death bed for seamers. Spinners have got a few wickets, but that's only because they've done the bulk of the bowling. The seamers have found it really hard work here."
Shark diving...
"It was interesting, a day out with Bumble is always interesting! You go out at 6am and he is gobbing off saying 'what are we doing' and 'why are we doing this' and our trip will make interesting viewing (Sky Sports 2 from 11pm) that is for sure. It was worth it. At 2pm we had seen half a shark in the distance through murky water but by 3pm we had six sharks circling us so it was great fun. I really, really enjoyed it. I thought I'd be scared but I was more in awe of the elegance of these massive beasts to be honest - it was amazing to see them in their natural habitat."
Watch the second Ashes Test between Australia and England from Adelaide - coverage starts on Wednesday at 11pm on Sky Sports 2 HD