Cricket Expert & Columnist
'Excellent Joe Root showed character against India at Trent Bridge'
'Broad and Anderson show batsmen how to do it'
Last Updated: 11/07/14 7:40pm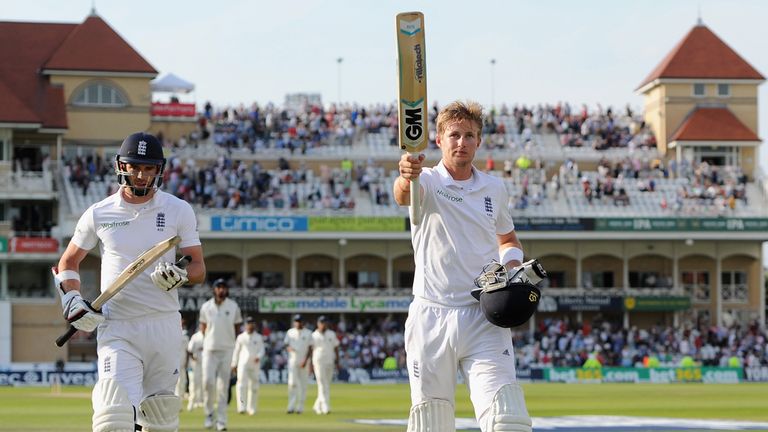 Joe Root's determined resistance on day three at Trent Bridge won praise from Nasser Hussain.
After reaching lunch at 131-1 England had collapsed to 205-7 by tea but Root (78no) combined with a quick-scoring Stuart Broad (47) and reverse-sweeping James Anderson (23no) to reduce India's advantage to 105, as the hosts closed on 352-9.
While Sky Cricket pundit Hussain was less than impressed with many of England's batsmen, he commended Yorkshire's 23-year-old on his tenacity at the crease – and his ability to get the best out of the team's lower order, particularly Anderson, with whom Root has put on 54 from 87 balls.
Joe Root was excellent, not only in how he played but how he marshalled the tail.
Nasser Hussain
"That was a difficult day again for England," he said.
"There was yet another collapse - 6 for 60-odd - which is not good enough on a surface like that. If it was just a one off you'd let them off but we've had ten in the last year.  
"But there was some good rear guard action from a couple of bowlers – Broad and Anderson – and Root was brilliant all the way through. Broad got him going but the bowlers were really saying 'look batsmen, that wasn't good enough' and Broad and Anderson, in different ways, showed them how to do it.
"Anderson has struggled with the short ball but there's not a lot of life left in this pitch so they had to bowl a bit of spin and pitch it up to him and generally when you do that to Jimmy he plays pretty well.
"Joe Root, though, was excellent, not only how he played but how he marshalled the tail and how he batted with Jimmy Anderson, just giving him a couple of balls per over. Then when he came on strike and the field came up he smashed it for four.
"That was a really good partnership at the end – but it really put into perspective what a flat, benign surface this is."
Target
While Hussain was critical of several England dismissals, he also commended India's bowling tactics, and especially the performance of Ishant Sharma, who picked up 3-109.
"I thought India bowled a better line and length than England," he said.
"They didn't try to hide the ball outside off stump, they targeted the stumps and focused in on LBWs and bowled.
"They know how to bowl on pitches like this, they've done it all their lives and it wouldn't have come as a shock to them. They just kiss that surface, bowl straight, don't bowl too short and target the stumps. It was very good bowling and very good captaincy.
"Having no DRS today favoured them – and I don't understand why we haven't got DRS, apart from the fact India are in town – because England would probably have reviewed a couple of decisions but I thought they just bowled better than England did.
"Sharma was brilliant and he got the lengths right. At times in England he's bowled too short but he got the length full, got movement, swing, a bit of reverse swing, and got it through at a pretty decent heat."
Gamble
Heading into day four, Hussain says the outcome of the match is in India captain MS Dhoni's hands – and the Sky Sports pundit is intrigued to see whether the skipper opts to bat out a draw or chase victory in the first Test of this five-match series.
"India will have a 100-odd lead if they get the wicket early and it really depends how much of a gambler Dhoni is," said Hussain.
"He may feel he doesn't have to gamble, the pitch is so flat and England's line-up is so long. Really it's in Dhoni's hands about how much of a gamble he's going to take late tomorrow if he wants to get England back in.
"Cook made the error at Lord's, against Sri Lanka, where he batted on for too long and it came back to bite him, Dhoni might think he has everything he needs – but the key is to also give his bowlers a bit of a rest to bowl England out second time around."