Cricket Expert & Columnist
Matt Prior: England wicketkeeper has been excellent but is starting to struggle
Gloveman must get back in the groove with Jos Buttler soon to take centre stage
Last Updated: 20/07/14 6:39pm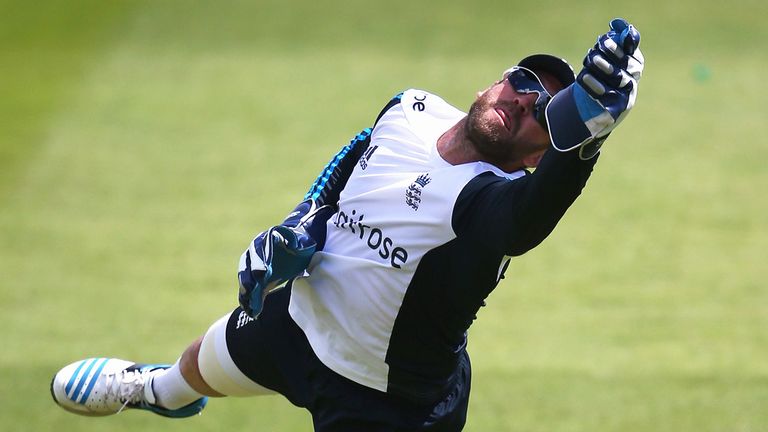 Nasser Hussain says England wicketkeeper Matt Prior must return to form quickly in order to fend off Jos Buttler's challenge for his Test place.
Prior has not notched a five-day ton since reaching three figures against New Zealand in March 2013, while his glovework has been far from perfect in recent international matches.
The 32-year-old shelled a routine-looking catch that would have dismissed Kumar Sangakarra against Sri Lanka earlier this summer, while, in the first two Tests against current opponents India, he has failed to pouch MS Dhoni and Murali Vijay.
Prior has got to do his job because if he isn't good enough, Buttler is ready to come in.
Nasser Hussain
Sky Cricket expert Hussain holds Prior in high regard but says the heat is ramping up on the Sussex star, who is currently in the midst of his 79th Test-match appearance.
"I have a huge admiration for this lad," Hussain said of Prior, who made his debut for England in the longest form of the game in 2007 and has gone on to amass seven Test centuries.
"The modern wicketkeeper is judged not only on his wicketkeeping but on his batting, too, so Prior has been under pressure every day for 70-odd Test matches and mentally and physically that it is starting to take its toll.
"He is a top team bloke and at the moment he looks like a man who feels that is he is just letting his team down a little bit, so I am going to give him the sympathy.
"But, at the same time, he is paid big bucks and he has got to do his job because if he isn't and he isn't good enough, there is another lad in Buttler who is ready to come in.
"And England aren't short of wicketkeeper-batsmen beyond that either."
PRIOR'S TEST TONS
126* v West Indies, 2007
131* v West Indies, 2009
102* v Pakistan, 2010
118 v Australia, 2011
126 v Sri Lanka, 2011
103* v India, 2011
110* v New Zealand, 2013
Show
Prior scored 23 at Lord's as the hosts secured a 24-run first-innings lead over India but Hussain says it is vital the right-hander collects more runs this summer with England not in five-day action until next spring following the fifth Test in August.
Lancashire wicketkeeper Buttler is averaging 40.57 in County Championship Division One this term, having registered one hundred and five fifties in his 15 knocks, and the 23-year-old is set to play a key role in ODI cricket for his country up to and at the 2015 World Cup in Australia and New Zealand.
That, says Hussain, could be damning for Prior – who made an athletic catch to send first-innings centurion Ajinkya Rahane into the hutch on Saturday, moments after snaring Cheteshwar Pujara – but the former England skipper has urged him to be aggressive every time he is at the crease as he battles to prolong his international career.
"After this series, England don't pay Test cricket again until April in the Caribbean and Buttler will be on show in the one-day cricket before then and have the chance to show what he can do," said Hussain.
"So these are a big few Test matches for Prior.
"I don't think Peter Moores and Alastair Cook are sitting there and saying: 'Please go into your shell' so he needs to go for it and try to get some momentum back as England really need him."
Hussain's fellow pundit Michael Atherton added: "Prior's body is creaking and his wicketkeeping is under scrutiny so he really needs to show his value as a lower-order, counter-attacking batsman.
"He got in [on Saturday] and he played alright, but he didn't go on and get the score he wanted to, and a start is not enough when you are dropping catches and there is a younger man pushing you."
Want more leather-on-willow analysis? Then download the Cricket Writers on TV podcast here.