Cricket Expert & Columnist
Eng v Ind, fourth Test: Moeen Ali reaping rewards of Alastair Cook's full backing
Slow bowler is showing up India's 'block or slog' policy... and senior players are stepping up
Last Updated: 09/08/14 7:57pm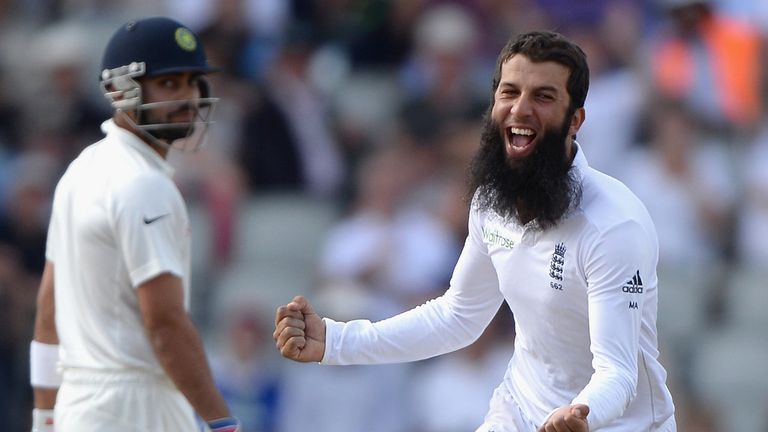 England's faith in Moeen Ali's spin and the upturn in their senior players' form are at the heart of England's phenomenal turnaround in form, says Nasser Hussain.
Alastair Cook's side followed up their 266-run victory at the Ageas Bowl with a thumping innings and 54-run triumph in the fourth Test at Old Trafford, Ali returning 4-39 as India were shot out for 161 in their second innings on day three.
The back-to-back wins mean that England, who trailed in the series after losing the second Test by 95 runs at Lord's, now head to the Oval for Friday's fifth and final Test with a 2-1 cushion.
Former England captain Hussain told Sky Sports that scoreline represents a stunning improvement.
"It really is a phenomenal turnaround from England – I think they've lost half a session in the last eight days of international cricket," he reflected. "That's brilliant from Cook and his boys.
"They've won inside three days – and we lost a couple of sessions yesterday; so they've won in two-and-a-half days on a pretty good surface.
"India can't argue 'we didn't do very well first up' – England can now say we bowled you out when it was doing something  and we've bowled you out when it's flat."
Improving
Ali, who defied his 'part-time' spinner status by claiming 6-67 in India's second innings in Southampton, was again pivotal to the tourists' demise, removing Cheteshwar Pujara (17), Ajinkya Rahane (one), MS Dhoni (27) and Ravindra Jadeja (four) – and running out Bhuvneshwar Kumar (10) – in a stunning passage of play. In total, India lost nine wickets after tea including a spell that saw five tumble for just 13 runs in 21 balls.
Hussain said the Worcestershire all-rounder deserves every plaudit that comes his way because of his willingness to learn and develop his game.
"It has been quite a team effort with Moeen Ali," he said. "They've backed him and now the skipper is backing him after treating him initially as a bit of an after-thought.
"From what we hear, Ian Bell has worked with him quite a bit in the nets about the pace to bowl. It is still a learning curve for Moeen but India's record against off-spin of late is horrendous.
"Moeen Ali is showing them up, which is remarkable really given the way India as a nation has played spin over the years. To get out once to Moeen Ali is clumsy; to do it twice either shows that he is a little bit better than they give him credit for, or they don't play off-spin very well.
"India have not been very street-wise playing him. All credit to Moeen for the way he's played but it has been a bit sort of 'block or slog' with India.
"Over the years they've had great players who have manoeuvred the ball with their hands, which makes the spinner bowl different lengths. Moeen Ali has just been able to plug away at a length and they've not been able to get him off it.
"I'd still say there's a lot of potential in this lad with his batting. He's got a bit of an issue against the short ball but if he can work that out, he could be a very, very good cricketer for England. He is improving and learning."
Standing up
England have only come from behind in a home series to win on seven occasions in Test history.
"That stat doesn't tell you what went before," said Hussain. "England have turned this series around despite what happened in Australia and against Sri Lanka.
"The senior players started it by standing up. There are a lot of bits of the jigsaw that are just starting to fit in place. There is still a long way to go. They will play against better sides and they'll have difficult days but this shows there is a bit of character and spine in this side."
Watch England take on India in the fifth and final Test live on Sky Sports 2 from 10am.