Sky Sports' cricket coverage hits all the right notes this summer
ICC Champions Trophy, ICC Women's World Cup... plus plenty more!
By Oli Burley
Last Updated: 26/04/17 5:11pm
Tune up, tune in and make Sky Sports Cricket the soundtrack of your summer.
The ICC Champions Trophy, South Africa and West Indies on tour, the ICC Women's World Cup plus an ensemble of high-tempo domestic action - we could barely have orchestrated it any better!
The first movement begins on Thursday, April 27 with our first live game - the Royal London Cup clash between Northamptonshire and Warwickshire - and is swiftly followed by two ODIs between England and Ireland, on May 5 and 7.
Click on the video above to see our commentators prove they have more than one string to their bow as they hit pitch perfect form at the start of the season under the baton of none other than the maestro himself - conductor David Gower.
Keep a special eye out for a smashing display from Sir Ian Botham on cymbals (ironic given his record at slip), David Lloyd bold as brass on French horn, and Shane Warne letting it rip on the triangle.
Encore, encore!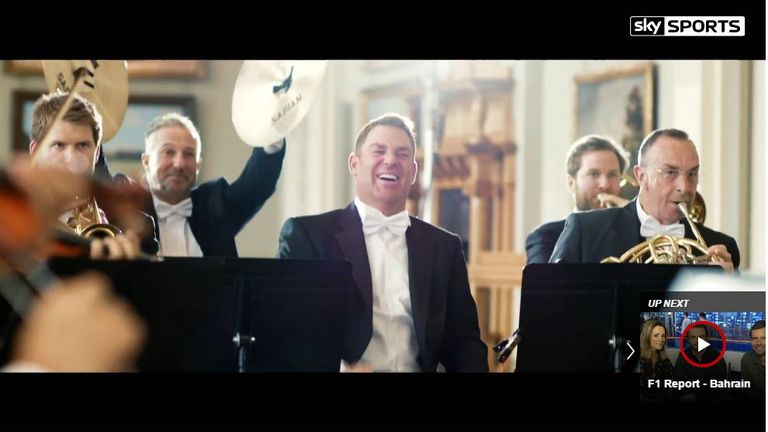 Sky Sports - Televised Cricket Schedule
ICC Champions Trophy
Group A
England v Bangladesh (Kia Oval): Thursday, June 1
Australia v New Zealand (Edgbaston): Friday, June 2
Australia v Bangladesh (Kia Oval): Monday, June 5
England v New Zealand (The SSE SWALEC): Tuesday, June 6
New Zealand v Bangladesh (The SSE SWALEC): Friday, June 9
England v Australia (Edgbaston): Saturday, June 10
Group B
Sri Lanka v South Africa (Kia Oval): Saturday, June 3
India v Pakistan (Edgbaston): Sunday, June 4
Pakistan v South Africa (Edgbaston): Wednesday, June 7
India v Sri Lanka (Kia Oval): Thursday, June 8
India v South Africa (Kia Oval): Sunday, June 11
Sri Lanka v Pakistan (The SSE SWALEC): Monday, June 12
Semi-Final 1, A1 v B2 (The SSE SWALEC): Wednesday, June 14
Semi-Final 2, A2 v B1 (Edgbaston): Thursday, June 15
Final (Kia Oval): Sunday, June 18
England v Ireland
1st ODI (The Brightside Ground, Bristol): Friday, May 5
2nd ODI (Lord's): Sunday, May 7
England v South Africa - Tests live in UHD
1st ODI (Headingley): Wednesday, May 24
2nd ODI (Ageas Bowl): Saturday, May 27
3rd ODI (Lord's): Monday, May 29
1st T20 (Ageas Bowl): Wednesday, June 21
2nd T20 (Cooper Associates County Ground, Taunton): Friday, June 23
3rd T20 (The SSE SWALEC): Sunday, June 25
1st Test (Lord's): July 6-10
2nd Test (Trent Bridge): July 14-18
3rd Test (Kia Oval): July 27-31
4th Test (Emirates Old Trafford): August 4-8
England v West Indies
1st Test (Edgbaston): August 17-21
2nd Test (Headingley): August 25-29
3rd Test (Lord's): September 7-11
T20 (Emirates Riverside): Saturday, September 16
1st ODI (Emirates Old Trafford): Tuesday, September 19
2nd ODI (Trent Bridge): Thursday, September 21
3rd ODI (The Brightside Ground, Bristol): Sunday, September 24
4th ODI (Kia Oval): Wed, September 27
5th ODI (Ageas Bowl): Friday, September 29
Royal London One-Day Cup
Northants v Warwickshire (Northampton): Thursday, April 27
Somerset v Surrey (Cooper Associates County Ground, Taunton): Friday, April 28
Yorkshire v Lancashire (Headingley): Monday, May 1
Hampshire v Middlesex (Ageas Bowl): Wed, May 3
Essex v Sussex (Cloudfm County Ground): Wed, May 10
Nottinghamshire v Durham (Trent Bridge): Thursday, May 11
Final round games: Tuesday, May 16 and Wednesday, May 17
Play-Offs: Tuesday, June 13
Semi-Final 1: Friday, June 16
Semi- Final 2: Saturday, June 17
Final (Lord's): Saturday, July 1
ICC Women's World Cup
June 26 - July 23
Final (Lord's): Sunday, July 23
NatWest T20 Blast
Essex v Surrey (Cloudfm County Ground): Friday, July 7
Birmingham v Nottinghamshire (Edgbaston): Saturday, July 8
Northamptonshire v Yorkshire (Northampton): Tuesday, July 11
Sussex v Hampshire (1st Central County Ground, Hove): Wednesday, July 12
Middlesex v Surrey (Lord's): Thursday, July 13
Lancashire v Yorkshire (Emirates Old Trafford): Friday, July 14
Glamorgan v Somerset (The SSE SWALEC): Saturday, July 15
Kent v Gloucestershire (The Spitfire Ground, Canterbury): Tuesday, July 18
Worcestershire v Derbyshire (Worcester): Wednesday, July 19
Durham v Leicestershire (Emirates Riverside): Thursday, July 20
Surrey v Middlesex (Kia Oval): Friday, July 21
Nottinghamshire v Northamptonshire (Trent Bridge): Saturday, July 22
Gloucestershire v Glamorgan (The Brightside Ground, Bristol): Tuesday, July 25
Yorkshire v Durham (Headingley): Wednesday, July 26
Kent v Somerset (The Spitfire Ground, Canterbury): Thursday, July 27
Sussex v Middlesex (1st Central County Ground, Hove): Friday, July 28
Essex v Gloucestershire (Cloudfm County Ground): Sat, July 29
Northampton v Birmingham (Northampton): Tuesday, August 1
Leicestershire v Nottinghamshire (Fischer County Ground, Leicester): Wednesday, August 2
Middlesex v Hampshire (Lord's): Thursday, August 3
Birmingham v Worcestershire (Edgbaston): Friday, August 4
Hampshire v Glamorgan (Ageas Bowl): Thursday, August 10
Yorkshire v Lancashire (Headingley): Friday, August 11
Somerset v Kent (Cooper Associates County Ground, Taunton): Sat, August 12
Surrey v Sussex (Kia Oval): Sunday, August 13
Derby v Durham (Derby): Tuesday, August 15
Lancashire v Worcestershire (Emirates Old Trafford): Wednesday, August 16
Further games tbc
Quarter-Finals: Tuesday, August 22 - Friday, August 25
Finals Day (Edgbaston): Saturday, September 2
Kia Women's Super League
Vipers v Storm (Ageas Bowl): Thursday, August 10
Diamonds v Thunder (Headingley): Friday, August 11
Storm v Lightning (Cooper Associates County Ground, Taunton): Saturday, August 12
Stars v Diamonds (Kia Oval): Sunday, August 13
Lightning v Vipers (Derby): Tuesday, August 15
Thunder v Stars (Emirates Old Trafford): Wednesday, August 16
Finals Day (1st Central County Ground, Hove): Friday, September 1
Specsavers County Championship
Matches tbc