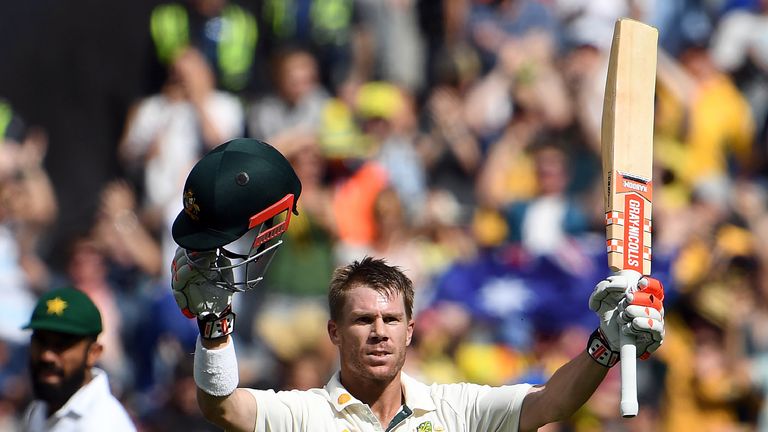 David Warner says Australia's cricketers are prepared to boycott this year's Ashes series rather than budge in their pay dispute.
Cricket Australia is attempting to implement a new pay structure which would end players' entitlement to a fixed percentage of revenue.
CA boss James Sutherland warned on Sunday that Australia's contracted cricketers will effectively become unemployed at the end of June unless they accept the new model - a statement which drew a rebuke from the players' union.
And vice-captain Warner, currently earning more than £600,000 playing for Sunrisers Hyderabad in the Indian Premier League, says the players will go elsewhere in search of employment if CA refuses to back down.
"If it gets to the extreme they might not have a team for the Ashes," he said. "I really hope they can come to an agreement... we don't really want to see this panning out like that where we don't have a team, we don't have cricket in the Australian summer. It is up to CA to deal with the Australian Cricketers' Association. It's obviously in their hands.
"We thought something along the lines of this might happen ... it's not come as a shock, but more the fact it has come so early.
"We won't buckle at all, we are standing together and very strong, and as you can see from all the people that have spoken so far, we are all on the same wavelength and are sticking together.
"We want a fair share and the revenue-sharing model is what we want, so we are going to stick together until we get that. We are not going to shy away, we are just going to stick together.
"For us, as cricketers, if we don't have contracts we are going to have to find some cricket to play somewhere else because that's what we love doing, and we're obviously going to look to maybe do something in the meantime, otherwise we don't get paid.
"A few boys might go over to play the Caribbean Premier League and I think there could be some of the England Twenty20s on as well. We want to keep participating for our country as much as we can, but if we don't have a job, we have to go and find some cricket elsewhere."