Pakistan legend Younus Khan on an emotional farewell, pay disputes and retirement plans
By Sajid Sadiq - @Saj_PakPassion
Last Updated: 19/05/17 1:48pm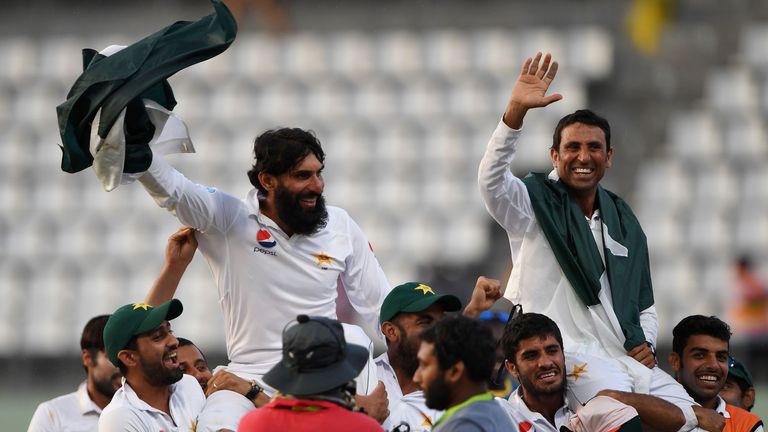 After dramatic victory in his final Test before retirement, Younus Khan discusses his emotional farewell, the ongoing Australia pay dispute and his most cherished moments from a glittering career.
The 39-year-old bows out with more than 10,000 Test runs to his name with a further 7,249 in ODIs as well as having captained Pakistan to World T20 glory in 2009.
Read on as he looks back at all of that and more in our Q&A...
Q. Did you think that your farewell match for Pakistan was going to be ruined by some stubborn resistance from the West Indian batsmen and tail-enders?
A. Yes I did, but one has to give credit to the way Roston Chase batted. At the start of the fifth day we were expecting to wrap the match up and in fact, the way the pitch was playing, I actually thought we would win the match before tea.
When it got down to that second-last over with Yasir Shah bowling and the way Shannon Gabriel played the first five balls without any problems at all, I thought perhaps the chance had gone.
In fact I thought if Gabriel had played out that over from Yasir despite all the pressure, then the match would be drawn as Chase was going to face the final over and he was looking very assured at the crease.
Q. I guess it was meant to be that you and Misbah-ul-Haq would see a historic win in your final match for Pakistan?
A. Yes, it was written in the stars. The Almighty wanted a happy ending for Misbah and I and that is exactly what happened. But even in those tense last few overs I thought that the Almighty wouldn't let me and Misbah finish our international careers without a victory.
Q. It must have been an emotional final day for you in Dominica?
A. It was a very emotional day. A day tinged with some sadness but mainly a lot of happiness and a day of celebration. When the boys gave me the guard of honour it was a very emotional time and a time when my whole cricket career flashed before my eyes. You try to keep your emotions at bay at a time like this, but it was very difficult to keep the eyes dry.
Q. What did you say to your team-mates in the dressing room away from the media glare and television cameras after the match in Dominica had ended?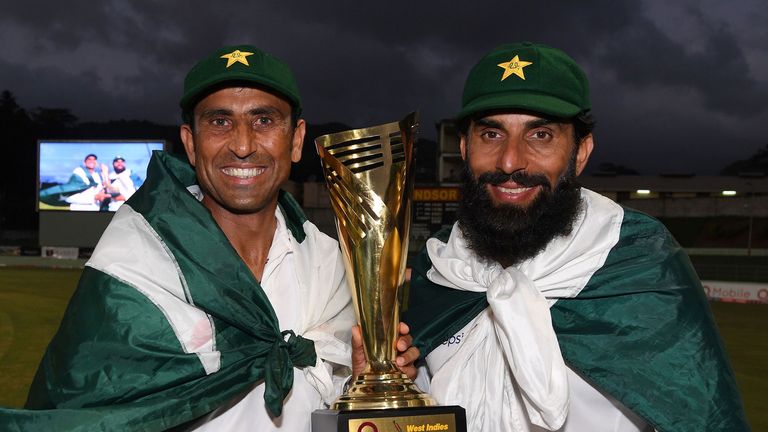 A. I was asked to give a farewell speech in the dressing room and I wanted to keep it brief and to the point as sometimes when you are emotional you can ramble and move away from the key points. So I offered my thanks to the players, the coaching staff and the support staff for all their support over the years.
Also I wanted to focus on the younger players, the boys new to international cricket and I said to them to serve their nation with pride in future, to always be motivated and to always perform with sincerity.
Q. Even in your final series in international cricket, it looked like you were good enough and fit enough to carry on playing for Pakistan for a few years. Was there a temptation to carry on playing for Pakistan?
A. I always said to myself that I would leave international cricket on my terms and conditions. I always said to myself that I would retire while I was still playing well and performing for Pakistan and I wasn't a liability to the team. I did not want to be in a position where I was only picked on reputation and thankfully I left exactly the way that I had wanted to leave.
Q. You played some wonderful innings for Pakistan throughout your career. Which are the ones that you feel were your best and most cherished?
A. The innings that I feel defined me as a batsman and brought to me to the attention of the cricketing world was the century against New Zealand in 2001, when I made 149 not out. This is an innings that I will never forget and it's an innings I will always keep dear to my heart.
Also, the innings that made me famous around the globe and gave me a lot of popularity was in a Test match in Bangalore, in 2005 against India, when I made 267 not out. This is another innings that I will always cherish.
Q. Do you leave international cricket having fulfilled all your aspirations and hopes?
A. Yes, definitely. Many people have said to me: 'you are retiring, yet you don't look sad and unhappy.' I say to them that I am leaving international cricket a happy man, a satisfied man and someone who has earned so much respect from cricket. My international career started well with 46 on my one-day debut, then I made a century on Test debut.
I scored hundreds all over the world and many hundreds throughout my career. Wherever I go I am recognised and respected and wherever I go people say to me that you are not only a good cricketer but you are also a good man. I also won the World Twenty20 as captain, that too at the wonderful Lord's cricket ground.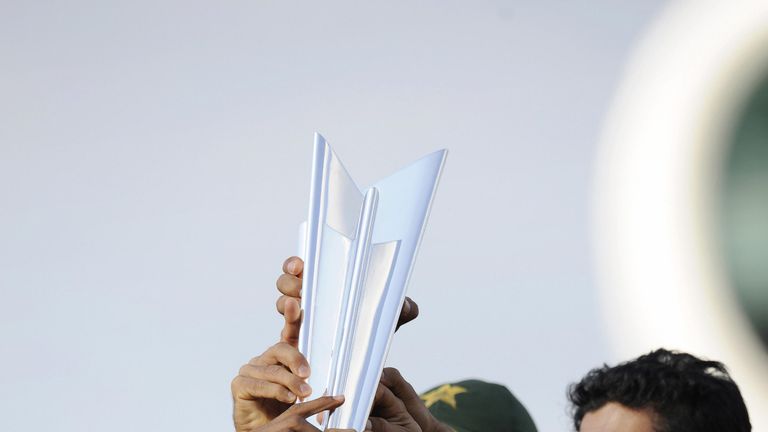 I made so many friends over the years in cricket, I've had some wonderful times, some great moments and memories. Now my career has also ended on a happy note with a Test series win in the Caribbean. I leave content with my achievements and I'm happy that I earned respect wherever I played cricket. What more could I ask for!?
Q. Some of Pakistan's young and upcoming cricketers seem to be distracted by the menaces that can hinder their careers. What advice do you offer these youngsters?
A. I always say to these boys, focus on your own career, don't worry about others and what they are earning or doing. Focus on your fitness, work on your own game, work on your weaknesses and areas of improvement. Just think about and work on those things which are under your control.
Every player has testing times when things don't go well for you, but if you concentrate on the basics and above all are prepared to work hard on your fitness and your cricketing skills you will never go wrong. Another very important factor I always stress to youngsters and other team-mates is the need to remember that you are playing for your country and not for yourself.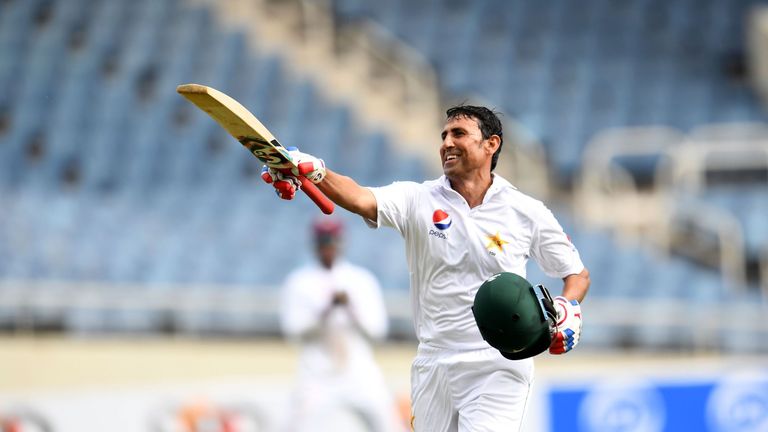 It's team first, then the rest. Whether you are playing for your club team, your department or your country, that comes ahead of your individual performance.
Q. Currently there is a pay dispute between Cricket Australia and its players. Do you think such issues will become more common in the coming years?
A. I think sometimes there is a divide and a gap between cricket boards and players, and it becomes an issue of mistrust. What needs to be done is to ensure that such situations do not arise and such gaps are bridged as soon as possible.
A lack of communication becomes the issue and that causes a divide between the two parties. I'm a firm believer that before decisions are made by cricket boards they need to consult with the players first and get their opinions on important matters.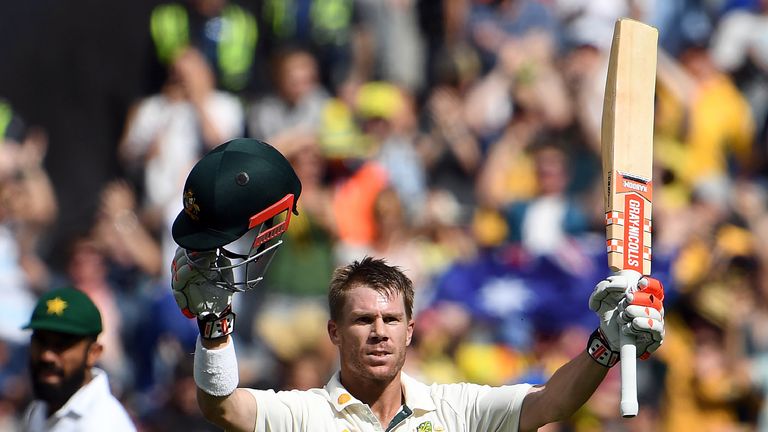 Quite often what happens is that players see important changes in the media before they are consulted and that causes problems. Two-way communication is vital and transparency is absolutely crucial if such issues are to be avoided.
Q. How do you want to be remembered by future generations of cricketers, fans and media?
A. I do not want to be remembered as the man who scored 34 Test hundreds, or the man who made over 10,000 Test runs, or the man who made Test hundreds against all other Test playing nations, or the player who has made Test hundreds all around the world, as statistics do not matter to me.
What is more important to me is that I am remembered as someone who put the team first, did not play for himself and put his country first. I want to be remembered as a cricketer who served his country, earned respect and played for the team and not himself.
Q. The Pakistan Cricket Board have openly stated that they want you to work for them in some capacity in future. Does that appeal to you and what are your future plans?
A. I have some plans in my mind but the first thing I want to do is to spend some important and valuable time with my family as they are the ones who have supported me throughout my career, through the highs and through the lows. I feel that one part of my life has finished and another very important chapter in my life is about to begin.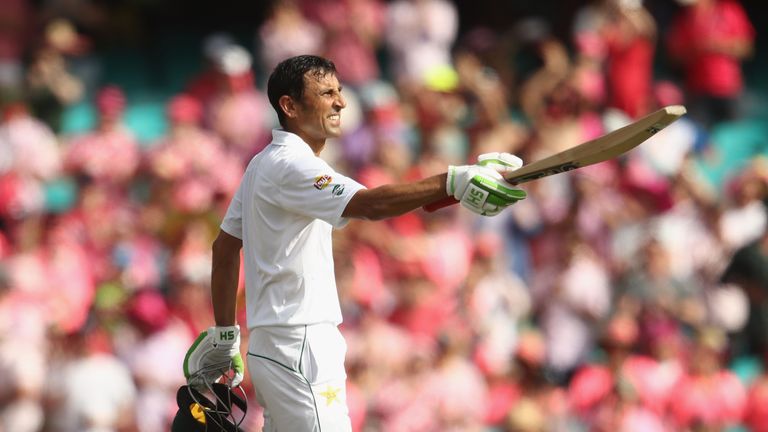 I want to serve my country in many areas and not just cricket. I want to help my nation in whatever way it needs me to. I am happy to work for the Pakistan Cricket Board in future, working with young players in Pakistan and grooming them for the rigours and demands of cricket.
If you have worked in an area for so long, then you don't lose those skills and I would be more than happy to work with Pakistan U19s and work with other players who require my assistance. I am a very patriotic man and my country is important to me and I want to serve my country in whatever capacity it requires me to.