Sana Mir Q&A: Pakistan's remarkable resilience will help grow women's game
By Saj Sadiq - @Saj_PakPassion
Last Updated: 11/07/17 4:12pm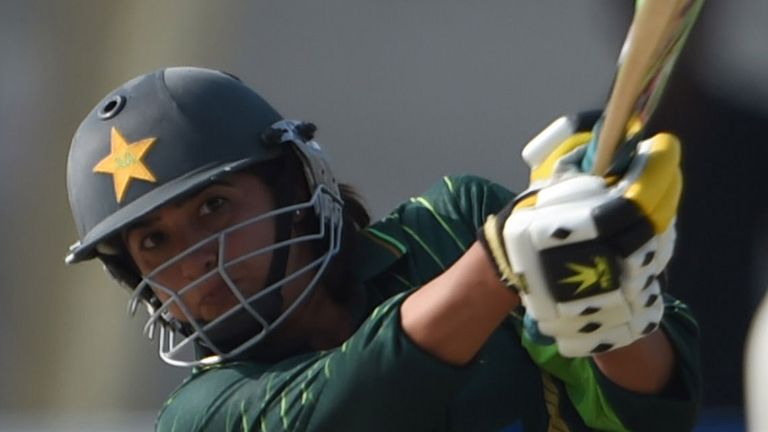 Five straight defeats have left Pakistan rock-bottom of the ICC Women's World Cup table.
Saj Sadiq caught up with skipper Sana Mir ahead of her team's clash against fellow strugglers West Indies - a match you can watch for free on our live stream from 10.20am on Tuesday.
Disappointed but not downcast, she explained why she still has faith in her team's resilience, why she's proud of the talent emerging from her country and how she hopes this tournament will be the springboard for the advancement of women's cricket in Pakistan…
What positives are you taking from what's been a tough World Cup tournament so far?

Sana Mir: "There is a lot to look forward to as far as this team is concerned. As we have shown during this tournament, this team has an excellent mix of youth and experience but what is really impressive are the capabilities of some of our youngsters. In that context, I would like to mention players like Nashra Sandhu and Diana Baig who I believe are big positives for us in this tournament. In addition, we also have Ayesha Zafar who recently scored a fifty against England and has already shown great promise though I do feel that she needs to display more consistency in future. In fact, all the youngsters have put in excellent performances and represent great positives for us."

Does the manner of your team's performances at the World Cup give you some confidence for the future?

Sana Mir: "If one looks at the Women's World Cup tournament results so far, we've shown that we have the ability to take the fight to our opponents even after we have lost games. The resilience of this team is remarkable as we have consistently come back with a view to doing well in the next match we play. It's something very positive and it shows that the team has matured over the years.
"In previous tournaments, we would suffer big losses and then the team would appear to have lost the will to fight back for the next two or three games, but now it's different. The recovery process after losses is improving for our team which is a matter of great pride for all of us."

The Pakistan Cricket Board has taken significant steps to improve the standard of Women's cricket but there is always room for improvement?

Sana Mir: "There have been vast improvements in the manner in which the PCB provides support for the Women's game in the country. But as with everything, there is always room for improvement.
"In my view, the most important thing is to improve the level of competition of cricket at the domestic level. At the moment what we see is that at the domestic level, the competition isn't great and the kind of cricket the players are used to isn't up to the mark so that when they make the transition to international cricket, there's a huge difference in standards and the jump in terms of level of expertise between domestic and international is too big to overcome easily.
"Sometimes the players don't realise the difference, and until they actually play international cricket, they really have no idea of what to expect and have to learn their lessons the hard way."

The step-up from domestic to international level is a big one; how do you propose this to be filled by the PCB?

Sana Mir: "I feel that it is very important to make the players ready at the domestic level by raising the standard of cricket as close to international cricket as possible so that the gap is lessened. We need cricket academies for women running throughout the year and these should be active in every major city.
"That will definitely ensure that the standard of the competition will be of a higher quality. The players will need to work harder throughout the year by actively participating in cricket and they'll be more prepared for international cricket when they make the step up to the next level."
Would more tours, such as 'A' tours and non-official tours help in improving Pakistan Women's cricket standards as well?

Sana Mir: "It goes without saying that foreign tours are extremely important because they help in developing our backup resources. As we know, the reserve bench is very weak at the moment which is of crucial importance in a top-level tournament. We had a series of matches against Under-16 boy's teams in Pakistan and that allowed a couple of our players an opportunity to make a comeback and this is exactly why such tours can definitely help us in the future.
"What we need to do is to have such tours more often in the calendar which will help us develop an Under-19 team and a Developmental squad as well. Instead of just playing at ICC tournaments, we really need to think out of the box and arrange more matches in between to give the players more exposure to competitive top-level cricket."

Does Pakistan need to improve the coaching system for the better development of the Women's game?

Sana Mir: "I think the coaching arrangements we've had for the past four years are competent as far as the men's structure is concerned, but women's cricket needs a different approach. What could really benefit the Pakistan Women's game is the presence of coaches who've worked with women's cricket globally or female coaches who have played cricket, such as Karen Rolton or Charlotte Edwards.
"Such women who've played for a decade for their respective countries, can be very helpful as they are well-versed with the women's game and would have guided their sides through similar situations. If we want to catch-up with the other top teams quickly then we have to invest in every department and coaching is an important aspect of the whole equation."

In terms of investment, what is lacking and what more needs to be done to improve Pakistan Women's cricket?

Sana Mir: "We do have camps in every city of Pakistan but they aren't functional or suitable for women. We need to have coaches there who can give practice to women cricketers. The camps and academies need to be active on a regular basis; if we can't have exclusive branches for women, we need to at least have exclusive days or timings when girls can come and play.
"This is because, if there are men's teams practising at a ground, they won't prefer the women's team coming and practising alongside them and vice versa. So, for example, if we can have two hours for each stadium for 2-3 days a week, that might be helpful to bring more girls to active cricket throughout the year which will bring improvements."
Can better coverage of Women's cricket also help the cause of the Women's game in Pakistan?

Sana Mir: "There is absolutely no doubt in my mind that just like it has done in the men's game, televised games and the improvement in the quality of cricket will help to bring in more sponsors. An excellent initiative in this regard is PCB's plan to hold a sponsored tournament in August which will have 4-5 sponsored teams and the best part is that it's going to be a tournament which will draft players which is very popular in today's game. More tournaments like this in the future will be very helpful."

Are you concerned that Pakistan Women are not playing enough off-season cricket between official engagements?

Sana Mir: "What is important for any cricketer is to be able to play top-level cricket as many times as possible every year as that is the only way to develop yourself and league tournaments, such as the one I spoke about, are a perfect opportunity for Women's cricketers in Pakistan.
"If you look at all the international teams we come across, you will notice that they play competitive cricket in leagues all year around. For example, England Women in their winter off-season will go over to Australia or New Zealand and play there on a regular basis and vice versa. They're playing competitive cricket throughout the year, not just before a tournament or in an international series so that's something we need to have for our players as well."

Why is there a lack of commercial sponsorship for the Women's game in Pakistan?

Sana Mir: "To be honest, the problem is that we as a nation do not understand the essence of sport. It appears that in order to sponsor someone, companies seem to ask whether they are likely to win or lose in the future. What they give no importance to when it comes to Women's cricket is the fact that we are participating in top-level cricket and participation in sport, rather than just winning or losing, is equally important.
"Looking at the recent history of the Pakistan Women's team, it is clear that our team has time and again proven that they are among the top eight which is an achievement considering the type of structure we have back home. We continue to qualify for ICC World Cups every time and we put up good fights against the big teams."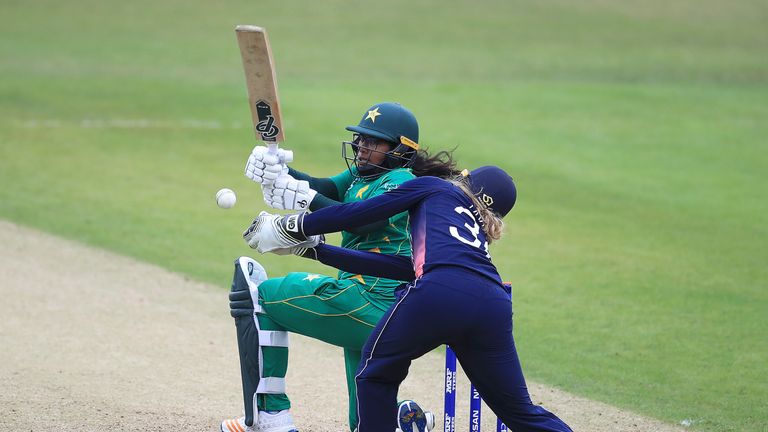 But can you blame the sponsors for looking for good results when they take decisions to put in money in the Women's game?

Sana Mir: "Sponsorship cannot be based upon results alone, they must take into account the processes involved and talent, as well as the effort that the players are putting in. It is a given that more sponsorship would definitely help players to work on improving their skills with freedom of mind and without the fear of financial implications throughout the year. That approach by sponsors would definitely have a positiveeffectt on the Women's game in Pakistan."
Watch Pakistan Women take on West Indies Women via our FREE LIVE STREAM - available on skysports.com and Sky Sports apps from 10.20am on Tuesday.