Jos Buttler 'relieved' for England Test snub in 2015
Watch Buttler in T20 Blast action for Lancashire on Friday night
Last Updated: 01/08/17 4:58pm
With Jos Buttler seemingly out of England's Test plans for now, he should be available for all of Lancashire's group games in the NatWest T20 Blast.
Buttler has looked in good nick during his county's opening two matches, hitting 59 off 39 balls against Durham and 39 off 21 against Leicestershire, smearing eight fours and four sixes in that time.
The 26-year-old will be hoping to take that form into Friday's Roses clash, when Lancashire welcome Yorkshire to Old Trafford (6.45pm, Sky Sports 2).
Rewind almost two years, though, and Buttler was at a low ebb, telling Sky Sports' Ian Ward recently that it was a 'relief' to be dropped from England's Test team against Pakistan in late 2015.
Having averaged just 15.25 in the 2015 Ashes series and struggled in the ODI series that followed, Buttler's woes continued in the Emirates as four low scores in the first two Tests saw him taken out for the team for the third, with Jonny Bairstow handed the gloves.
"When I got a duck at Lord's [in the ODI against Australia], I walked off thinking: 'I'm done, I don't want to play at the minute, I need to get away from cricket, I don't want to be here'. I was distraught," he said.
"I went out to the UAE and it was still sticking with me - I had my Test place and I was determined to try and make it work.
"I dropped quite a simple catch in the second innings in Dubai and I thought: 'I want the ground to swallow me up, I do not want to be out here'.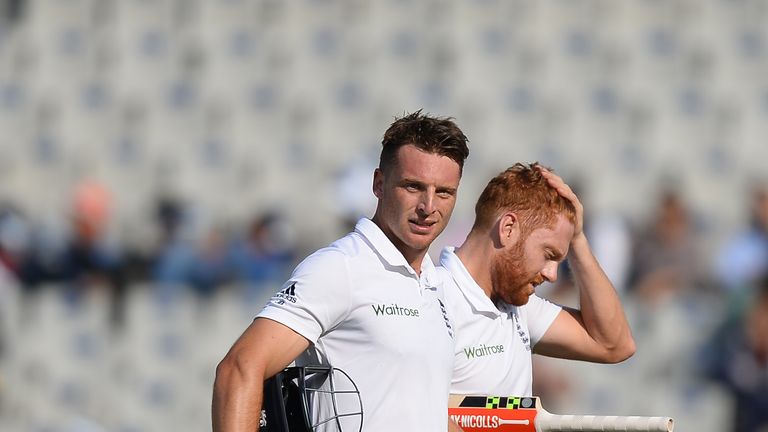 "I knew I was going be dropped after that game and it felt like the biggest relief. You are disappointed - you still believe you can turn it around - but at that moment I was so relieved to be taken out of the limelight."
Buttler returned to form with a 46-ball ton, the fastest by an Englishman in ODIs, later in the tour, breaking his own record, having pumped a 61-ball hundred against Sri Lanka at Lord's in May 2014.
"That was a culmination of six months of not being able to get the ball off the square to playing the best I've ever played in my life," he added.
Watch the video above to hear more from Buttler, including why he cares little about batting averages, his school days and how he has improved as a one-day batsman.
Then catch him and his Lancashire team-mates tackle Yorkshire in the NatWest T20 Blast, live on Sky Sports 2 from 6.45pm on Friday night.