Cricket Expert & Columnist
Nasser Hussain says England must show more fight and value their Test wickets
'A score of 133 all out is a rubbish brand of cricket'
Last Updated: 18/07/17 10:30am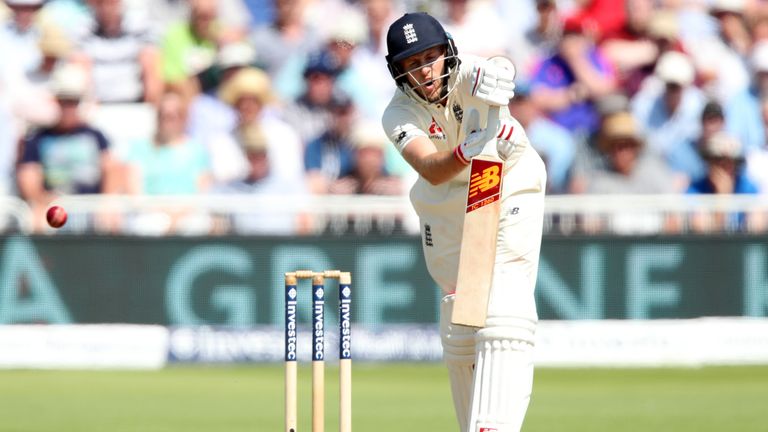 Nasser Hussain challenged England to show their steely side in the third Test after crashing to a 340-run defeat at Trent Bridge.
Joe Root's side were bowled out for just 133 in 44.2 overs to suffer a crushing loss before tea on day four of the second Test; the Proteas squaring the series 1-1 after their 211-run reverse at Lord's.
England batted for just 96.1 overs in the match and former captain Hussain told Sky Sports that - as well as South Africa played with captain Faf Du Plessis back in charge - the home side did not show enough fight or character.
"England have been out-batted, out-bowled, out-captained and out-reviewed - they've been out-played in so many different departments, something you could say about South Africa at Lord's," said Hussain.
"England are fragile, they have lost six of their last eight Tests and eight of their last 13. England are not an unstoppable force - they have potential and can put in brilliant performances but there are cracks so if the opposition up their game they can get exposed.
"I said 'please, don't get too high' after the win at Lord's and I'd say now don't get too doom and gloom now and think 'England are the worst cricketing nation' as there is potential.
"What I don't like is when a team says: 'This is how we play Test cricket'. There are times to be attacking but I still believe there is a role for someone to value their wicket and say 'Over my dead body'.
"If I'm an England fan watching that I'm a little disappointed hearing players say 'that's the way we are going to play now'.
"I want to see people value their wicket. If people bowl well, acknowledge it, don't say 'we're trying to play a positive brand of cricket'. A score of 133 all out is a rubbish brand of cricket - they are not showing a steely side, something South Africa's number three, Hashim Amla, has in abundance."
England's top-order problems persist - Keaton Jennings and Gary Ballance scoring seven runs between them in the second innings in the face of a superb spell from Vernon Philander (3-26) - and Hussain said those batsmen, as well as Liam Dawson and Mark Wood, have questions to answer.
"How do the guys out of nick, like Keaton Jennings, get in nick with no first-class cricket and only T20 Blast cricket going on? And how does someone they want to pick for the Oval - Mark Stoneman as a batsman or maybe a bowler for Wood - show they are in nick?
"I haven't thought too much about replacements. The four guys under threat are Jennings, who looks horribly out of nick, Ballance, who still can't crack Test cricket, Liam Dawson - what's his role in the side - and Mark Wood, who looks like he is carrying an injury. Those four will be looking over their shoulder."
England coach Trevor Bayliss admitted that he watched in disbelief as his side capitulated in quick time, acknowledging again that he'd like captain Root to move up to the order from four to three.
Hussain - a long-term proponent of such a move - said England's management team are sending out mixed signals.
"Trevor probably can't say what he exactly thinks - he has got to think about his players listening upstairs - but I thought he was a bit contradictory.
"He has stated that he wants Root to bat at number three but said he has his best three players in the top three. It's his job on the line - he's got to tell Root to bat at three.
"He also can't quite work out why England win one and lose one but I can tell you why! When it's all going well they have some very skilful players and can continue their momentum, but when it isn't the mental toughness of some of those players is found wanting.
"Also, the lads that are coming in aren't doing anything for them - they won at Lord's because of Joe Root, not Jennings, Dawson or Ballance.
"You name some lads who have come in - [James] Vince, [Ben] Duckett, [Gareth] Batty, [Zafar] Ansari, [Alex] Hales, Ballance - there is no-one coming in and doing well.
"It is a sad indictment in county cricket that they are getting runs there and not for England."
Watch the third Test between England and South Africa live on Sky Sports Cricket from 10am a week on Thursday.