Sky Cricket Masterclass: Sam Billings gives wicketkeeping demo
Kent gloveman demonstrates how he keeps to seam and spin
By Sky Sports Cricket
Last Updated: 12/08/17 2:00pm
Sky Sports Cricket has brought you a host of masterclasses so far this summer with Kevin Pietersen, Andrew Flintoff and Daniel Vettori displaying their batting and/or bowling skills.
The attention turned to wicketkeeping recently, though, as Kent and England gloveman Sam Billings gave a fascinating demo at Canterbury during a guest commentary stint for Sky Cricket.
Billings' former Kent colleague and now Sky Sports expert Rob Key joined him at the St Lawrence Ground to see how the 26-year-old looks to keep to seamers and spinners.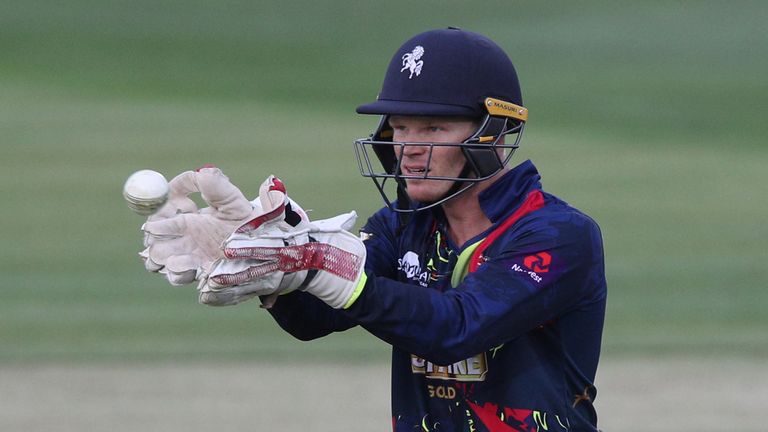 Watch Billings' Masterclass in the video at the top of the page, where he showed some of the methods listed below - any aspiring young wicketkeepers, and some old ones, too, should take note!
Why watching the ball all the way into your gloves, keeping your hands as open as possible, and catching out in front of you is crucial.
Why the fingers-down approach works in England with the ball generally bouncing waist-high and why you should go up with the ball.
The adjustments he makes when keeping to in-swing and out-swing bowlers and why you should not stand too wide.
Why keepers should always expect batsmen to miss the ball and why he looks to move the ball back towards the stumps after taking it.
Why it can be a "nightmare" when batsmen have different backlifts.
Billings, who received deliveries from Kent spinner Imran Qayyum, also detailed why MS Dhoni is so good keeping for India on spinning tracks.