England v West Indies: Michael Holding narrates a story through the ages
Last Updated: 16/08/17 10:28am
Michael Holding was poetry in motion as he destroyed England in 1976. Click on the video above to hear him read an extract from Benedict Bermange's epic re-telling of series past...
The first West Indies tourists came in nineteen twenty-eight
To better Chapman's England team just proved a task too great
Conditions were extremely hard for them to find their feet
Each Test Match in the series ended in a big defeat
The Caribbean hosted England's team just two years on
Both teams won a Test Match but the others ended drawn
The final Timeless Test saw Sandham hit three twenty-five
Set eight-three-six to win the home team managed to survive
The popular West Indies tour of nineteen thirty-nine
Was headlined by George Headley and Sir Learie Constantine
The legendary batsman hit two centuries at Lord's
Which gave him a unique position on the honours boards
The nineteen fifty tourists were outplayed in the first Test
But bounced right back at Lord's and then went on and won the rest
Twas Ramadhin and Valentine - such mastery of spin
Who turned them round from also-rans to bring a series win
The legendary three W's of Walcott, Worrell, Weekes
Supported by Lance Gibbs providing all his flighted tweaks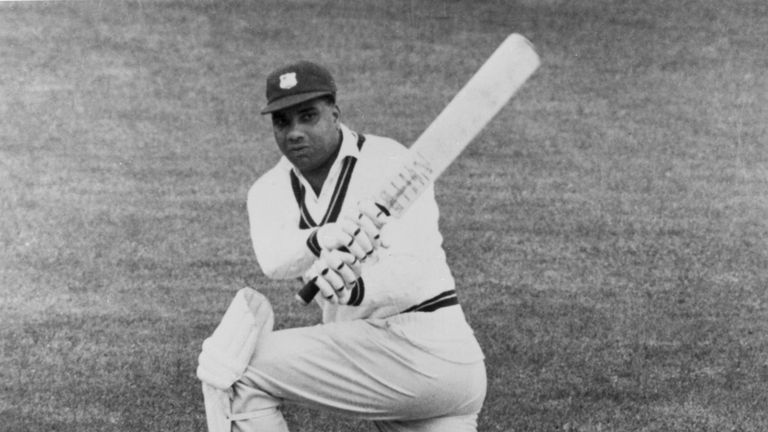 At Birmingham in fifty-seven England saved the day
All thanks to Colin Cowdrey and his skipper Peter May
And Cowdrey was the focal point at Lord's some six years on
Nine wickets down when surely they had feared all hope was gone
His England team close to defeat then had to watch aghast
As he strode proudly to the crease, his left arm in a cast
With Garry Sobers in the team they could not help but win
With his ability to change from bowling seam to spin
He set the stage alight with his explosive batting skills
Which guaranteed to give the crowd some memorable thrills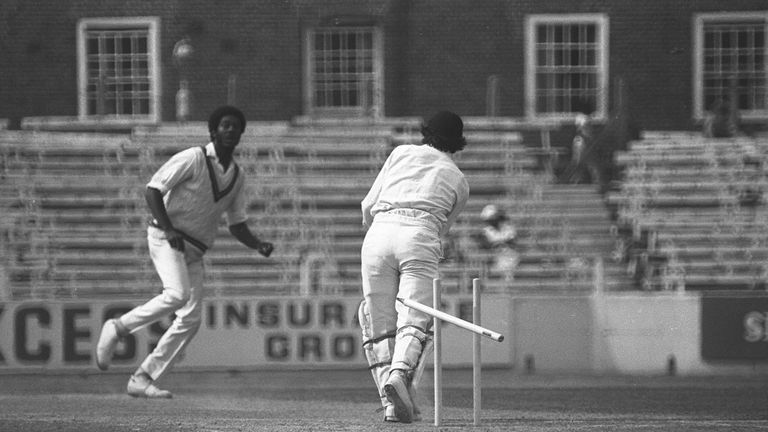 The now infamous 'grovel' quote from captain Tony Greig
Ignited that hot summer like a stormy powder keg
Clive Lloyd decided in his wisdom he would counter back
Unleashing for the first time his great four-pronged pace attack
Who wouldn't try that route with such a devastating choice
Of legends such as Garner, Holding, Marshall, Croft and Boyce?
But pure intimidation wasn't just their only strength
Exhibiting such mastery of bowling line and length
Those great six balls from Holding must still haunt Geoff Boycott's dreams
The last one took his stumps out to the fielders' raucous screams
Viv Richards helped by Dujon, Hooper, Gomes, Greenidge and Haynes
Brought ten wins in a row to lengthen England's lasting pains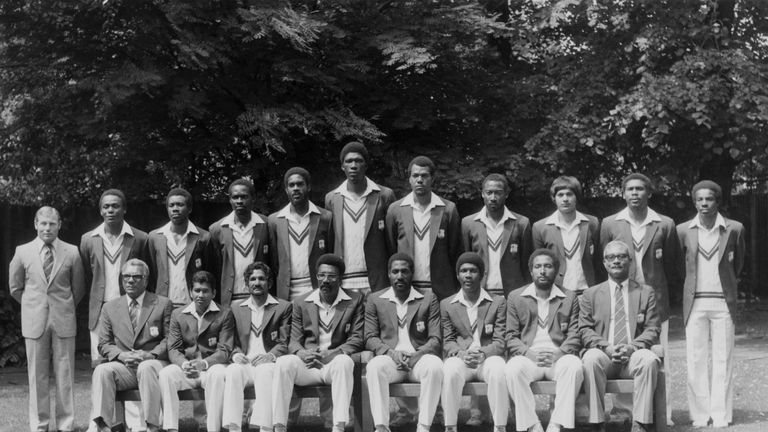 First Marshall and then Patterson inflicted frightful blows
Poor Gatting copped one in his face which rearranged his nose
At his home in Antigua captain Richards joined the fun
And struck a stunning, record-breaking, fifty-six-ball ton
In nineteen-eighty-eight four captains tried to stem the tide
Their Wisden Trophy prospects all too soon were brushed aside
Then Gooch and Lamb at last inspired a win in Kingston town
But dark set in at Trinidad as Richards slowed things down
An epic, one-five-four from Gooch then won the Test at Leeds
The series ended tied despite more Ambrose daring deeds
But back on his home turf, he soon was up to his old tricks
As England failed at Trinidad - all out for forty-six
That was the first time England saw the Lara cover drive
He smashed past Sobers' record with a huge three-seven-five
In ninety-five though new man Cork had just started to click
First over of the day he took a notable hat-trick
In ninety-eight the pitch made headlines at Sabina Park
But Angus Fraser's wickets did ensure he left his mark
And come 2000 England hauled themselves out of their trough
All thanks to Andy Caddick and the boisterous Darren Gough
Blond seamer Matthew Hoggard then enjoyed a purple patch
A hat-trick at Barbados helped his side to win the match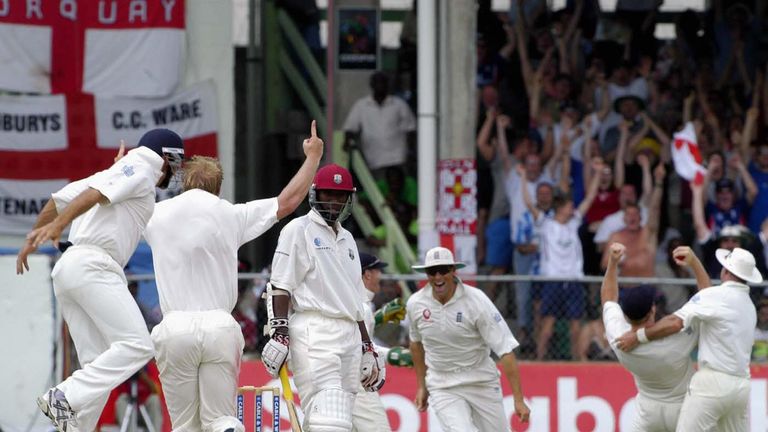 Back at the Recreation Ground, while watching fans adored
Another record, from his bat, four hundred runs were scored
With Andy Flower at the helm and skipper Andrew Strauss
All out for fifty-one suggested they might lack the nous
Delaying declarations twice with five hundred required
The series ended in defeat as those tactics backfired
The series here in twenty-twelve was briefly brought alive
By Tino Best at Birmingham who wowed with ninety-five
Their latest series started well with England soon on top
But ended at one-all after another batting flop
Watch the first Test between England and the West Indies - the first day-night Test in England - live on Sky Sports from 1pm on Sky Sports Cricket on Thursday (first ball 2pm), with over-by-over commentary and in-play video clips on our digital platforms.