Cricket Expert & Columnist
Ben Stokes' passion is 'brilliant for the game' and punishment is 'odd', says Nasser Hussain
"It's a little bit like Mario Balotelli - 'why always me?' - with Ben Stokes."
Last Updated: 28/08/17 8:57am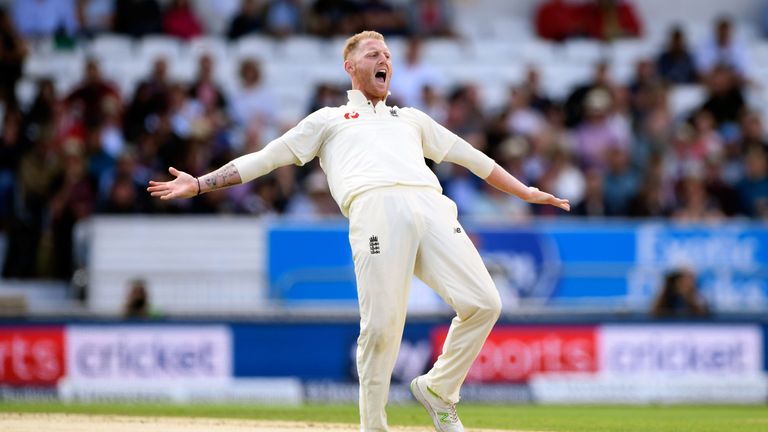 Nasser Hussain says the powers that be risk producing "characterless cricketers" after Ben Stokes' latest demerit point and compares the England all-rounder to Mario Balotelli...
I'm just going to add to the "ridiculous" comments where Ben Stokes' demerit point is concerned.
It is just very odd that after the frustration of a whole day, the ball gets edged down to third man, he turns away from the batsman and lets out an expletive to extra cover - if that is going to get you a point then you aren't going to have many players left on the field.
I am not condoning swearing and the use of swear, kids copy etcetera but you can't have a situation where you are just going to produce characterless cricketers that don't care.
Stokes is brilliant for the game of cricket, he really is. He has to have a look at himself at times because it can't always be someone else's fault - it's a little bit like Mario Balotelli, "why always me?" with Stokes but it is because of the way he plays his cricket.
He plays with his heart on his sleeve, he has a lot of passion and it makes him the cricketer that he is.
We certainly don't want to be knocking that passion out of cricketers. For goodness sake, match referees have been out there and played the game, they must remember that they played with so I think it was a really, really odd one today.
Once the play got underway, the Windies again had the better of the day. I loved the way they built pressure in the afternoon.
They were a bit ropey with the new ball, after about six overs Kemar Roach was wide, Shannon Gabriel was too straight but I thought Jason Holder's captaincy was excellent.
He brought the spinner - Roston Chase - on at the Football Stand End, Holder himself bowled a brilliant spell from the other end and they got control. Joe Root took something like 40 minutes to get off the mark, that's how well they bowled.
Gabriel bowled a brilliant spell - you can argue it was a no ball or not, it was very tight, but the ball he bowled to get Mark Stoneman, who had been batting half the day, was absolutely exceptional.
I think Stoneman looked good in hitting his first Test fifty. I don't know whether it is enough to get him to Australia but he has had two very good deliveries in three knocks, I was very impressed with him and the way he played here today.
He looked very controlled, composed, he had the right balance between attack and defence and he is the right type of player to go out there with Alastair Cook. You don't want another stodgy opener with Cook because then you're going nowhere. I think he looks a good player, I have to say.
On the other side of it is Tom Westley. He, too, looked very impressive when he came in against South Africa - against a better attack, you'd have to say - and played really well. But slowly his scores have gone in the wrong direction and have now gone off a cliff.
It is a sign of a scrambled brain, Test match cricket gets to you mentally. In county cricket there is always another knock, always another day, there is never the fear of losing your place if you are someone like Westley, so you're always going to play.
Whereas in international cricket, the microscope is on you, people are pulling your technique to pieces and you've got to decide how you're going to play. You feel for him and we've all been there.
It is so hard to get out of these spells and unscramble your brain. It's so easy up here in the commentary. Alan Knott once said to me, "the key to Test match cricket is to convince yourself that it is not very important, when you know how seriously important is it."
It is a constant mental battle. Just watch the ball and play it.
I think England will stick with Westley though, he'll play at Lord's and it is going to be a big game for him.
The morning started with James Anderson taking two wickets with the first two balls of the day to move to 497 Test wickets.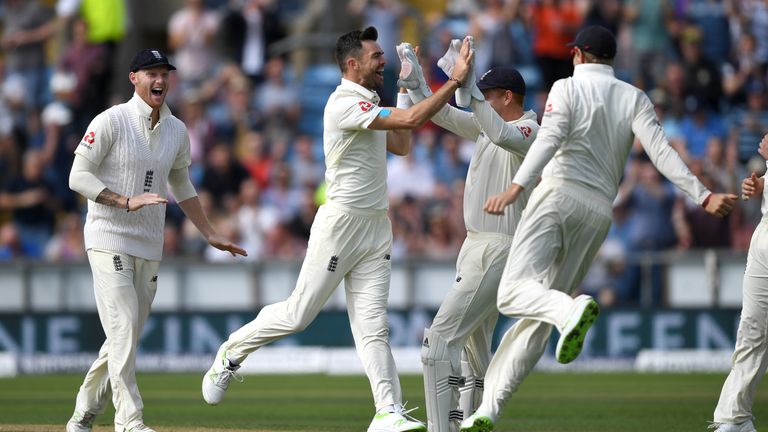 However, if England don't get enough of a lead then it might be a hollow march towards 500. He'll get it at Lord's if he doesn't get it here but the main focus now is that he'll want his batsmen to get enough of a lead so that when he comes in to bowl at some stage tomorrow or the day after, then he can, mostly importantly, lead them to victory but also get to 500.
The pitch at Headingley is not a mine field, it's still a very good pitch but the ball is just not quite coming onto the bat as well as it was earlier in the game. So if England can get a lead of 180, they're in with a sniff.