Irish cricket on rise
Irish cricket is on the rise thanks to the emergence of a number of talented youngsters, captain William Porterfield has said.
Last Updated: 31/05/11 4:53pm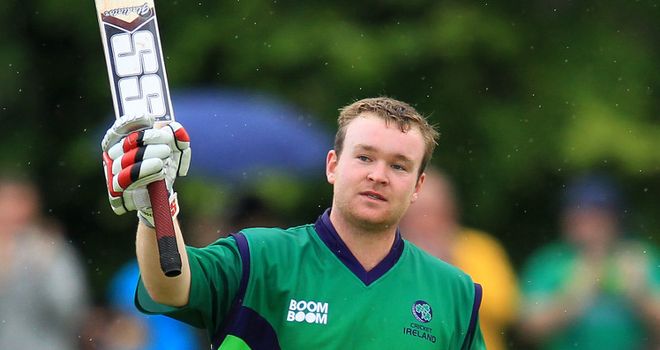 Irish cricket is on the rise thanks to the emergence of a number of talented youngsters, captain William Porterfield has said.
Porterfield's comments come after Ireland ran Pakistan close in their second one-day international in Belfast on Monday.
Pakistan overhauled the hosts' total of 238 with just eight balls to spare to seal a five-wicket win.
But it was 20-year-old Middlesex man Paul Stirling who caught the eye, scoring an impressive 109 from 107 balls, including seven fours and four sixes.
Ireland also have teenage Somerset spinner George Dockrell, who impressed on the sub-continent but missed Monday's match as he is still recovering from a dislocated shoulder.
And as Eoin Morgan continues to become an increasingly valuable England player, Ireland's youth programme would appear in fine form.
"Stirlo is only 20 so he has a bright future," Porterfield said of his Belfast-born opener. "He's come right through the system.
Talent
"He's come through our under-age groups, he's learned all his cricket here and that proves what we can produce and what we are producing.
"We all know what Stirlo can do in the squad, and people around Ireland know what he can do.
"He's just showcasing his talent now. But also outside him we are getting a lot more depth in our squad.
"We were missing Niall O'Brien and George (Dockrell) in this series, but lads have come in and stepped up to the mark which has been great.
"Hopefully that production line can continue on and moves Irish cricket to where it wants to be."
Ireland lost the two-match series, the first ODI ending in a seven wicket defeat after the hosts collapsed to 96 all out.
And, following two vastly different performances against the World Cup semi-finalists, Porterfield knows that consistency is an issue he needs to address
Explosive
But, with Ireland also due to face Sri Lanka and England this summer, the skipper believes that more exposure to the top teams will help his young team overcome the problem..
"We showed in the second game with the way we came back that we have it in us," he said.
"We know that's what we have inside us and we just have to do that every day. Saturday was an off day, it's the way you bounce back from them.
"We showed with our batting today, when we went in first on that wicket after winning the toss, that we don't fear it.
"Stirlo led that. He was explosive when he wanted to be and once he got out of those first powerplays he still knocked it about.
"At the same time he still managed to find the boundary when we needed one. It is a skill in itself to be able to hit boundaries in those middle overs against a quality attack.
"If he can go out and construct his innings like he did he is going to score a lot of runs against quality teams. That can only be good for us in the future."