Tremlett hails Warne
England bowler Chris Tremlett has hailed the influence Australia great Shane Warne has had on his career.
Last Updated: 02/06/11 6:22am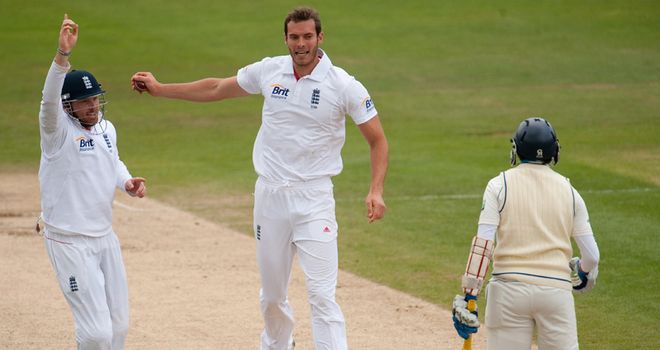 England bowler Chris Tremlett has hailed the influence Australia great Shane Warne has had on his career.
Tremlett returned to the international set-up for the Ashes tour after an impressive season at Surrey after moving from Hampshire.
And the 29-year-old proved his worth to the England team as he took four second-innings wickets during the first Test rout of Sri Lanka in Cardiff.
However Tremlett believes his time working with Warne at the Rose Bowl played a valuable role in him reclaiming a place in the England side.
"Shane Warne was a big influential character in my career," said Tremlett.
"Playing with him at times there were occasions when it wasn't going for me, bowling no-balls or whatever, and he said just 'find a way ... whatever it is, just find a way'.
"That stuck with me throughout my career. When things aren't going your way, don't look for excuses, but find a way to keep going and get the job done."
Despite his current form, though, Tremlett still believes he has to cement his place in England's best team.
But in the absence of the injured James Anderson for the second Test at Lord's, opportunity knocks - for him, fellow beanpoles Steven Finn and Stuart Broad, or even Jade Dernbach if selected.
Step up
"I don't see myself as a regular in the side," he said. "I've only played four Test matches since coming back [after an initial run of appearances in 2007].
"I'm just trying to grow with each performance.
"Obviously it's a big responsibility for me to come into this Test match and not have him [Anderson] in the side - it'll be the only Test I've not played with him.
"It's a big loss for us. He'll be back soon - but whoever comes in, whether it's Finny or Jade, we've all got to step up."
Tremlett is confident he can measure up for England these days, although his 6ft 8in stature means he has had to get used to habitual everyday snags off the field.
"I sometimes have difficulties with doors and banging my head," he said.
"Single beds can be an issue, so it's good if I can get a double.
"Clothes aren't too bad - just trousers are a bit of an issue.
"It's something that can be accommodated, and this country seems to be a taller country in general."