England pacemen fired up
James Anderson believes both he and Chris Tremlett will be comfortable with leading the England attack against Sri Lanka.
Last Updated: 15/06/11 8:34am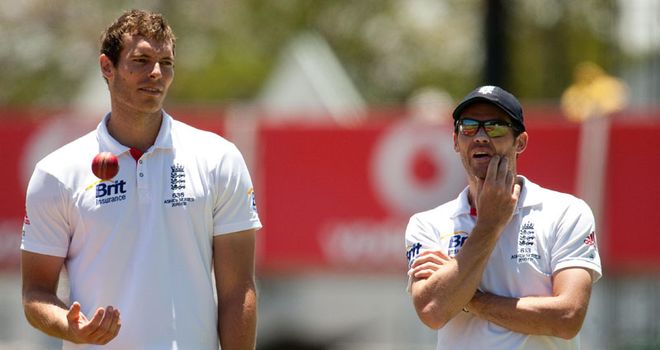 James Anderson believes both he and Chris Tremlett will be comfortable with leading the England attack against Sri Lanka on Thursday.
Along with Stuart Broad, the pair are set to provide the pace threat as England look to round off a series win over the tourists in the third Test at the Rose Bowl.
Unlike Broad, however, both Anderson and Tremlett have sometimes seemed reluctant to show the brashness required of front-line international pacemen.
Anderson thinks Tremlett, who will return to the ground where he learned his trade at Hampshire, is now a much more complete bowler than he was when he made his Test debut against India four years ago.
"I thought he was brilliant in that India series," the Lancashire bowler said.
Improvement
"I think he got injured after that and got forgotten about. Since he came in (last winter) in Australia, he's done fantastically well.
"I think the move to Surrey has helped him. He's become a lot more skilful, can swing the ball both ways, reverse swing as well - and obviously his height is a massive advantage."
Anderson is enjoying a growing reputation as an aggressive fast bowler and says the intimidating aspect of his game is something he has been working on over time.
He added: "I've always had it. But I'd never been able to channel it.
"I've often in the past got quite emotional, lost concentration on what we're actually doing and been sucked into a battle with the opposition - and not bowled very well.
"What I've started to do, and what I felt I did really well in Australia was to be able to have a battle with that batsman or two batsmen - and also be able to concentrate and keep calm when it came to delivering the next ball."
Emergence
The 28-year-old charts his emergence as the country's premier seamer to the exits of Steve Harmison and Matthew Hoggard in the post Duncacn Fletcher era.
"It's only since 2007, when Peter Moores was in charge, and there was a shift when we played India and then that New Zealand tour that I felt a real part of the team," he said.
"Now I feel like I've got to a position where I'm confident in the Test team, I have a lot to offer both on and off the field - whereas before 2007 I was in and out, and I had injury problems.
"That left me as the senior bowler in the side - I had to step up and be more of a leader. I do remember a change in New Zealand in 2008. Hoggy and Harmy missed out, and Broady came in
"I certainly felt a lot more responsibility. I've moved on from there."