Delight for Pakistan skipper
Misbah-ul-Haq admitted he was surprised by the comprehensive nature of Pakistan's win over England in the Test series opener.
Last Updated: 19/01/12 4:40pm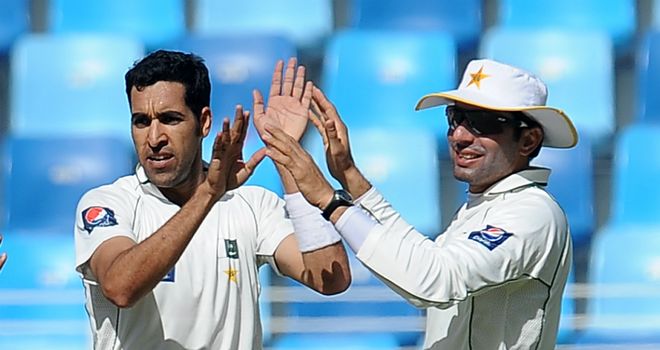 Pakistan captain Misbah-ul-Haq admitted he was surprised by the comprehensive nature of his side's 10-wicket win over England in the first Test in Dubai.
Spinner Saeed Ajmal claimed 10 wickets in the match as Pakistan triumphed inside three days to make an impressive opening statement in the three-match series.
England, top of the Test rankings, were bowled out for 192 and 160 on the way to a 10-wicket hammering.
"We had not expected that it was going to be so easy for us, " Misbah said on Sky Sports.
"It was a wonderful performance from the team, especially Saeed, because the way he took those seven wickets in the first innings really put us on the way to victory."
Misbah has no doubts about the legality of Ajmal's action, saying: "He's cleared by the ICC. They've checked his action, and he's been playing for a long time in international cricket.
"I think you should just admit that he's a good bowler."
Gul soaring
Misbah also praised the contribution of senior fast bowler Umar Gul, who took 4-63 to pave the way for victory on what turned out to be the final day.
"He has been a match winner for us over a long period of time," said Misbah.
"Whenever we need him he bowls his heart out and proved it today. (Spinners) Abdur Rehman and Mohammad Hafeez are also contributing, so it is a good bowling unit.
"I would also like to mention the batting because conditions here in Dubai are difficult for batting. The batsmen are getting good scores and that is key for our team."
Misbah is expecting England to come back strongly in the second match, which starts in Abu Dhabi on January 25.
"We know they are the number one team in the world and, even in this match, they bowled well under pressure," he said.
"They can come back at any time and we are aware of that."