ICC backs DRS for all
Decision review system technology should become compulsory for all Test and one-day international matches, say the ICC.
Last Updated: 25/06/12 5:15pm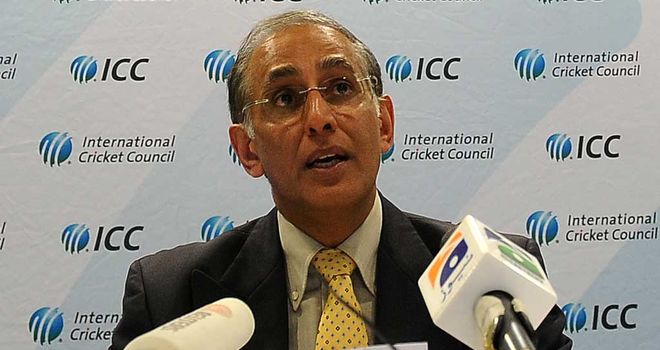 Decision review system technology should be compulsory for all Test and one-day international matches, according to the International Cricket Council.
ICC chief executive Haroon Lorgat announced on Monday that the chief executives' committee (CEC) had recommended a blanket introduction of the system to the ICC Board following a two-day meeting.
Lorgat said in a statement that if members can finance and obtain the required technology then "DRS should be mandatory for all tests and ODIs" to avoid disputes during matches.
The statement said that the ICC had made good progress in 'independently testing ball tracking' and it now wanted to make the system obligatory among all member countries.
"The new enhancements have resulted in the CEC unanimously supporting the ICC cricket committee's recommendation to universally apply the DRS in all test matches and ODIs," it read.
The recommendation however, has caused concern at the Board of Control for Cricket in India (BCCI) who have long opposed the idea and issued an immediate reponse to the statement.
Foolproof
"The BCCI continues to believe that the system is not foolproof," it said. "It also sticks to its view that the decision on whether or not to use the DRS for a particular series should be left to the boards involved in that series."
The CEC also recommended the number of successful reviews should be retained at two per innings for Tests and one per innings for ODIs.
But it said that a minimum of two 'Hotspot' cameras must be included if member countries can financially afford it.
In another development regarding the 50-over format, the CEC backed the ICC cricket committee's proposal to restrict powerplays to the first 10-over block.
Batting powerplays of five overs meanwhile, should be completed before the start of the 41st over, it said.
Among other recommendations the CEC also said it supported the introduction of day/night Tests to attract larger crowds.
But floodlight matches in the longer format of the game would only take place if both sides agree and use a suitable ball as recommended by the ICC cricket committee.