Broad - It's in the balance
England remain confident they can win the second Investec Test at Headingley and level the series against South Africa.
Last Updated: 06/08/12 9:13pm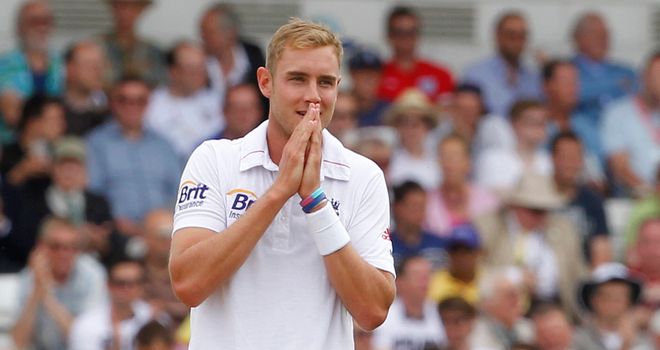 England remain confident they can win the second Investec Test at Headingley and level the series against South Africa.
Those prospects were far from obvious after day two of a contest which is forecast to be interrupted significantly by rain.
But Stuart Broad was nonetheless optimistic. The England all-rounder said: "It's pretty even, I think.
"Being none down for us was vital tonight, and tomorrow morning the first hour will be huge - because we all have one job, and that's to bat as big and as long as we possibly can."
To that end, Broad will be pinning his hopes on one of England's front-line batsmen repeating the heroics Alastair Cook produced at Edgbaston last year.
There, Cook piled up a career-best 294 in a wide-margin victory over India which first gave England their world number one position - a status which is in peril, at 1-0 down with one to play against South Africa.
"We need one of those Edgbaston knocks - 600 and then put South Africa under pressure on the last day," said Broad, who finished with 3-96.
"I think this wicket will eventually get lower, and that's where the four quick bowlers can come into their own - hitting the pitch, and the ball going underground."
Broad gave Alviro Petersen due credit for a painstaking, near nine-hour innings of 182 - which prevented England achieving their Plan A, of bowling South Africa out cheaply and going on to dominate the match.
"There's always that expectation and pressure when you win the toss and bowl, that the opposition team won't get 400. But wicket-wise, I don't think it was that dangerous to bat on.
"It took a fantastic knock from Petersen, with 180. He played and missed a huge amount, but obviously played fantastically well to get there. It took that to stop us bowling them out a little bit cheaper."
At least Petersen has shown England how it is done. "We need to learn from what the South Africans did as well," added Broad.
"We're in no rush here with the bat; we can just settle in, take our time and try to build as big a total as we can.
Patient
"Our number one priority with the bat is to try to be patient, and look as big as we can."
There was a moment of irony when England, searching for a breakthrough this morning, turned to the part-time off-spin of Kevin Pietersen - having left out specialist Graeme Swann - and saw him find sharp turn almost immediately to have Jacques Rudolph stumped.
But Broad said: "I think Rudolph was quite unlucky - because it was the only ball that turned all day, wasn't it?
"Nothing else really did anything.
"There were a few raised eyebrows when that ball did turn. But nothing else really threatened, so I don't think there are too many panic alarms."
There are none yet either in the South Africa camp, even though it is possible Petersen might not be available to bat again if required - having gone for a scan on his right hamstring this evening.
Assistant coach Russell Domingo said: "From what we've heard, it is possibly a grade one tear - which is possibly 10 days or so - but nothing too serious at this stage."
If confirmed, that injury might not only rule Petersen out of a second innings here but could put his recovery on a tight deadline for the final Test at Lord's.